Therapy Dogs in the Workplace
The use of therapy dogs is becoming more common, and there can be wonderful benefits to your business for having one in-house – after all, cute puppies are a great way to engage families! But as J.P. DiTroia, Lindsey Ballard, and Robert Hunsaker discovered, it's not enough to just pick up a random pooch.
First, it's important to understand the difference between therapy, service, and emotional support dogs. Therapy dogs are trained to provide affection and comfort to people in various settings, such as disaster areas, hospice, schools, nursing homes, and, of course, funeral homes. These pets have a special aptitude for interacting with members of the public and they enjoy doing so. Typically, emotional support dogs provide benefits to their owners through simple companionship as prescribed by a mental health professional. Service dogs are trained specifically to help people with disabilities such as mental illness, visual impairment, seizure disorder, etc. Due to the nature of their work, the latter two are permitted to travel with their human partners, but therapy dogs are not afforded special rights to enter a business unless they're officially going to work there.
Not all dogs will make good therapy pets. The work—and, yes, it is work— can be tiring and stressful for the dog and requires the right personality. There are many characteristics to look for in a suitable therapy dog, including a deep love for all people (strangers included), emotional and physical calmness, and an affinity for being hugged and petted (sometimes by surprise or roughly). People have found success with rescue dogs, but caution that these animals can be particularly sensitive to certain situations and people and that may impact their training and work. Some breeds are more suited to guarding or protecting, but not emotional support
On the Job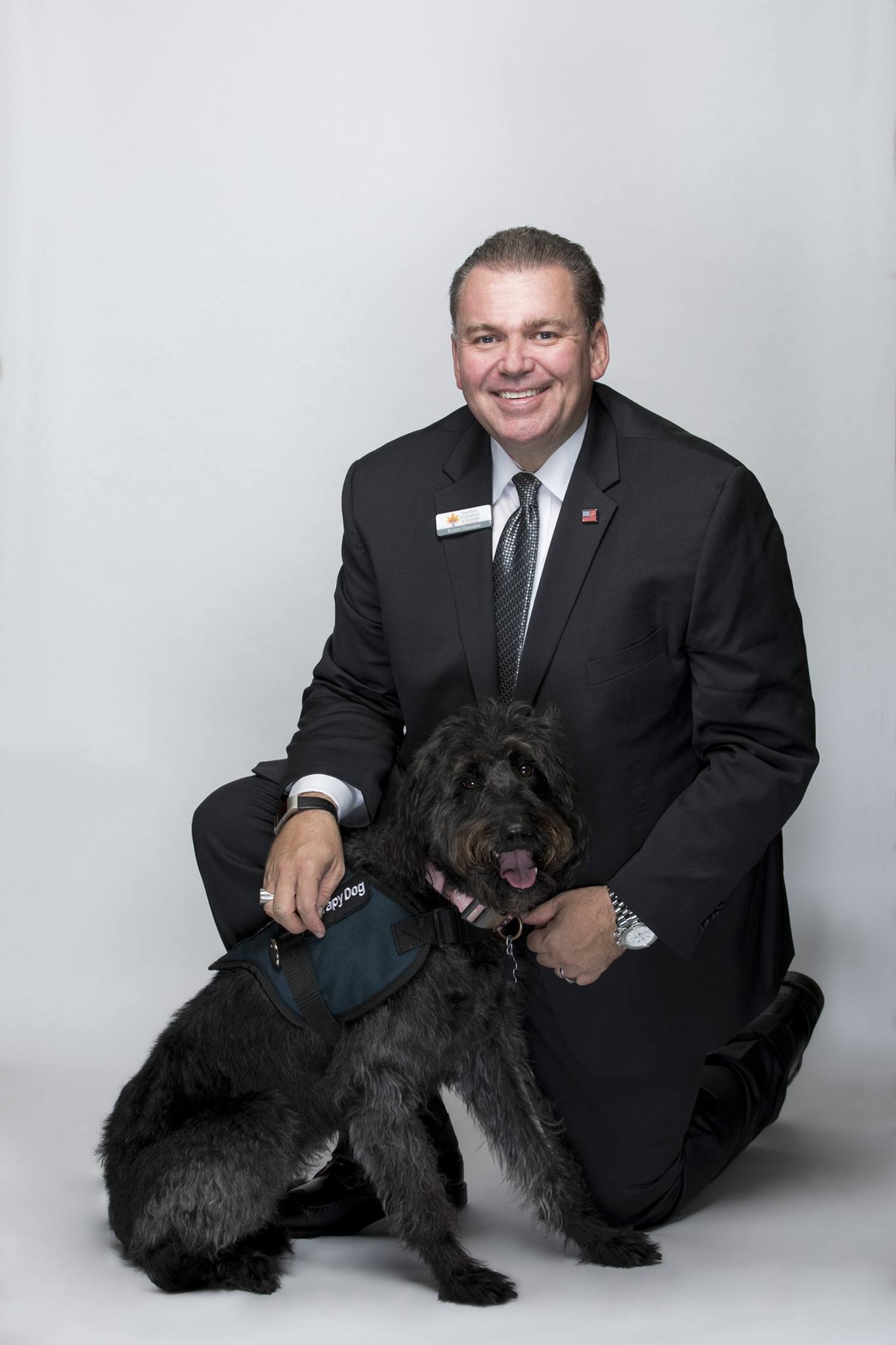 Robert Hunsaker's Bella comes to work every morning, about 5:30am. She has a set area in the funeral home where she comes in, gets brushed every morning, gets her vest on, and, with that, it's an immediate transformation from an active, three-year-old pet to working therapy dog.
Bella will attend arrangement conferences and aftercare appointments, funeral services, and visitations. She's active in the grief support group at Robert's funeral home on the third Thursday of every month. She attends most of cemetery gravesite services, and some pre-planning presentations at area nursing homes and care centers. She's very busy.
Robert is sensitive to her needs. Working dogs are constantly thinking about what they need to be doing. It's emotionally draining for the animal. So, in the afternoons, Bella has a special place in Robert's office that's become her area to decompress. She'll take a break there for an hour or two. And when she gets home after work, she's tired just like any of us. Even if it's not particularly physically draining, it's a lot of emotional work.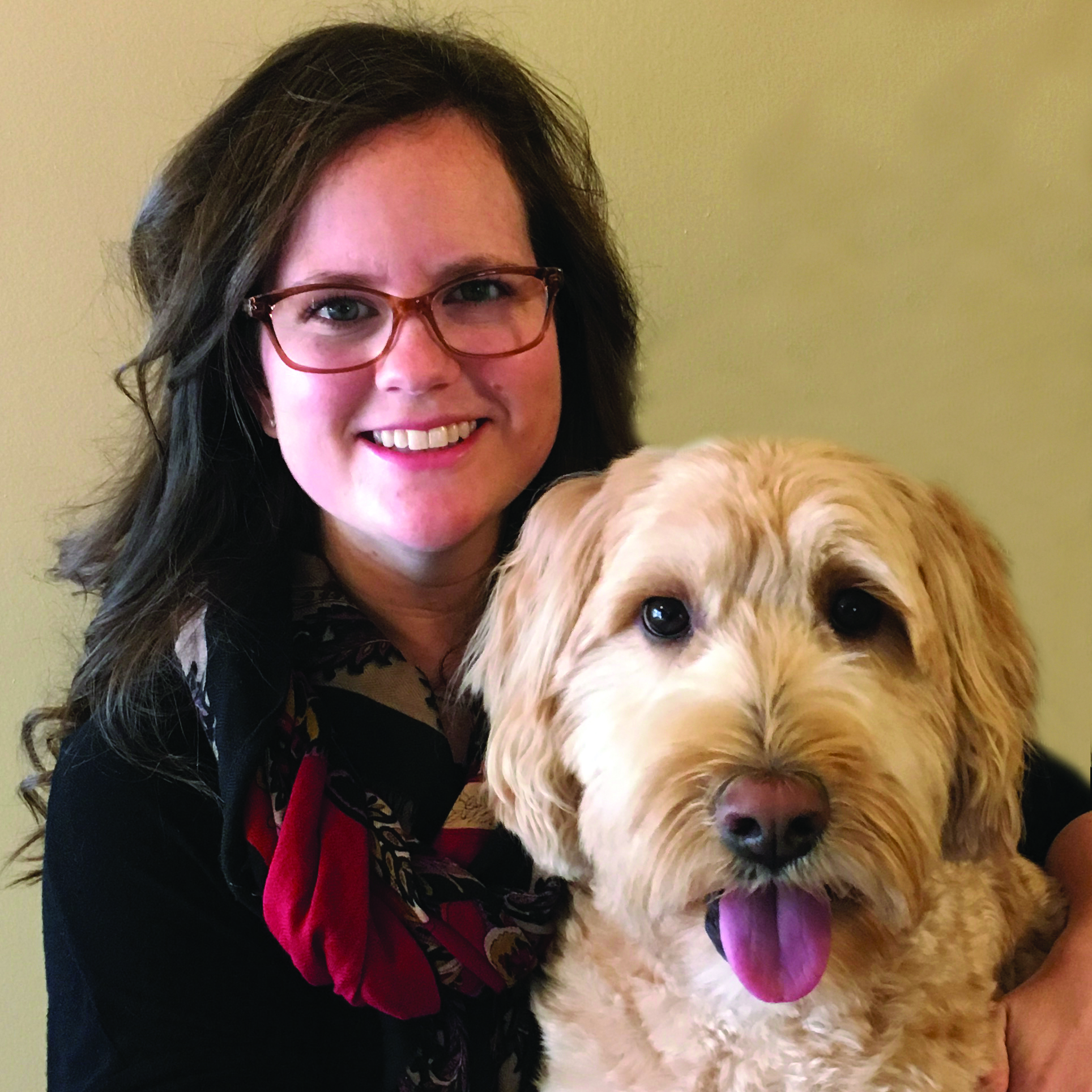 Like Bella, Lindsay Ballard's Fletcher attends community events, greets families, and sits in on visitations and arrangements. For Lindsey, the biggest value of the therapy dog is greeting families. While funeral professionals are very comfortable walking into a funeral home, crematory, or cemetery, it's often a hard step for families to take. Fletcher welcomes the families at the front door and helps to keep people at ease.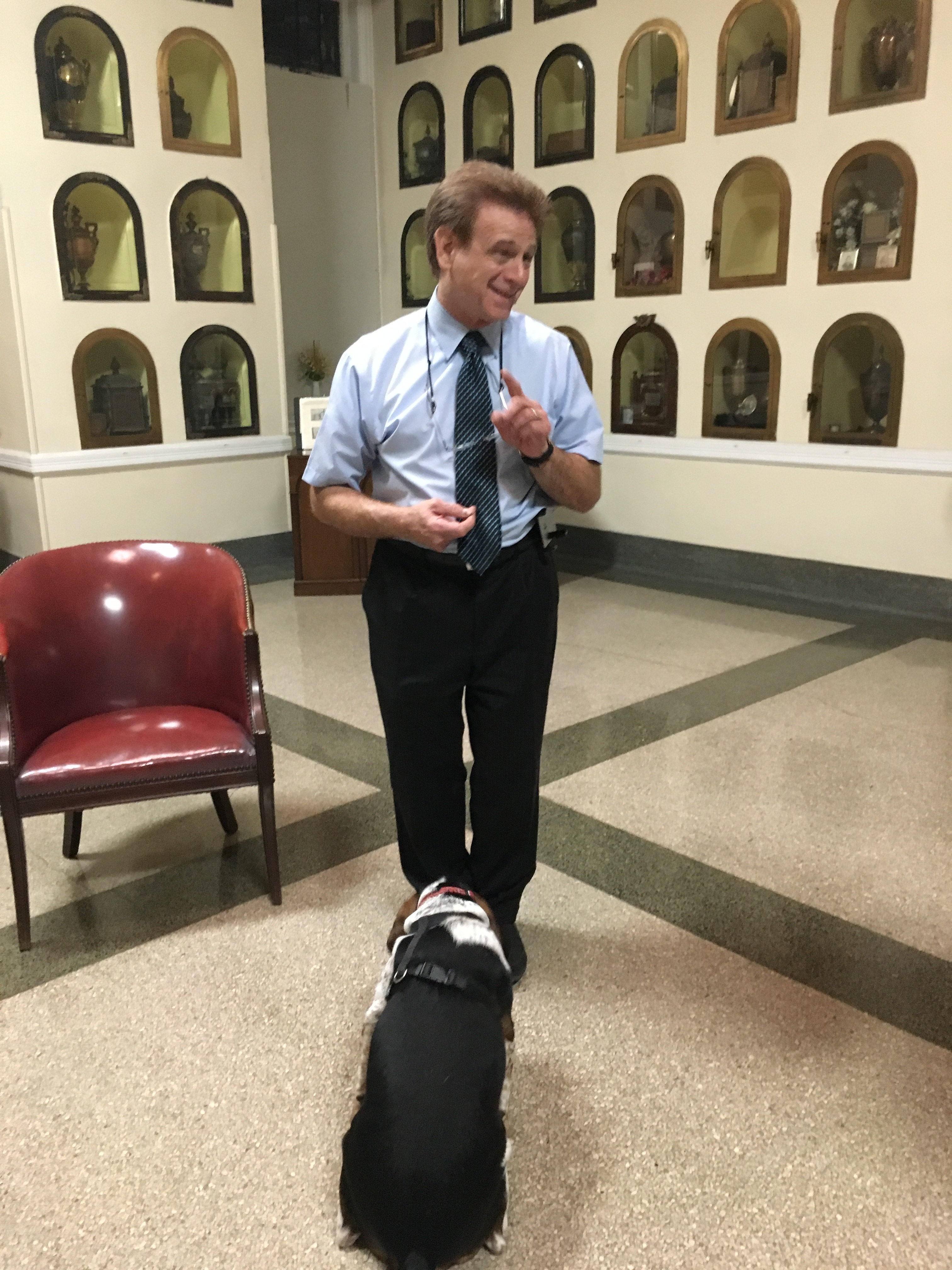 But training these four-legged staffers required a significant investment of time, money, and commitment from their human colleagues. Learn more about Robert and Bella and Lindsay and Fletcher through their training, and some useful things to consider if you're thinking of adding a therapy animal to your staff. Read on in CANA's Cremation Logs blog: https://www.cremationassociation.org/blog
This post is excerpted from Robert Hunsaker, Lindsey Ballard and J.P. DiTroia's Therapy Animal panel at CANA's 2018 Cremation Symposium. Save the Date for CANA's 2019 Cremation Symposium: February 26-28, 2020 at the Paris Las Vegas Resort and Casino.
Robert Hunsaker, Hunsaker Partners, has been involved in the funeral industry his entire life, as his father was a funeral director and they were living in a funeral home when he was born. From an early age, he has worked for a memorial park and a group of funeral homes. He finds great satisfaction in helping families during a very difficult time of their lives and enjoys establishing relationships with all those he is honored to serve. Robert has a Bachelor of Arts in Economics from Weber State University and has worked in sales and executive positions for several companies that serve the funeral industry, including: Batesville Casket Company, Great Western Insurance Company, Service Corporation International and SinoSource International, Inc. 
Lindsey Ballard is a third-generation funeral director and owner of Ballard-Sunder Funeral & Cremation in Minnesota.  She loves her work and is passionate about creating personalized and meaningful services for the families she works with.  Lindsey is always looking for new and inventive ways to serve her community, including the work she does with her dog, Fletcher.  
J.P. DiTroia serves as President of the U.S. Columbarium Co. at Fresh Pond Crematory in Middle Village, NY and has worked there since 1967.  He served on the Board of the Metropolitan Cemetery Association for 9 years and is now co-chair of the Cremation Committee.  He presently serving on the Board of the New York State Association of Cemeteries.  He has been a committee member of the Metropolitan Funeral Directors Association since 1979. His therapy dog's name is Gina.
About CANA
Founded in 1913, the Cremation Association of North America (CANA) is an international organization of over 3,300 members, composed of funeral homes, cemeteries, crematories, industry suppliers, and consultants. CANA members believe that cremation is preparation for memorialization.