Three Reasons Your Funeral Home Should Offer (and Promote) Tattoo Preservation
Chances are you've heard about Save My Ink Forever, the only service offering post-death tattoo art preservation. If not, where have you been? The proprietary preservation process, created in 2016 by father and son embalmers Michael and Kyle Sherwood, has been featured in Men's Health, Huff Post, and even Comedy Central. 
But the Sherwoods' service is no laughing matter. It's a professional, legitimate, and increasingly popular option that your funeral home should probably start sharing with the families of inked loved ones sooner rather than later. Here are three reasons why.
Demand is growing
Tattoos are no longer the exclusive turf of sailors and inmates. Today tattoos are much more socially acceptable, and people from all walks of life — from college grads to grandmas — proudly display their body art.
"The stigma surrounding tattoos is breaking down," says Kyle Sherwood. "More than 42 million Americans have tattoos, and 60% of those have more than one."
For Sherwood, the premise of preserving tattoos started as a lighthearted "what-if" discussion. Growing up in the family funeral business, Sherwood was often approached by friends with great deathcare-related ideas. This one, though, took root, and Sherwood — who himself has tattoos on his chest, side, stomach, back, and leg — collaborated with his dad to research and create the tattoo preservation process.
"We were kind of joking around at first," Sherwood says. But ever since the procedure was perfected and Save My Ink Forever's service was launched, "growth has really been exponential."   
The Sherwoods' services are retained by either families or funeral homes. (Note: the company is still awaiting approval of their application to offer their service in SCI-owned facilities.) However, adding your business to Save My Ink Forever's Preferred Provider list is a good way to let families know you offer tattoo preservation. It's not required that you be on the list to work with the company, but not having your name and contact information on Save My Ink's website list could cost you. 
"We recently had a family travel four hours to do business with a preferred provider," Sherwood shares. "Families aren't asking for this out of the blue. They've sought it out. They've done their research." 
Tattoo preservation prep is easier than you think
As career morticians, the Sherwoods understand that every aspect of finalizing funeral services should be seamless, professional, and as painless as possible for the family. That's why Save My Ink Forever has streamlined the process of fulfilling tattoo preservation requests to a few simple steps.
Authorization
First, families or funeral directors will notify Save My Ink Forever of the family's wishes. The next of kin will complete an authorization form that gives the funeral home permission to excise tissue for the purpose of preparation. Their signature releases the company and the funeral home from liability.
Tattoo Removal
Next, Save My Ink Forever will send the funeral home a removal kit. Although Preferred Providers receive step-by-step logistical training from the company during the onboarding process, any embalmer can complete the removal using the kit's instructions. Save My Ink Forever compensates embalmers for their work.
"Excision is very superficial," Sherwood says. "We're only after layers of the epidermis — it's fairly shallow. If you can deal with organ donors, you can do this." However, Sherwood adds, if the tattoo is fairly large or if there are multiple excisions, he or a member of his team can travel to the site to personally monitor the excision.
The timeframe for excision can vary, and of course, the manner of death will factor in, but three to four days is optimal. Excision "can be done post-embalming," Sherwood explains. "We prefer pre-embalming but it's not always feasible." 
Shipping
Lastly, the kit will include instructions for packaging and shipping the excised skin to Save My Ink Forever. The company covers all shipping costs. 
The cost the family pays for removal and preservation depends on the size of the tattoo(s). Funeral homes can add this cost to the statement of goods and services in the "cash advance" category and send a check to Save My Ink Forever, or the family can pay the company directly.
From there, Save My Ink Forever takes over, preserving the tattoo using their unique proprietary formula. When preservation is complete, an on-staff artist selects a frame that complements the tattoo art unless the family has selected a particular frame option. All framing materials are archival quality to best preserve the tattoo for the long term.
The entire preservation process takes three to four months to complete from start to finish. "We don't cut any corners," Sherwood says. "And we keep everything as dignified as possible." 
To that end, the Sherwoods do not preserve facial or genital tattoos. "For us, that tapped into dignity and morals," Sherwood explains.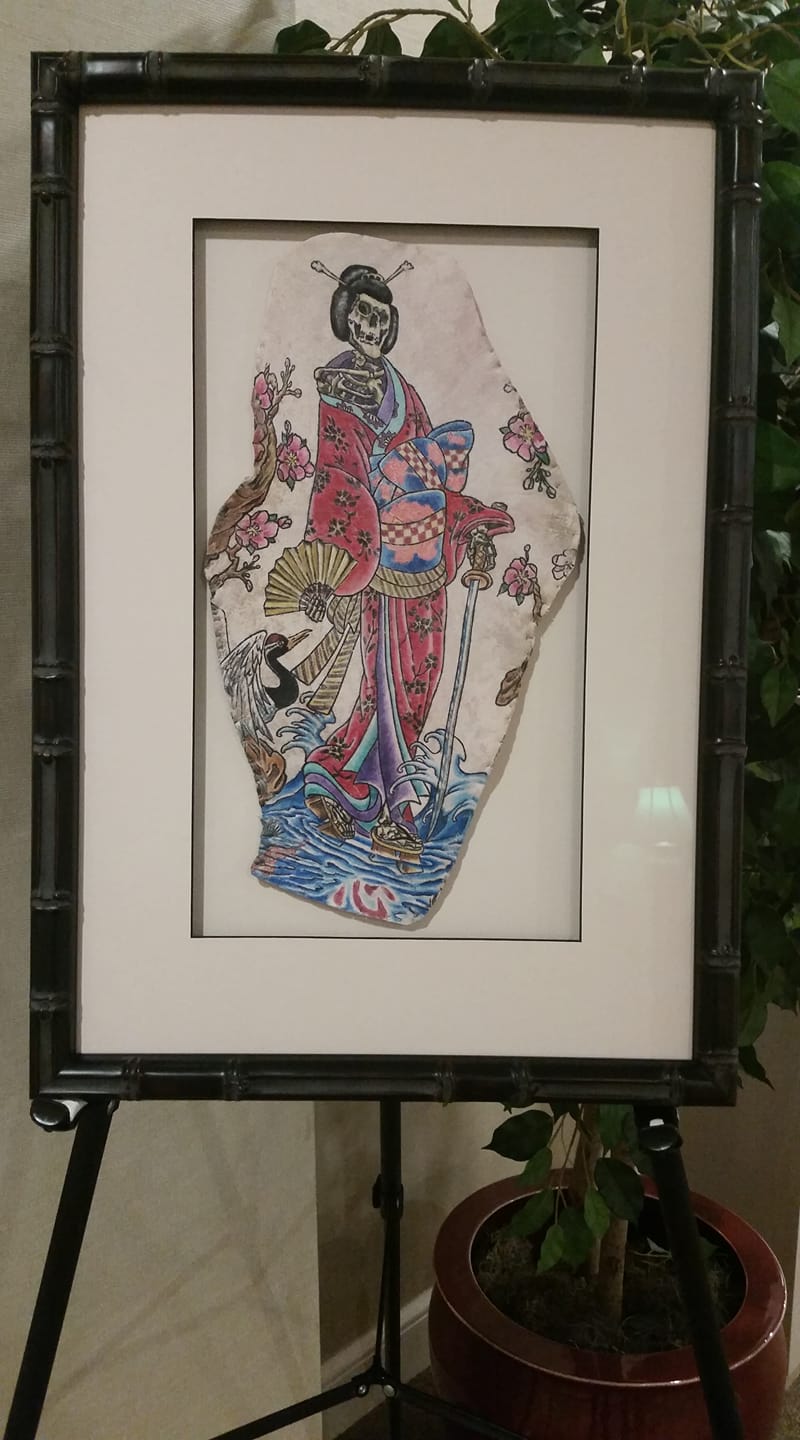 Families will love you for it
If the feedback on the Sherwoods' services is any indication, families who have had a loved one's tattoo(s) preserved are extremely appreciative. One Facebook reviewer writes, "I had my husband's tattoos saved for our son; he was two when his dad suddenly passed away."
"My husband and I thought long and hard on this before his death," writes another client on the company's website. "He would have LOVED how his art turned out after preservation and framing. Very proud of our beautiful, tasteful pieces of art. They will be forever cherished by our family."
The reaction to one recent removal has been overwhelming positive. Prior to his death in October 2018, Canadian tattoo artist Chris Wenzel requested that his wife ask Save My Ink Forever to remove and preserve his tattoos, which covered 70% of his body. Sherwood removed seven designs from Wenzel's back, chest, legs, and arms in what would be the largest-scale preservation in North America.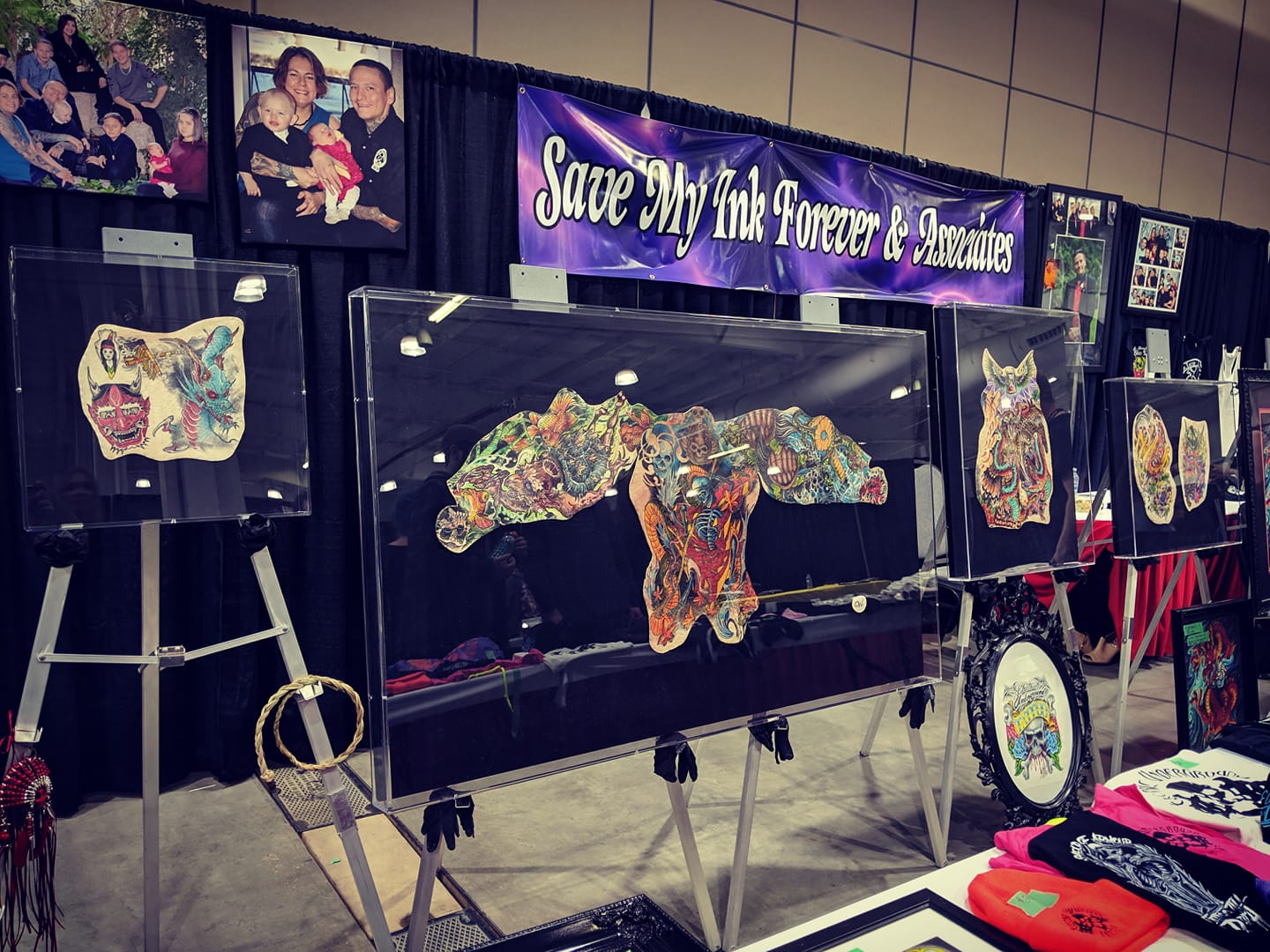 "Now that he's home, I feel like we're completed, like we're back together," Cheryl Wenzel told the press after receiving her husband's preserved tattoos from Save My Ink Forever. Wenzel also said that five funeral homes denied her request to work with the Sherwoods.
"We cater to those families who want this done," Sherwood says. "Not everyone is going to understand why or how much they mean, but we're ok with that."