This App Sends Daily Reminders of Your Imminent Mortality… to Improve Your Living.
Back in 1984, the late, great Prince Rogers Nelson reminded us–in a most Prince-like way–that life won't last forever:
All excited but we don't know why

Maybe it's 'cause we're all gonna die

And when we do, what's it all for

Better live now before the grim reaper

Come knocking on your door

~"Let's Go Crazy" by Prince & The Revolution, 1984
It's a profound message that too many people forget: you'd better make the most of your life now, because one day you will leave this realm. Unfortunately, there is so much–technology, work, errands, obligations–that keeps us from focusing on the fact that it all could end at any moment.
Now an innovative app is leveraging one of our biggest distractions–our mobile device–as a way to prompt us to contemplate our mortality and remember that life is short.
The app for those who don't live in the Himalayas
The brainchild of Ian Thomas and Hansa Bergwall, the ad-free WeCroak app was introduced in 2017 to remind users to think about death five times each day. Bergwall, a publicist and mindfulness enthusiast, came up with the idea for the app after researching Himalayan ashrams–remote, sparse, and wifi-free retreats where participants meditate and practice yoga and spirituality.
In his studies, Bergwall found a Bhutanese saying inferring that to be a truly happy person, one must contemplate death five times daily. It's a belief that is commonly practiced in Bhutan, a tiny kingdom nestled in the southern slopes of the Himalayas and home to the Center for Bhutan Studies and Gross National Happiness Studies. Yes, you read that right. Gross National Happiness.
In 2005, the Bhutanese government asked the Center for Bhutan Studies to fully develop the concept of Gross National Happiness, or GNH, as a systematic method of measuring the country's public policy and development. The goal, according to the 2015 GNH Survey, is for all Bhutanese to be extensively or deeply happy (as of 2015, only 43.4 percent of the population had achieved this goal). In fact, the 4th King of Bhutan declared the GNH "more important than the GDP."
To Karma Ura, director of the Center, one of the best ways to find happiness is to follow the Bhutanese practice of thinking about death for five minutes every day, or five times daily. "It is this thing, this fear of death, this fear of dying before we have accomplished what we want or seen our children grow," Ura told a BBC reporter. "We have to be ready for the moment we cease to exist."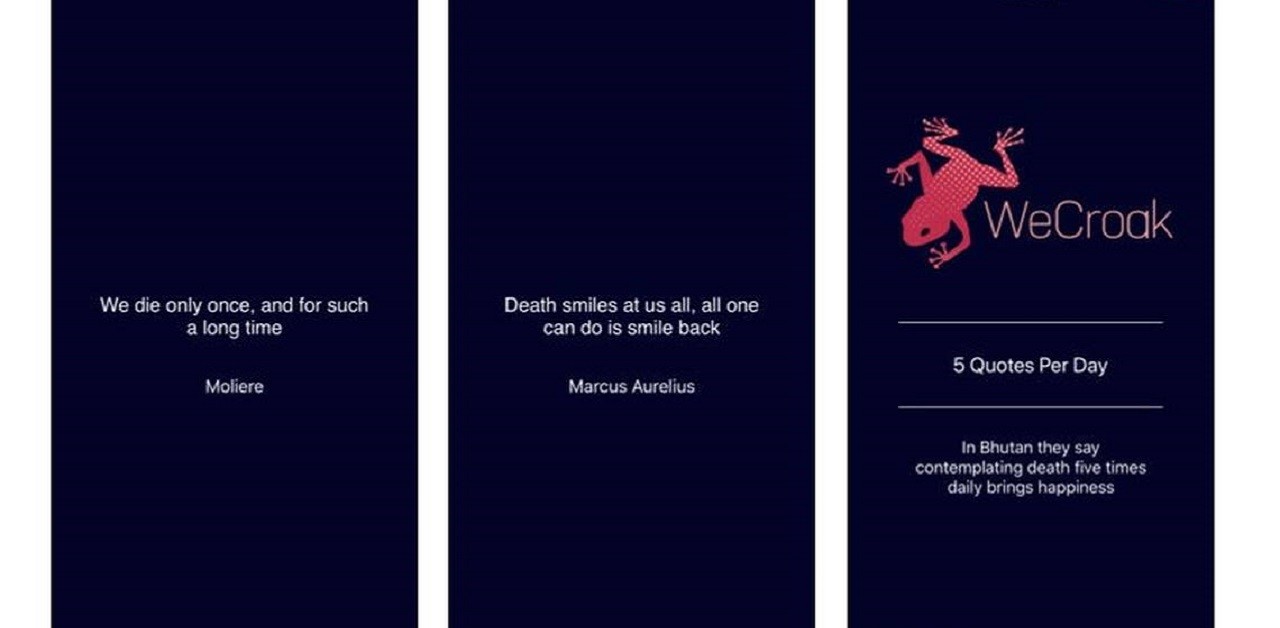 The death app is born
Bergwall enlisted Thomas, a freelance app developer, to help him bring WeCroak to fruition. Six weeks later, WeCroak was one of the top apps in the Health and Fitness category in the App Store and Google Play.
Invitations to contemplate your impending death are delivered by WeCroak "at random times and at any moment just like death" — but only between 7:00 a.m. and 10 p.m., and recipients must open the app at least one each week to continue receiving notifications that read "Don't forget, you're going to die. Open for a quote…". Opening the app reveals a quote about death from a poet, philosopher, or notable thinker, such as Susan B. Anthony, Marcus Aurelius, or the Welcome to Night Vale podcast. WeCroak even welcomes submissions of quotes about death, life, or impermanence for consideration from supporters.
"You are encouraged to take one moment for contemplation, conscious breathing, or meditation," when notifications arrive, the app description advises. "We find that a regular practice of contemplating mortality helps spur needed change, accept what we must, let go of things that don't matter and honor things that do."
This instruction is similar to that recommended by wildly popular meditation apps Calm and Headspace–except that instead of soothing ocean sounds and uplifting messages, WeCroak welcomes you with grim messages about mortality, all handpicked by Bergwall.
Bergwall and Thomas recently introduced the WeCroak podcast and are soliciting patrons to support their efforts to "bring the truth about death closer." Patrons donating $21 to the WeCroak movement receive a "Live Immediately" mug and an "I can't take anything in this tote with me" tote. To date, six podcast episodes have aired, featuring fascinating conversations with a meditation teacher, a theoretical physicist, a comic, and a philosophy professor, among others.
WeCroak is a refreshing way to think about life and how it's lived–by focusing on death.  Paradoxically, WeCroak could help even death care professionals who deal with death everyday benefit from daily reminders of our own impending demise.
Article by Connecting Directors contributor Patricia Hartley