Don't Suffer From Bad Reviews: Learn 6 Tips to Get More Positive Reviews Online
How we shop has changed more in the last 20 years than in the entire previous century. Millennials are now buying their toilet paper on Amazon instead of stopping at the drug store on their way home from class. Is this because they are lazy? No – It's because it just makes more sense. You could take 10 minutes to go to a store, pick out your TP, and carry it home…  or you can order it on Amazon and have a higher quality product delivered to your door in 2-days for less money. In physical stores we determine quality based on a variety of variables like price, shelf placement, description, and packaging, but online we make decisions based on reviews.
A 2014 study conducted by Power of Reviews found that 86% of consumers said reviews are an essential resource when making purchase decisions. This applies to the funeral industry in a big way because it is easy to compare a handful of funeral home's reviews side-by-side on Google.
If you had to choose a funeral home in your area based on online reviews alone – Would you choose your business?
If you are comparable to your competitor online, or worse… you wouldn't choose your home based on reviews – don't panic – your ratings can be improved with a little knowledge and work. The good news is that 68% of consumers asked to leave a review by a business actually take the time to leave one – they just need a little encouragement!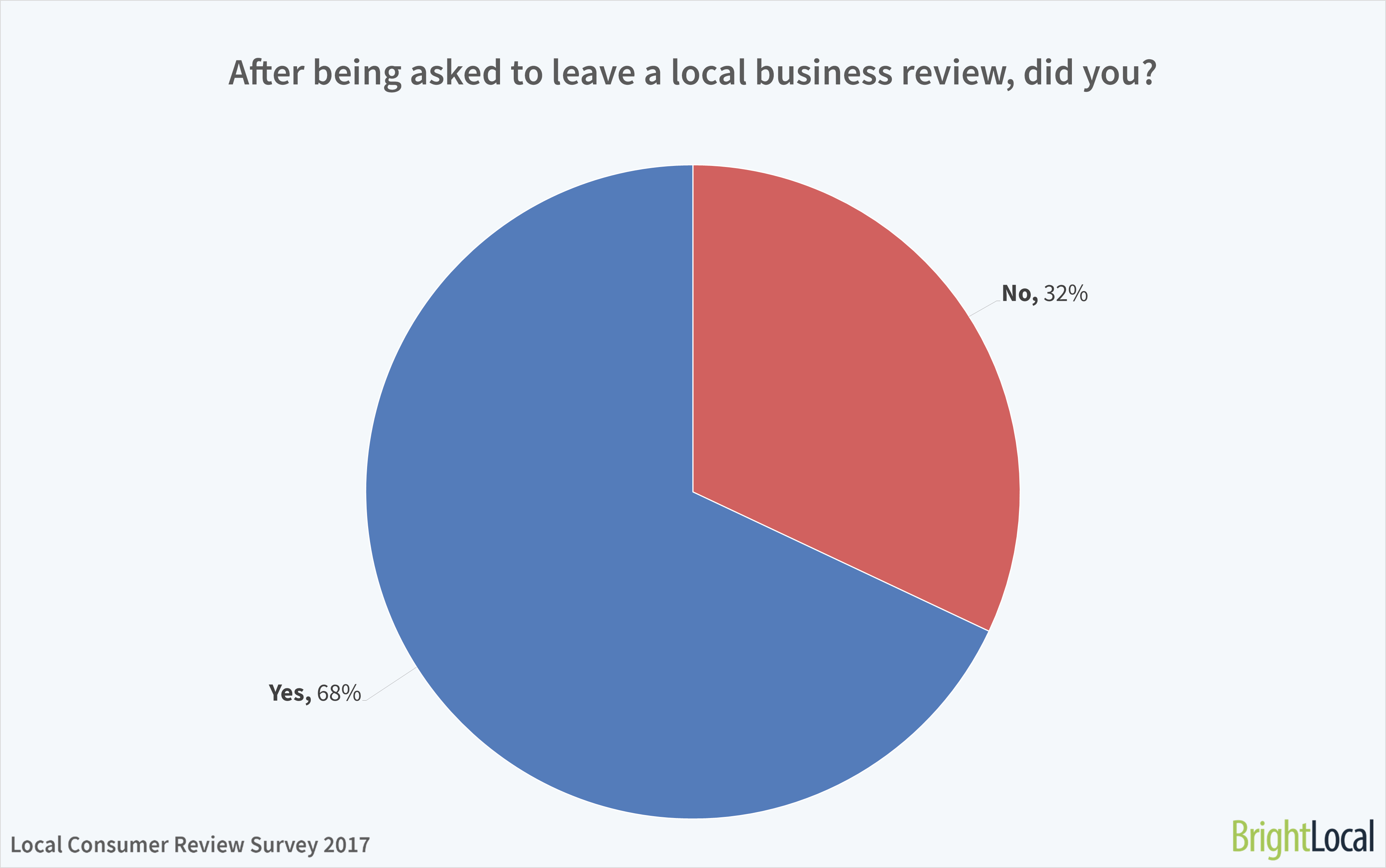 Why Should I Care About Reviews?
Online Reviews Increase Conversions
We've already covered the importance of reviews and the decision making influence they have on customers, but this point cannot be over emphasized in the digital age of ecommerce. According to a 2017 survey by Bright Local, 85% of consumers trust online reviews as much as personal recommendations. In an industry where businesses over the last century were built and destroyed on factors related to trust – this is an crucial statistic. Referrals still rule funeral home traffic, they just look a lot different than they did in the 90's.
Product Reviews Increase Traffic
The goal of Google's search algorithm is to identify the most relevant websites for search terms (like "funeral home") and to make sure that the websites they show are going to satisfy the people searching. One of the best ways for google to measure if a person will be satisfied with a website is by directly measuring the customer ratings. The higher your ratings, the higher google will put your funeral home in search results (I oversimplified Google's process, but you get the idea). If you can show up before competitors on Google then you will receive more traffic to your website and capture more new customers.
Feedback Helps Create Better Products
There aren't many things more motivating than public accountability. Look closely at your positive reviews to identify repeated compliments. You can use this data to emphasize what people love about your business to further improve your service.
As much as negative reviews are painful, each one needs to be seriously considered. If there are repeated complaints about a certain aspect of your service you should invest in solving the problem in order to make customers happier… and because too many negative reviews could cost you thousands of dollars in lost customers.

How to Get More Positive Reviews
1. Claim and Set Up Your Online Review Accounts
If you have not already set up your accounts for 1.Yelp, 2. Facebook, and 3.Google – this is the first step. The latter order of online review platforms is also the order of importance to customers. It is important for you to either "claim" your business profile or create a new one altogether in order to control your band image, copy, photographs, and website link. It will make you appear professional and encourage more positive reviews while building trust with potential customers.
To take the first steps, you can set up your Facebook Page here, claim your Google Business here, and claim your Yelp Profile here. 
2. Encourage Customers to Write Reviews With Post-Purchase Emails
Follow up emails with previous customers are a huge opportunity for funeral homes that is rarely taken advantage of. A couple weeks after a service, send a personal email to the customer to check-in and offer them tips on community grief-help resources. In the email, ask for a review of their experience and link them to the review website of your choice. You may even include some simple instructions explaining how to navigate the site to leave the review.
3. Design and Share Reviews on Social Media
If a customer has a great experience with your funeral home – they probably want to leave you a review, but they dont know how or they didn't think to do it. By sharing fancy graphics of your previous reviews, it will build trust from new customers online and inspire previous customers to leave public reviews about their experience.
I created the image below for Berardinelli Funeral Home using the free program called Canva.com in less than 10 minutes. This is quick-to-generate quality content to share on social media and in online advertising.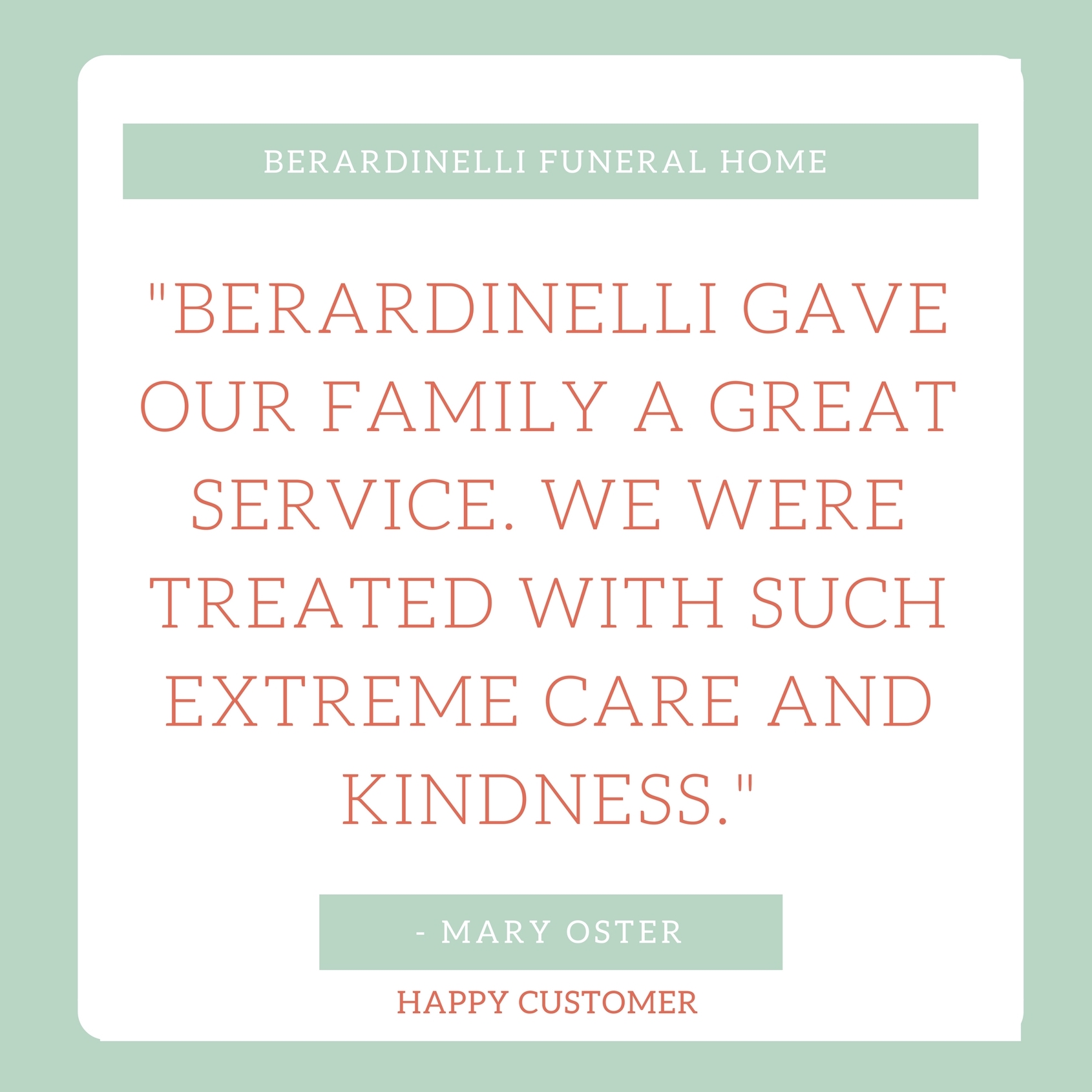 4. Respond to Reviewers
On most review sites you have the ability to respond to reviews that are posted about your funeral home. This is an incredible opportunity to show the attention to detail and personability of your services. Respond to every review with a warm personal message and it will be noticed by future customers deciding which funeral home to work with.
Unfortunately, you will get negative reviews. DONT PANIC. This is totally fine and as long as you respond to each one with compassion and keep them to a minimum they will not effect customers decisions. In fact, there is research to suggest that customers specifically look for negative reviews to prove the reviews they are reading are actually from real customers.
5. Incentivize Customers to Write Reviews
A great strategy to increase your number of reviews fast is to offer an incentive to previous families to leave a review of their experience. Incentives can include a free gift, tickets to a local event, an eBook about grief, or a discount to your memorial product showroom. You can include this offer in your personal follow up email.
* Remember, although you can offer incentives for reviews, you cannot make the offer contingent on a positive review.
6. Get Help Improving Your Reviews
We know that funeral directors have no time in their busy profession that requires them to know everything from how to operate a crematory to soothing grieving families. Sometimes there is just no capacity to take on additional responsibilities. There are professionals you can hire hire to help improve your online presence. Our sister company DISRUPT Media can help you increase revenue by improving your online reviews and engaging new customers on social media before they go to your competitors.
Encouraging ratings can be a great way to drive customers – but there are more amazing strategies to discover! Click to read our article for DISRUPT Media explaining 18 brilliant funeral home marketing ideas to grow revenue and increase call volume.