'It's like an heirloom': DNA Collection Meets Funeral Industry
A local funeral home is among the first in the state to offer the option of home DNA storage to families of the deceased.
Last month Roberts Family Funeral Home & Cremation Service in Forest Lake began offering DNA collection services through Canadian company DNA Memorial, a division of CG Labs Inc. that caters to funeral homes.
The main selling point: clients can easily store DNA at room temperature indefinitely at home alongside other family documentation in a safe-deposit box or file cabinet. Other technologies require less cost-effective and accessible cryogenic conditions.
"No one else in the world at this point has room-temperature storage, so this is a very big biotechnological breakthrough," said Brad Marsh, DNA Memorial's brand manager.
Roberts Managing Partner Kelly Roberts said he believes it's a funeral home's responsibility to help preserve genetic records, since cremation destroys DNA and disinterment can be costly. Once DNA is analyzed, medical doctors can suggest preventative measures to lower the risk of hereditary diseases like Lou Gehrig's disease. The service is also relevant to those in dangerous professions, he said; when there are few remains after death, a scientist can sometimes match them to genetic records. DNA also helps to trace ancestry, which can be helpful for adoptees.
Also Read: DNA Memorial and DISRUPT Media Partner to Help Funeral Homes Save Lives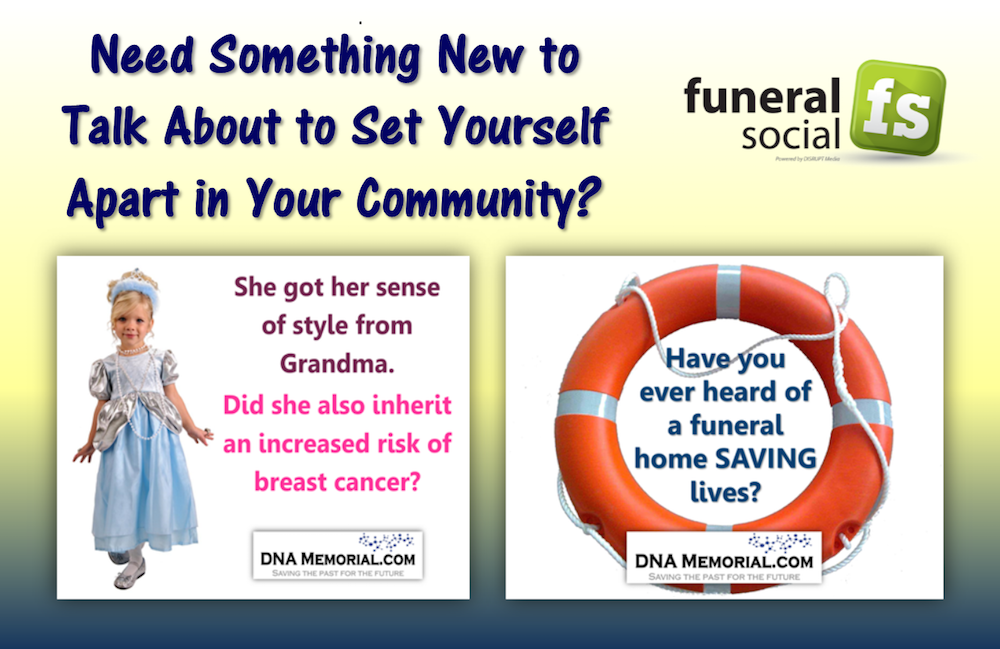 "It's like an heirloom that can be passed down from generation to generation," said Marsh, noting his company first offered the service to funeral directors last year. "Future generations will know their originating genetic code."
No initial investment was necessary on Roberts' part; DNA Memorial simply mailed Roberts collection kits and information catalogs. The service is $295 for home-stored samples, $595 for lab-stored samples. Marsh said such storage may grow in value as scientists make breakthroughs in DNA research.
"Most people think of DNA as mainly about crime-scene investigation, whereas DNA has progressed a lot farther as far as medical and genealogical applications," he noted.
Ryan Lehto, founder and chief scientist of CG Labs, invented the technology nearly a decade ago, according to Marsh. While recovering DNA from mummies and ancient organisms, he examined rare conditions under which DNA was preserved naturally and successfully recreated those conditions in the lab. The company has been most successful with the service in Canada and the U.S. (particularly Pennsylvania) but also has customers in the UK. Its subdivision Pet DNA Memorial offers the same service for pets.
DNA collection is fairly straightforward: A funeral director take a hair sample or swabs inside the deceased's cheek with a cotton swab to collect epithelial cells placed in a storage bag. The bag is mailed to DNA Memorial, which applies its proprietary process involving cleaning and preservation. The DNA is attached to silicon dioxide and stored as a dry, white powder in a laboratory-grade tube or capsule.
The company can also incorporate the DNA into keepsakes offered on its website including glass and jewelry products, but after that the DNA is not viable for testing.