Four Relevant and Easy To Implement Facebook Post Ideas for Funeral Homes
Article by: Mark Thogmartin, VP of Biz Development at DISRUPT Media
Let's face it; the stereotypes the general public has formed about people in the funeral profession are less than flattering. Somber, dark, even creepy images about funeral directors and funeral homes have embedded themselves on the consciousness of most consumers through movies, television, and print. Added to these mental conceptions is the unfortunate reality that most folks come to funeral homes in a sad state of mind. They associate our places of business with the loss and grief they've experienced while saying goodbye to loved ones who have passed away.
When posting on social media, you must work hard to counteract these perceptions. Do your updates simply remind the public about their losses? Do they reinforce the negative ideas they may have formed about the profession, or do you strive to project positive images and feelings? Think about 'life' centered content instead of 'death' centered content. Your post should be focused more on uplifting the user. Have you ever taken a risk by posting comical images on your Facebook page? There are good reasons why you should do just that!
People come to Facebook to be inspired and entertained. I've spent some time doing a little informal research on what kinds of posts are not only "Liked" on Facebook, but which ones are "Shared." A shared post is gold in the viral social media world. When a fan likes your post, it's reach is increased a bit, but a shared post can truly go viral. Aim for shares when you post content. The following kinds of posts have proven to be the most share-able:
Humorous posts that reflect the human condition. I saw this doctored photo early this morning, and I have not yet stopped laughing: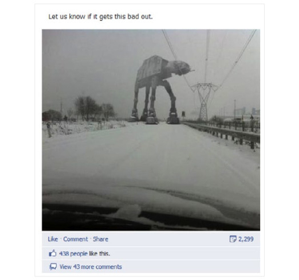 Think about it…would people be a bit surprised if this appeared on your page? The fact that a funeral home would post something so absurd compounds the humor even more, and it tells your fans that you are human too, you enjoy a good laugh, and you are affected by the weather outside just like everyone else. You actually do venture outside the walls of your establishment! Funny content related to the profession, where you are poking fun at yourself, can be valuable to your outreach. And remember, when someone shares your post, your name travels through cyberspace right along with it.
Here is a great example of a humorous post from our client, Loose Funeral Homes and Crematory
Inspirational quotes or thoughts that pull at relational heartstrings and invite comments. Your goal when putting up this content should be to cause your readers to think "They really understand how I feel." This photo, coupled with a heading "Tell us why your mother was so special," could easily invite a lot of participation: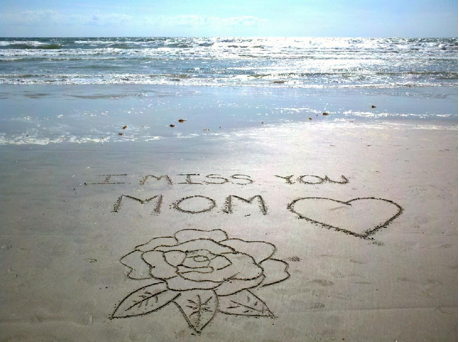 Do followers really respond to inspirational, uplifting posts? Absolutely! Here is a great inspirational post from our client SMART Cremation. Check out the engagement!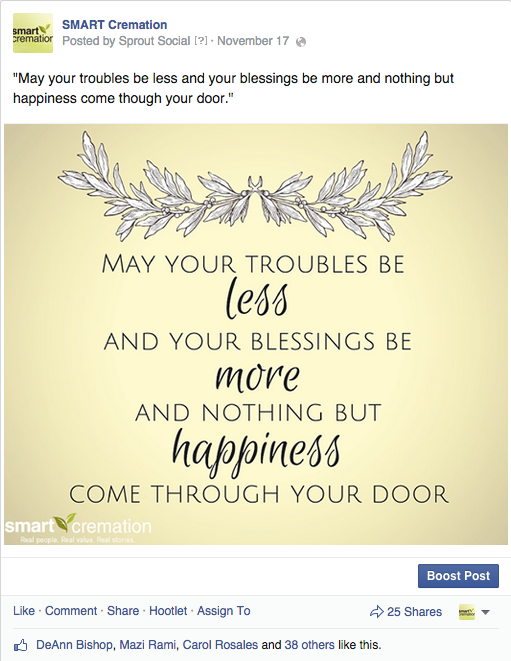 Bucket list posts that make people think about goals and the transience of life. Encouraging your fans to dream about things they would like to do in the future has a double benefit – it creates positive thoughts while also, subtly, reminding them that life has an end, and you will be there when they need you. Post an image like the one below and ask "What is on your bucket list? Or "What do you want to do before you die?":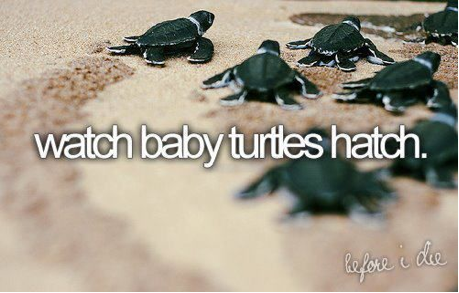 Quotes or images that simply tell it like it is. Aim for sentiments to which most people can relate, while not being too negative. Your fans will think "Yeah, they are just like me!" I saw this post on Pinterest this morning: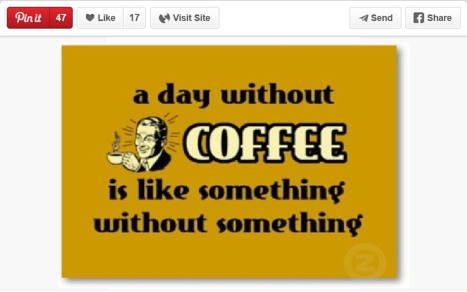 It's a simple, light-hearted sentiment that ties into the love most of us have for our morning infusion of java. Posting this image with a heading that says "Can you relate?" may generate some likes, comments, or shares, all of which help to increase the engagement on your page.
Results may vary. Many factors, other than great content, play into social media success. How you construct a post, the time of day you post, the type of post you are sharing, your post targeting and boosting content all play a part in the organic reach of a post and the engagement of that post.
The ideas above are simple to implement, but you may be concerned about the legalities of posting non-original content, the mechanics involved, or your ability to have time to make it all happen. If so, you can turn to the experts at DISRUPT Media. We are the only full-service social media agency specifically catering to the funeral profession. Go to http://funeralsocial.com to find out more about the services we offer. Our clients who are a part of our FUNERAL Social Design Process are seeing an increase in post reach and engagement of over 300%.
———————————————————————————————————–
Interested in how Funeral Social can help you successfully embrace social media and Facebook advertising? Click here to see how our FUNERAL Social Design Process works.
Click here is schedule a demo and learn about how we could partner with you.
About Funeral Social
FUNERAL Social is a strategic, goal oriented approach to social media created by DISRUPT Media and designed specifically for the funeral profession. Learn more about our FUNERAL Social Design Process.