Is This The Most Viral Funeral Article Ever?
The week before Christmas FuneralOne posted an article to their blog titled '6 Things Funeral Directors Are Dying To Tell You (But Never Will)'. The article received a massive amount of engagement on social. In fact the article was shared over 600 times from their Facebook page.
ConnectingDirectors.com shared the article on Monday January 5th, 2015. That evening we posted the article link on our Facebook page. In less than 24 hours the post had been view 20,000 times. As of now (Thursday late afternoon) the post has been viewed 147,000+ times.
The organic reach and engagement of the article has been unbelievable.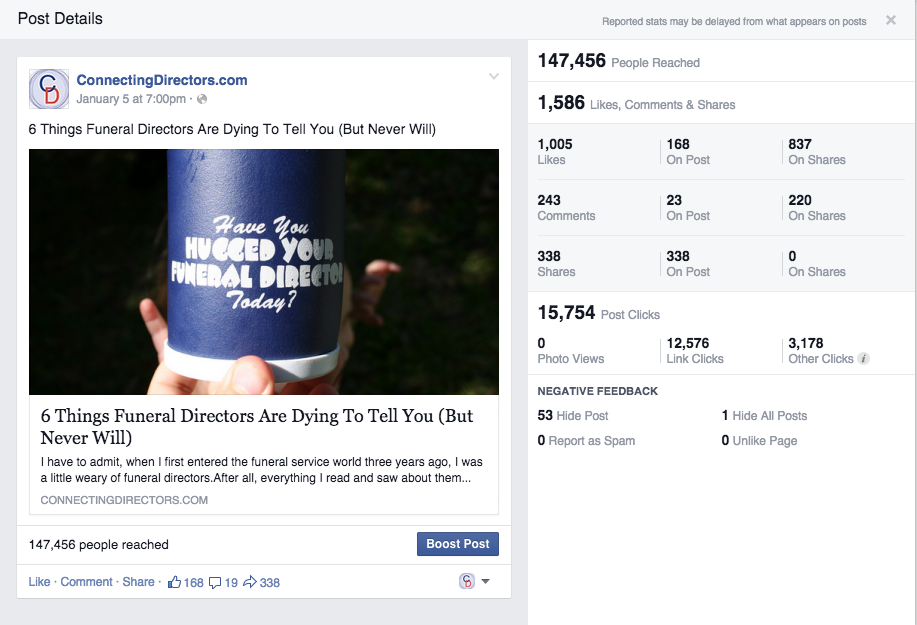 In fact, since it was posted on ConnectingDIrectors.com the article has been read more than 28,000 times! Making it our most view article in over 5 years!
If you have not read the article then we highly recommend that you do.
Read article on ConnectingDirectors.com
Read article on FuneralOne.com
Given the amount of of engagement and traffic this article has received on ConnectingDirectors.com, FuneralOne.com and social media we believe it is safe to say that this is the most viral funeral article ever!
Great job FuneralOne!