Jeff Kidwiler Appointed ICCFA University Chancellor
STERLING, VA (August 20, 2014)—Jeff Kidwiler, CCE, CSE, vice president of Heritage Park, Metro Manila, Philippines, was appointed to serve a two-year term as chancellor of ICCFA University.
ICCFA University is considered the flagship educational conference that the International Cemetery, Cremation and Funeral Association holds annually. Students enroll in a five-day, rigorous classroom experience taught by industry veterans and outside-the-industry experts in one of six concentrations: 21st Century Services; Cremation; Funeral Home Management; Land Management & Grounds Operations; Leadership, Management & Administration; and Sales & Marketing.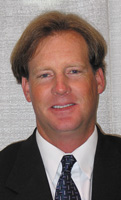 Kidwiler was the 2012-2013 ICCFA president. Previous to that, he served multiple terms as a member of the ICCFA board of directors before becoming the association's vice president of education and vice president of membership and marketing. He also led the recent ICCFA strategic planning committee.
He was dean of the ICCFA University College of Land Management & Grounds Operations from 2005 to 2011. He served as program chair for the ICCFA 2009 Convention & Exposition and for the ICCFA 2003 Fall Management Conference, and served on the association's Sales & Marketing Committee, which plans the annual ICCFA Wide World of Sales Conference. Kidwiler holds a Certified Cemetery Executive (CCE) designation and a Certified Supplier Executive (CSE) designation in recognition of his extensive management experience within the profession.
"Jeff has been a devoted leader in our association and profession, plus he was a longtime dean," said ICCFA president-elect Darin Drabing, Forest Lawn Memorial-Parks & Mortuaries, Glendale, California. "He has experience on all sides of the industry: cemetery, funeral, cremation, and as a memorial builder and supplier. His breadth of knowledge and entrepreneurial spirit make him a leader who can challenge us to make the University curriculum even better and more responsive to what's on the horizon."
The 2015 session of ICCFA University will take place July 17-22, again at the University of Memphis. Scholarship applications will be posted online at www.iccfa.com this fall.
Founded in 1887, the International Cemetery, Cremation and Funeral Association is the only international trade association representing all segments of the cemetery, cremation, funeral and memorialization profession. Its membership is composed of more than 8,900 rooftop locations and 15,000 professionals in the cemetery, funeral home and crematory industries, as well as supplier and related businesses worldwide.