A Fast, Fun and Easy Thanksgiving Facebook App Idea for Funeral Homes
Thanksgiving is not a holiday that's just popular in the United States, it's celebrated in multiple countries. For each country, traditions vary, but the underlying theme of giving thanks and feeling gratitude are the same for all Thanksgiving celebrations.
This November, host a Facebook giveaway contest that invites fans to remember the true meaning of Thanksgiving. Ask users to share their favorite Thanksgiving story or memory for a chance to win something from your funeral home, no not an urn or casket, but maybe a Visa gift card or gas card, possibly a gift certificate to a local restaurant, whatever it is make sure it's something useful.
If you want another option for celebrating Thanksgiving, other than an 'What are you thankful for?' concept, a recipe contest is another great idea. In a recipe contest, you would simply ask fans to share their favorite Thanksgiving recipes for a chance to win!
See an example of the 'Give Thanks' app below (and there is a special offer below as well)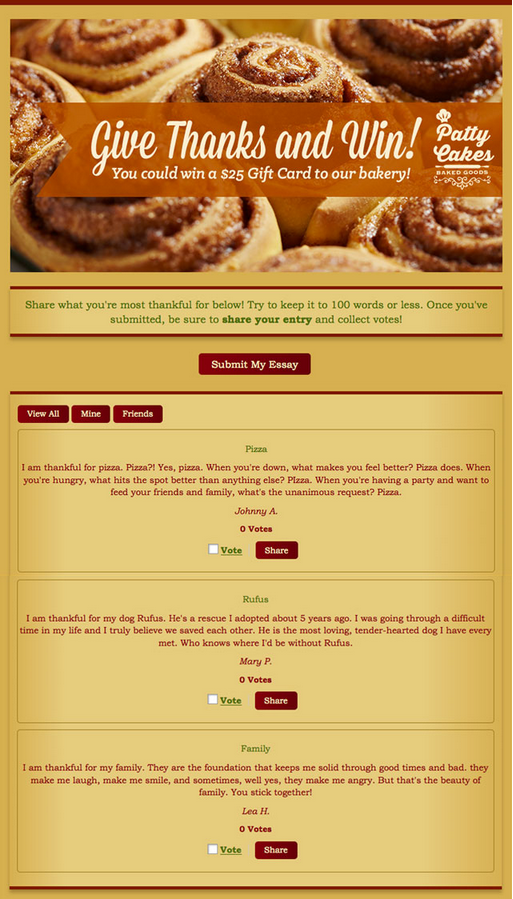 If you are interested in having a Thanksgiving Day custom app installed on your funeral home's Facebook page please contact DISRUPT Media now: 740-617-0599 or ryan@disruptmedia.co
The first 10 funeral homes to respond through email or phone will receive a
$200 discount off the normal $500 price

.