Why Your Funeral Home Needs Facebook
This is a guest post from one of the companies we (DISRUPT Media) have partnered with to create custom facebook apps for our social media clients.
We want to share the post because it's short and extremely easy to relate to funeral service. As you read the below paragraph and look at the infogrpahic keep this one stat in your mind: 80% of funeral home owners say that the majority of new business comes from referrals of past client families [Tweet this stat]. If you keep that in mind I know you will be able to easily see how the below information applies to your funeral home.
Why Your Business Needs Facebook – from Short Stack
There are still some businesses who don't see the value of Facebook. But as this chart shows — thanks CloudTactix for putting it together — it's still the gorilla in the social media room. More than half of Americans use Facebook —  up 538 percent from 2008. And 80 percent of people who use social media reported that Facebook is their preferred method of connecting with brands [Tweet this stat]. Facebook has also generated leads for 73 percent of B2C marketers and 35.1 percent of B2B marketers.
Do you connect with customers on Facebook? What kinds of status updates do you find bring you the best engagement?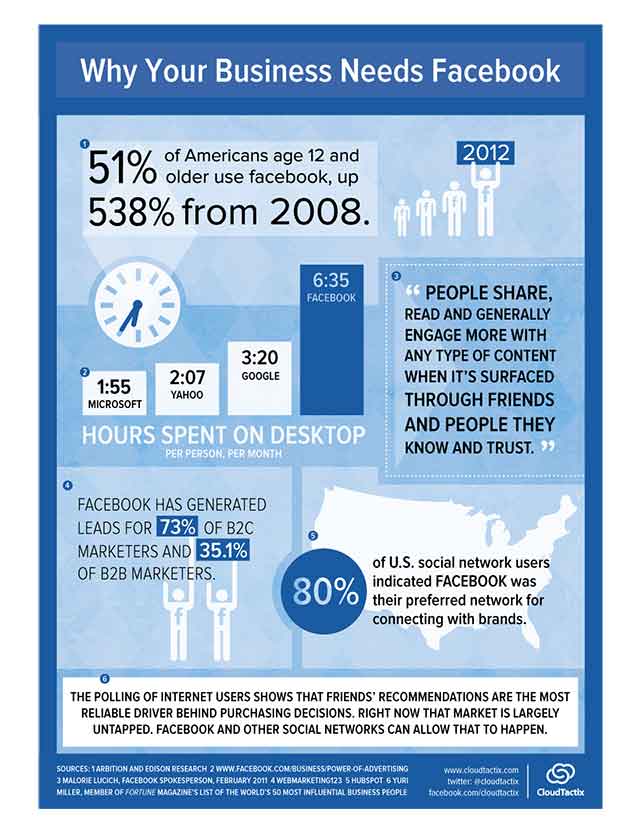 ---
FrontRunner Professional announced its strategic partnership with DISRUPT Media, the funeral profession's dedicated social media provider, founded by Ryan Thogmartin of Connecting Directors.
This new partnership will forge the development of the new "Socially Acceptable™" social media program designed to set a new and higher online standard for the funeral profession. The program will be available exclusively through FrontRunner Professional to their clients.
DISRUPT Media is a full service social media agency for social strategy and complete social media management for businesses. They help funeral professionals, worldwide; interact with today's consumers by truly embracing the Internet and engaging in conversations about their funeral business online.
For more information on FrontRunner Professional and DISRUPT Media contact FrontRunner at 1-866-748-3625 or online at www.FrontRunnerPro.com/SociallyAcceptable or email Ryan Thogmartin at ryan@disruptmedia.co