Unity Financial Company Promotions
Cincinnati, Ohio, 02/26/2013 — Unity Financial Life Insurance Company is pleased to announce the appointments of Christa Estep to Compliance Analyst and Jenn Watkins to Policy Service Specialist. The company advancements became effective Monday, February 25, 2013.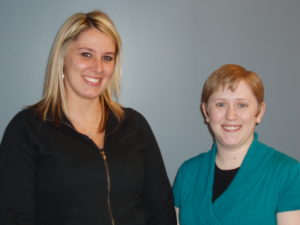 Christa began her career at Unity in 2010 in the Imaging Department.  She then speedily transferred to the Service Department where she was responsible for assisting policy owners, agents and funeral home representatives with all their service and policy needs. In her new role Christa will be responsible for assisting Elaine M. Greer, Director of Compliance & Chief Compliance Officer with departmental responsibilities. According to Christa, "I am thrilled to have been chosen for this position. It's a big step up the career ladder for me!"
Jenn commenced her career path at Unity in 2012 as a Policy Issue and Claims Specialist. This timely promotion affords her the opportunity for greater customer interaction and a more thorough understanding of the important role the entire Unity Service Department plays in meeting and exceeding the customer's needs. Jenn said, "I am excited about the new direction I'm taking with Unity. It affords me a chance to broaden my horizons and deepen my knowledge of the pre-need insurance market."
Both of these promotions are consistent with the company's commitment of employee advancement from within whenever and wherever possible.
Founded in 1964, Unity Financial Life Insurance Company is a privately held, leading national provider of life insurance for pre-need funeral funding and funeral trust insurance. The company serves customers throughout the United States with licenses in 45 states plus the District of Columbia. The company specializes in offering independent agents and the funeral homes they serve simple solutions, demonstrated strength and exceptional value to pre-need funeral funding. For more information about the selection of superior products the company offers, contact them toll free at (877) 523-3231 or visit them online at www.uflife.com.