Women Run The Show On Most Social Media And Here is Why Funeral Homes Should Care
Why should funeral homes/funeral directors care that women are the primary controller of social media conversation?
That's an easy answer: 65-75 percent of death care shoppers are women and slightly over 80 percent of funeral planning begins online.
A recent report from Pew Internet shows, with the exception of Twitter, all of the top social media sites are more popular with women than with men, particularly Pinterest.
Research from Pew Internet sheds light on the popularity of social media in the US and, in particular, who is attracted to which site. Facebook is still by far the most popular social network in the US. According to Pew's figures, 67% of all US internet users use the site. Meanwhile, comScore's "2013 U.S. Digital Future in Focus" report, also published this week, shows that 10.8% of all time spent on the internet in the US is spent on the site.
No surprise Facebook is still number 1.
The data also shows that Facebook is most popular with women, 72% of female internet users have a profile, compared with 62% of US men.
Knowing that a funeral homes target market is female it's seems like social media marketing should be a no brainer. How much more proof is needed?
Here is a sneak peek at an insights graphic from DISRUPT Media for a case study their doing on James A Dyal Funeral Home in Summerville, SC: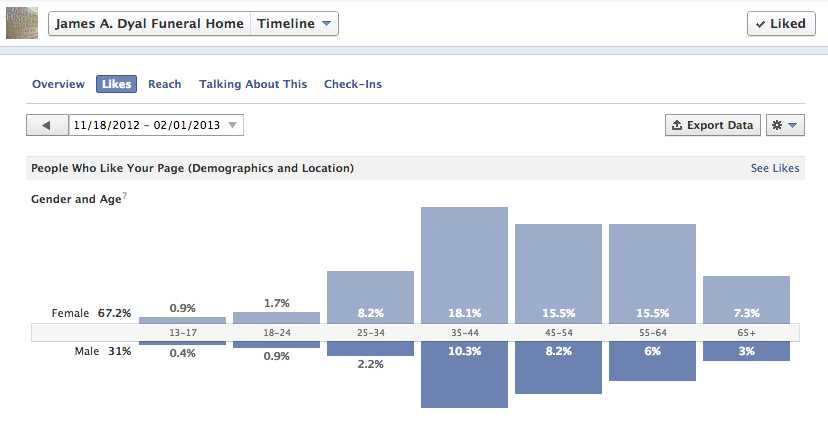 In other highlights from the study it showed 'visual media' to be the top driver of engagement and photo sharing sites like Pinterest and Instagram are dominating with female users as well.
Frequently referred to as a wedding planner's site, Pinterest has by far the highest percentage of female users, with only 5% of men admitting to using it, compared with 25% of women. However, one surprising thing is that it is equally popular across age groups, with those aged between 18 and 49 equally likely to use it.

Instagram is also more popular with women than men, but only just (16% verses 10%).
 Women Run The Show On Most Social Media And ALL OF THE ABOVE is Why Funeral Homes Should Care!!
About DISRUPT Media:
DISRUPT Media is a social media marketing agency specializing in social media strategy and channel management. A funeral home's success ultimately requires participation in the conversations that are taking place online. We help funeral homes find strategic approaches to social media and social networking. Our strategies enable funeral homes to create relevant and profitable experiences in social media.
For more information on embracing social media for your funeral home please contact DISRUPT Media.