Top 5 Facebook Ad Tips for Funeral Homes
Did you know that over 80% of funeral planning begins online*? So it only makes sense that you should be advertising where people are looking. You're probably already aware that you can advertise on Facebook. But it's important to know the best way to go about promoting your funeral business. Here are 5 Facebook Ad Tips for Funeral Homes:
Choose Your Options Wisely
When setting up ads with Facebook there are two main choices: Get More Page Likes and Promote Page Posts. There is also a third option that offers more flexibility in how you set things up.

The aim of Get More Page Likes is to increase the number of people liking your page and building your audience. This might not be the best way for a funeral home because your audience will only be visiting your page when they need to.
By choosing Promote Page Posts you can advertise one of your previous posts. For example if you had used a post to inform your followers of a new service you provide, you could also use Facebook ads to advertise the service to more people.
The only thing to be wary of with this option is that people can accidentally Like the post rather than the page itself. But this shouldn't be too much of an issue if there is something in the post that interests them because they will then go on to your page to find out more.
Use Photos To Make An Impact
If you're going to use Facebook ads to promote one of your posts, it's worth spending the time to think of what the content of that post should be. A good idea would be to put a photo in to your post. If you do this then the advert will not only be showing your company logo but this extra image as well.
So choose an image that will catch people's eye and make an impact. This will be far more effective than a simple block of text. You can also choose to change the image for your avatar if you want to.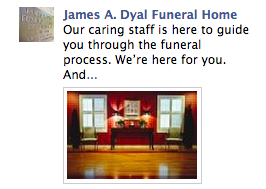 Be Aware Of The Costs
The good thing about Facebook ads is that you can set a budget for your advertising campaign. You can choose a budget per day or a budget over a lifetime. The lifetime version is useful if you have a yearly budget for advertising or a set length of time you want to be doing this.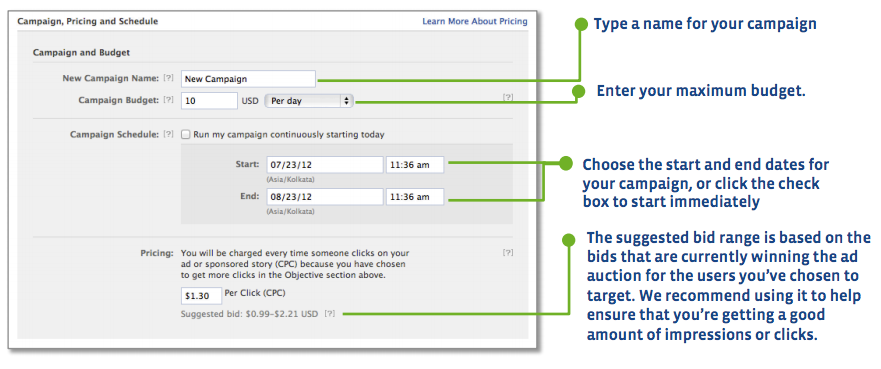 Next you will need to understand where it is your money is going. If you have chosen to Promote Page Posts you will be charged every time someone clicks on the ad. This includes the people that click Like without even going on to the page.
Something else to be aware of is that Sponsored Stories is automatically selected. What Sponsored Stories does is put posts in to people's News Feeds, which could be highly beneficial to your advertising campaign.
Facebook says that Sponsored Stories requires "No increase in budget" but the wording of it is a little misleading. All this is guaranteeing is that you won't be charged more than your budget. However when someone clicks on one of these Stories, you will be charged. So essentially this feature might not technically cost you more but it will eat in to the budget you have set.
Another pricing option is that instead of being charged for clicks you can be charged for the number of times your ad is viewed. This is an Advanced features option.
Research Your Audience
Facebook ads gives you the options to choose who will see your adverts. What is the average age of people searching for funeral services? Is it mainly men or women who search or is it split evenly? Do you want to advertise to a specific area?
TIP: Keep these stats in mind when targeting your Facebook ads –
65% of those who shop for death care services are female
86% of those who 'Like' a funeral home Facebook Page are over the age of 35 (from our own client research)
57% of those who 'Like' a funeral home Facebook Page are over the age of 45 (from our own client research)
A small amount of time refining who you show your ads to will ensure that your budget isn't wasted on the wrong audience.

Change Your Headline By Changing The URL
If you're using Facebook to advertise a Facebook page rather than an outside website, Facebook doesn't like you changing the headline of your ad. But if you want to change your headline to something specific there is a way around this.
At the very top of the page is a box labeled "What do you want to advertise?" If you have a Facebook page it will automatically be put in there. But if you copy your page's URL and paste it in to the box, Facebook will treat it like an ordinary website. Now you are free to change the headline as you wish.
We hope these top tips help you to improve your Facebook experience and increase the success of your advertising campaign.
* Sources: http://local-marketer.hubpages.com/hub/funeral-home-marketing