Unlikely Best Friends Brought Together In Cemetery
KANSAS CITY, Mo. —The unlikely companionship that developed at a Kansas City cemetery between a stray dog and a motherless doe has ended.
The doe, named Ella, and the dog have been at each other's sides in the 43-acre Elmwood Cemetery for the last few months.
"I have no explanation. You have two polar opposites. Ella is a wild animal and the dog is domesticated," said Bruce Mathews, a member of the cemetery's board of trustees.
Cemetery officials said that although it appeared the two had a bond, they were concerned that the dog wouldn't make it through the winter. The Kansas City Star reported that crews set up a humane trap with treats and caught the dog Saturday. The dog was taken to Wayside Waifs.
When people from the shelter arrived to get the dog, Ella the deer was right by the trap that held her pal.
"Ella just stood there and looked at the van that was taking the pooch off," Mathews said. "And Ella came up and it was like she was saying goodbye to her."
Wayside Waifs said it's working to improve the dog's training and social skills. When they think the dog is ready for a forever home, they will put it up for adoption.
Mathews told KMBC-TV that they are hoping that whoever adopts the dog will bring her back for visits.
"The family that does adopt her is more than welcome to bring the pooch back out to visit with Ella anytime they want to," he said.
Mathews said the unlikely friendship could be an inspiration to others.
"I have thought about all of the Republicans and Democrats who are in Washington who are supposed to be working from the common good," he said. "They could come here and take a lesson from Ella and the dog."
View video: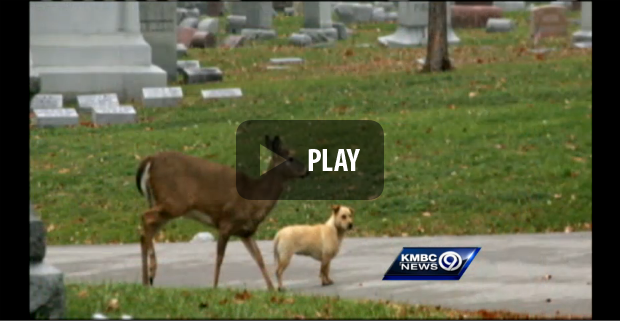 Source:  KMBC.com