Fraud Reportedly Wrecks Funeral Divas Convention [Developing]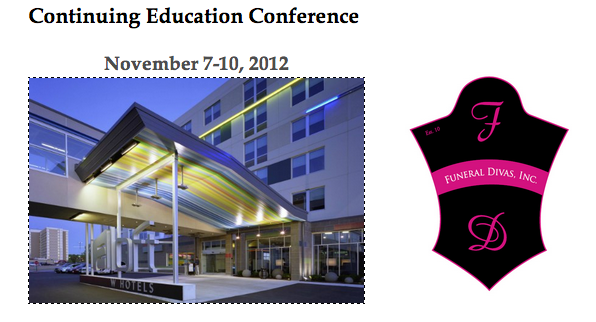 Fraud reportedly disrupts Funeral Divas "Innovation in Chicago" seminar last week. We don't have all the details yet but we have reached out to a number of the Funeral Divas board members for comment.
The Funeral Divas Facebook Page and Twitter accounts have been deleted and are unreachable. We have received a few emails saying that the "main diva" (no name was given so we will not draw conclusions or point fingers) was arrested during the seminar for credit card fraud.
The following was posted on the Facebook Timeline of Monica Gray (listed as Board Member & Mentorship Director on Funeral Divas website):
Status update on the morning of Thursday November 8th:
I want to personally apologize to all those affected by the cancellation of the Funeral Divas conference while in progress. I am thankful to all of the conference registrants and attendees, including the corporate sponsors who believed in Funeral Divas and offered their support. I am on the other side of embarrassment and disappointment, as this is yet another negative activity in funeral service. Being a woman in funeral service is not without its challenges. Yesterday's humiliating events have served as a character building experience for me. I am confident that women in funeral service will continue to bond, support and mentor each other. Thank you.
In the comments below the above Status update Monica says:
Apparently she ended up not being charged with any crime. Someone came up with the money for the hotel. According to what she posted on her page, she is going to email the members within 24 hours and "reconciliation" will take place for the conference registrants. Monies were collected for this conference. It should not have been necessary for anything associated with it to be on my credit card. I cannot afford to fund the expenses of the conference.
Status update later in the afternoon on Thursday November 8th:
Regrettably, I announce that the Service of Remembrance planned for this Saturday at the Chatham Avalon Church of Christ is canceled and will not take place. I truly and deeply appreciate the support of those who planned to support and participate in this tribute to slain children in Chicago. Thank you. Monica
Status update early morning Friday November 9th:
I have submitted written separation notice to the Funeral Divas Board Members. Effective immediately, I am no longer Mentorship Director, board member or a member. This is a heartbreaking decision for me …and I wish Funeral Divas well in all of their future endeavors. Thanks. Monica
As more information and details become available we will share. If you were in Chicago for the seminar and can give us the real story, please do so in the comments below.