[Exclusive] Genesis Casket Executive Team Gone
Did you forget about Genesis Casket Company? It would have been easy to do since they have been pretty closed lipped since May of this year when the CEO Tony Colson resigned.
It now appears that the "no comment" order was put into action for good reason. As of Monday the entire executive team and a reported 50 plant workers have been let go. It was reported that in May a Gestamp North America executive was acting CEO in the absence of Tony Colson. Now it appears that he is the only one left in the office.
Genesis Casket representatives have been implementing a "no comment" or "no answer" order put in place by Gestamp since the shakedown in May. If you have called the Genesis Casket office then you know that no one is available to answer the phone either.
Our calls to Genesis Casket were unanswered and no return calls have been received in regards to our message left on the recording machine about the publishing of this article. Calls to the cell phones of our contacts on the management teams are directed straight to voicemail (when your let go your company phone probably gets turned off).
So no we haven't been given a verbal confirmation of the cuts from a official Genesis Casket representative, mainly because they are unreachable, but looking at the Leadership page of their website provides all the confirmation needed; it is empty (see image below). No leadership positions or representatives are listed. This wasn't the case in May when we confirmed the resignation of Tony Colson and Denny Knigga who were immediately removed from the Leadership page while all others remained listed.
The sales team still remains listed on the site, but our contacts on that list were unable to provide comment (Genesis has a very strict "no comment" policy in the employee agreements, so we have been told).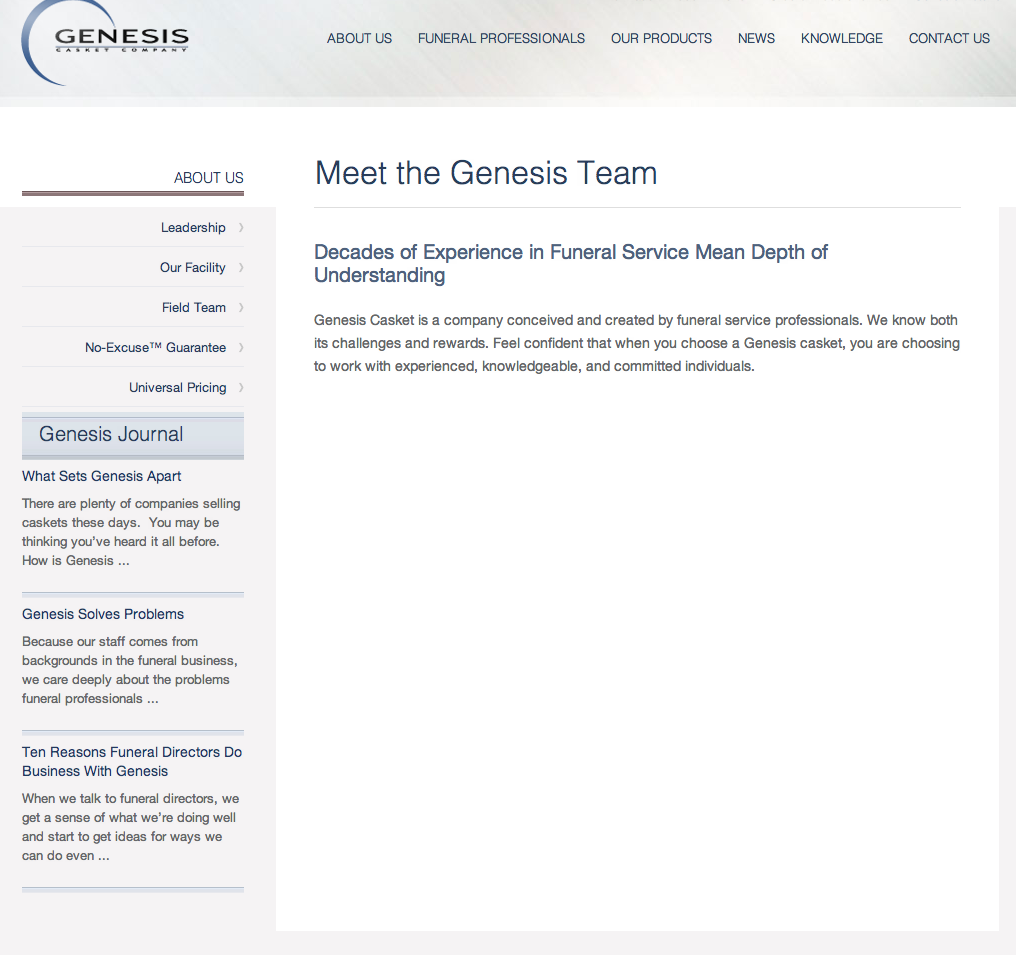 Just slightly less than a year ago Genesis Casket Company made its anticipated debut at the 2011 NFDA Convention. Who knows if they will be present this year.
So is this the end of Genesis Casket Company?
Here are a few links to the articles and interviews we have done with Genesis Casket Company over the last 10 months:
GENESIS CASKET COMPANY CEO RESIGNS – http://connectingdirectors.com/articles/34630-genesis-casket-company-ceo-resigns
3 MONTHS INTO PRODUCTION: WHAT IS THE CURRENT STATE OF GENESIS CASKET COMPANY? – http://connectingdirectors.com/articles/5207-3-months-into-production-what-is-the-current-state-of-genesis-casket-company
GENESIS CASKET SEES LAYOFFS AS TEMPORARY; LOOKS TO RAMP UP PRODUCTION – http://connectingdirectors.com/articles/5066-genesis-casket-sees-layoffs-as-temporary-looks-to-ramp-up-production
GENESIS CASKET COMPANY NOW IN FULL PRODUCTION – http://connectingdirectors.com/articles/3439-genesis-casket-company-now-in-full-production
EXCLUSIVE: GENESIS CASKET COMPANY EXPLAINS SIMPLIFIED PRICING STRUCTURE, DISTRIBUTION STRATEGY AND RELATIONSHIP WITH GESTAMP NORTH AMERICA – http://connectingdirectors.com/articles/3253-exclusive-genesis-casket-company-explains-simplified-pricing-structure-distribution-strategy-and-relationship-with-gestamp-north-america
GENESIS CASKET COMPANY, AND NEW TECH INNOVATION DRIVE NFDA 2011 – http://connectingdirectors.com/articles/3204-genesis-casket-company-and-new-tech-innovation-drive-nfda-2011