[Exclusive] Batesville Has a Big Problem…Their Endura Vault Won't Stay in The Ground [Picture]
We first started talking about the Batesville Endura Vault back in September 2010 when they were holding "Demo Days" across the country to introduce larger markets to the Endura Burial Vault. In March of 2011 Batesville officially launched the Endura vault at the ICCFA Convention in Las Vegas.
What has happened since then? Not a whole lot…that most people know about. Truth is, Batesville is having big issues with the Endura vault; many cemeteries are blocking the vault because it is plastic, funeral homes haven't embraced the product like Batesville projected and many cemeteries that have approved the product for burial have had problems with the Endura vault popping out of the ground. Yes, actually coming out of the ground.
We were first contacted about this in December of 2011 when two Endura vaults were interred in Ohio on a Friday afternoon and when the cemetery crew returned to work on Monday the vaults were sticking out of the ground. In March we were snail mailed a newspaper copy of an article from the Independence Daily Reporter about two "durastone" plastic vaults floating out of the ground.  DuraStone ™ is the plastic material Batesville makes the Endura vault out of.
Below is a copy of the article: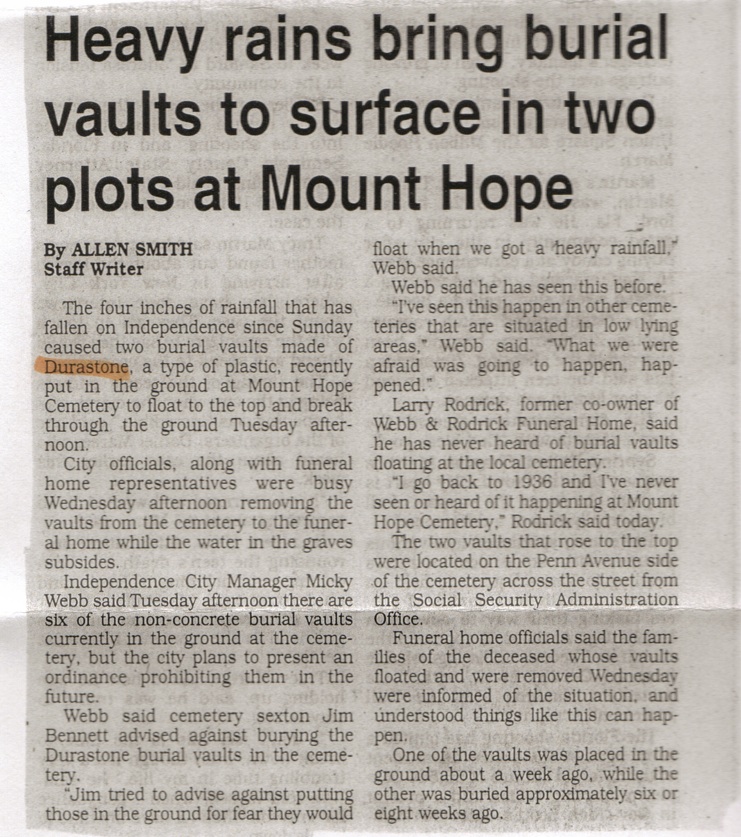 The only problem with these two situations is; we didn't have any proof at the time that these vaults actually popped out of the ground. There were no pictures to back up the reports; therefore we didn't feel we could post the reports on ConnectingDirectors.com.
Well, last week we receive another report of an Endura Vault popping/floating out of the ground in a Indiana cemetery and this time there is proof.
In an anonymous message we received the following photo;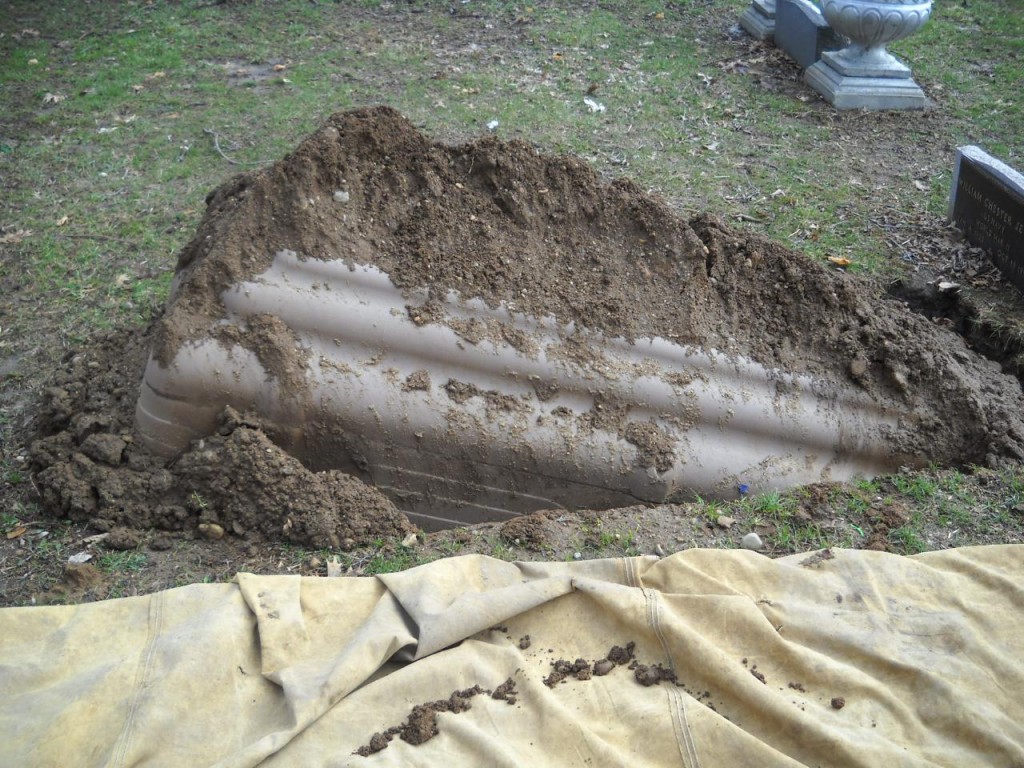 The above vault had been interred for about a week before it unearthed.
One of the major concerns from cemeteries was that the Endura vault was plastic and lightweight, which made the probability of the vault popping out of the grave much greater.
We know from earlier reports and articles that the Goria vault also had issues with staying buried. As far as the plastic vault offered from Vantage, we have not had any reports of the product coming unearthed.
This is a very big problem Batesville is going to have to face. How are they going to solve this problem? As more cemeteries hear about these situations it is going to be even harder for Batesville to get the plastic Endura vault approved.
What are your thoughts? Has anyone else experienced a situation like this with the Endura vault? Are you offering this vault to your client families?
Please share your thoughts below.