ASD's Ultimate Guide to the 2015 NFDA Convention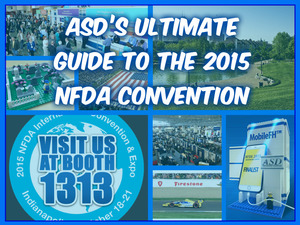 Article by: Jessica Fowler, ASD – Answering Service for Directors
The ASD team is gearing up for the 2015 NFDA Convention. As the days race by, we grow more excited for this year's convention in Indianapolis and the opportunity to see so many friends and clients in one location. With a fantastic lineup of dynamic speakers and exciting events, we know this year's convention will not disappoint.
Every year, we study the NFDA schedule and learn about the host city to provide directors with a fun and informative guide to all of the seminars, events and attractions of the convention.
Here is your ultimate guide to the 2015 NFDA Convention
Get Inspired at NFDA Events
OPENING GENERAL SESSION
Monday, October 19, 9:45am – 11:45am
Thousands of funeral professionals gather together at the Opening General Session to celebrate the start of the convention and NFDA's achievements over the year. This year's session is sure to get you energized. Keynote speaker, Chip Eichelberger, an expert in transformative business solutions, will provide motivational tips and techniques directors can use to seize opportunities, embrace change and grow their businesses.
The Opening General Session will also include the announcement of the 2015 NFDA Innovation Award. ASD is a finalist this year and we look forward to sharing the stage with fellow innovators within the funeral service community.
All-Star Recognition 
Monday, October 19, 4:15pm-5:30pm
Celebrate the achievements of your colleagues! This event recognizes funeral professionals who demonstrated excellent service or achieved advanced certifications from the NFDA.
Service of Remembrance
Tuesday, October 20, 9:45am-11am
Honor the memory of funeral professionals we have lost this year at the annual Service of Remembrance. This year's service will also pay tribute to the life and legacy of President Abraham Lincoln. 2015 marks the 150th anniversary of Lincoln's assassination and funeral procession by train, an event that transformed how Americans grieve.
The Fifth Quarter
Wednesday, October 21 6:30pm-9pm
ASD is proud to be an official sponsor of this year's end-of-convention party at Lucas Oil Stadium. Join us as we celebrate the induction of new NFDA President, Bob Arrington. Attendees will enjoy special on-field activities. Work on your passing and punting skills in the same stadium as 2012 Super Bowl champs, The Indianapolis Colts!
---
Explore the NFDA Expo Hall
The NFDA Expo Hall is the place to be to learn about all of the latest funeral home products and services. Strolling through the exhibit hall, you can load up on free gifts, enter to win exciting prizes and discover the latest innovations within the funeral profession. 
If you need to charge your smart phone during the show, you can head over to Booth #1313 to use ASD's convenient cell phone charging station. While you're there, you can visit with the ASD team and learn about our latest features. Be sure to pick up your FREE ASD gift and enter our raffle drawings to win our popular Lego Cemetery Set or an Apple Watch. We will be raffling off one of each every day of the show!
This year, we will introduce an exciting new booth design and will be competing in the "Best of Booth" contest. ASD's new booth was designed to allow a projection screen to display interactive live demos. Every hour on the hour, we will be demonstrating how to use the ASD Mobile app and our patent-pending MobileFH™ feature which is a finalist for this year's 2015 NFDA Innovation Award.
Expo Hours:
Monday, October 19, 12pm – 5pm
Tuesday, October 20, 12pm – 5pm
Wednesday, October 21, 9am – 12pm
---
Discover Indianapolis
The theme for this year's convention is "Not Your Grandfather's Indy" – a fitting description of a city that constantly defies expectations. Indianapolis prides itself on hosting amazing events and was named the #1 Convention City by USA Today. Below are a few of the sites and attractions you can discover during your visit.
Take the "Race Through Indy" Tour
Without a doubt, the "Indianapolis 500" car race is the city's most renowned attraction and is in fact the world's biggest single-day sporting event. For those looking to discover the "Indy 500" experience, be sure to register for the NFDA's Race Through Indy Tour (Monday, October 19, 12:30pm-3:30pm). Explore the Dallara IndyCar Factory to learn how these impressive cars are built and try out a simulator to experience the sensation of driving an IndyCar. After touring the factory, you'll have an opportunity to spend time in the Indianapolis Motor Speedway and enjoy an exclusive, behind-the-scenes tour.
Explore White River State Park
Only a few blocks down from the convention center, White River State Park is a beautiful green oasis located right in downtown Indianapolis. The 250-acre park offers scenic green spaces, trails, trees and waterways. White River State Park is also the home of the Indianapolis Zoo, colorful White Rivers Gardens and the picturesque Canal Walk—a waterside promenade for walkers and bikers. You can also rent a paddleboat, gondola, surrey or Segway to explore the park. The NFDA will host a Segway Tour of White River State Park on Wednesday, October 21, 1pm-4pm.
Sample Indy's Best Breweries
The large and diverse number of breweries located within Indianapolis is a testament to the city's devotion to craft beer. From small taprooms to large warehouses, there are plenty of breweries located steps away from the convention center. Just one
 block away, you'll find RAM Restaurant & Brewery (140 South Illinois Street) a family-owned restaurant where handcrafted beers are served in everything from growlers to kegs. You can also head to close by Granite City Food & Brewery (45 S. Illinois Street) for casual dining and craft beers brewed on site.
If you're in town on Sunday, take the NFDA's "A Sample of Indy" tour (October 18, 12:30pm-4:30pm) and explore some of the city's historical sites. The tour ends with stops at Flat12 Bierwerks(414 Dorman Street) and Sun King Brewery (135 N College Ave). Flat12 offers an incredible back patio and delicious array of craft beers while Sun King is famous for being Indy's largest craft microbrewery. A few blocks from Sun King, you'll also find St Joseph Brewery & Public House (540 N College Ave). Located in a historic catholic church, the brewery offers a Sunday brunch and specialties such as Sanctuary Saison and Confessional IPA.
Visit the Soldiers & Sailors Monument
Just a ten-minute walk from the Convention Center, you'll find Indianapolis's iconic Soldiers & Sailors Monument. The monument is dedicated to the common soldier and is the largest outdoor memorial in Indiana. It is located on Monument Circle, a circular, brick paved street that intersects the center of downtown Indianapolis. Fountains and pools surround the neoclassical monument and an observation deck can be accessed via stairs or elevator.
Enjoy Indianapolis Nightlife
Set aside some time to explore the nightlife scene in Indianapolis. Whether you are looking for a place that is historic or ultra modern to enjoy your cocktail, there are plenty of options right near the convention center. Just around the corner, you'll find Indiana's oldest continually operated bar, Slippery Noodle Inn (372 S. Meridian Street). The bar was originally founded in 1850 and served as a station for the Underground Railroad. With antique accents, live blues musicians, a full menu and game room—Slippery Noodle offers patrons an incredible atmosphere.
History buffs will also appreciate the environment of The Rathskeller (401 E Michigan Street). This indoor and outdoor hotspot is set in a historic 19th century Athenaeum Building, blending the charm of an old inn with the openness of a German beer hall. The NFDA will host theirFuneral Directors Under 40 party here on Tuesday, October 20 from 8pm until 11pm. For those who are interested in a more modern ambiance, check out Plat 99 Mixology Lounge in The Alexander Hotel (333 S. Delaware Street). The bar was designed to be both a lounge and work of art with contemporary couches, glass blown lighting fixtures and creative cocktails.
---
Learn Valuable Information from Funeral Experts
Every year, we look forward to receiving the NFDA Convention Continuing Education class schedule to see what issues and trends will be discussed during convention workshops. This year's full lineup of seminars includes many interesting and insightful subjects affecting our profession. Below are just a few classes we plan to attend or stream online:
Effective Social Media for Your Funeral Home on a Shoestring Budget
Funeral Director, William Spear, of Hansen-Spear Funeral Home in Quincy, IL will teach attendees how to connect on a personal level with their communities through social media. ASD has followed the Hansen-Spear Funeral Home's Facebook page for years now and it is clear that the funeral home's creative "Give Back" program helps the directors there build and foster relationships through social media. We are confident that attendees will learn a great deal about developing a social strategy from William's presentation.
Presented by William Spear, Hansen-Spear Funeral Home
Sunday, October 18, 1:15pm-2:15pm
How to Obtain Community Support for a New Crematory in Your Market

Opening a new crematory is a challenge for many funeral professionals. There have been numerous articles published over the past several years detailing the conflicts directors have faced with their communities over this issue. This class tackles an important current topic and helps directors learn how to communicate effectively with the public. Instructors Carol Green,Lauren Green and Michael Nicodemus will explain how to obtain permits, meet zoning requirements and take proactive steps to handle neighborhood opposition.
Presented by Carol Green, Law Offices of Carol Lynn Green, Bethesda, MD; Laura Green, Ph.D., DABT, Green Toxicology LLC, Brookline, MA; Michael Nicodemus, NFDA Vice President of Cremation Services, Brookfield, WI
Monday, October 19, 7:30am-9:30am
Using Technology to Work Smarter and Increase Family Satisfaction 

There are a myriad of different business tasks that funeral homes can eliminate or streamline with the proper use of technology. This session will examine different technology support systems and tools that can help funeral homes operate more efficiently. We are eager to hear what techniques instructor Mike Bryan will provide to directors who are interested in expanding their technical experience.
Presented by Mike Bryan, General Manager, Batesville Technology Solutions, Batesville, IN
Tuesday, October 20, 11:15am-12:15pm
Funeral Directors Are Poor Businesspeople: Perception, Reality or Opportunity to Disrupt the Paradigm?
We had an opportunity to hear Erin Whitaker speak last year during the "Benefits of Diversity for your Business" panel at the 2014 NFDA convention and really appreciated both her presentation style and expertise. This year, Erin's session will explain how funeral directors can become more profitable by conveying a value-focused message to families and adopting smart business practices.
Presented by Erin Whitaker, CFSP, CPC, Financial and Management Consultant, The Foresight Companies LLC, Phoenix, AZ
Wednesday, October 21, 8am-9am
Be sure to follow our Twitter page, @myASDCalls during the NFDA Convention. We will be live tweeting tips and suggestions from convention workshops.
---
ASD Quick Tip: If you're still unsure what you'd like to do during your trip, download a travel app like Roadside America or Best Road Trip Ever. These mobile apps help you to locate nearby attractions, restaurants, shops and more.
We wish everyone safe and happy travels as you journey to Indianapolis for the 2015 NFDA Convention. Please leave us a comment if there are any events, CE classes or attractions in Indy you would recommend that we might have missed. We'd love to add more to this guide.

ConnectingDirectors.com is the leading online daily publication for funeral professionals with a reader base of over 45,000 of the most elite and forward-thinking professionals in the profession. With ConnectingDirectors.com we have created a global community through an online platform allowing funeral professionals to Stay Current. Stay Informed and Stay Elite.

Latest posts by CDFuneralNews (see all)
You may be interested
Funeral Industry News
1244 views
Funeral Industry News
32 views
Funeral Industry News
32 views
Tukios Announces New HD Video Book Product
CDFuneralNews
-
June 20, 2018
OGDEN, Utah - Tukios has introduced an innovative new keepsake with the recently released Video Book. At an affordable price,…
Funeral Industry News
648 views
Funeral Industry News
648 views
Mean Internet Comments – Funeral Edition
CDFuneralNews
-
June 20, 2018
We shine a light on some of the harsh words posted on social media towards DISRUPT Media's CEO, Ryan Thogmartin.…
Comments