2 GIRLS. 27 COUNTRIES. 142 TOILETS. ONE GREAT BUCKET LIST STORY.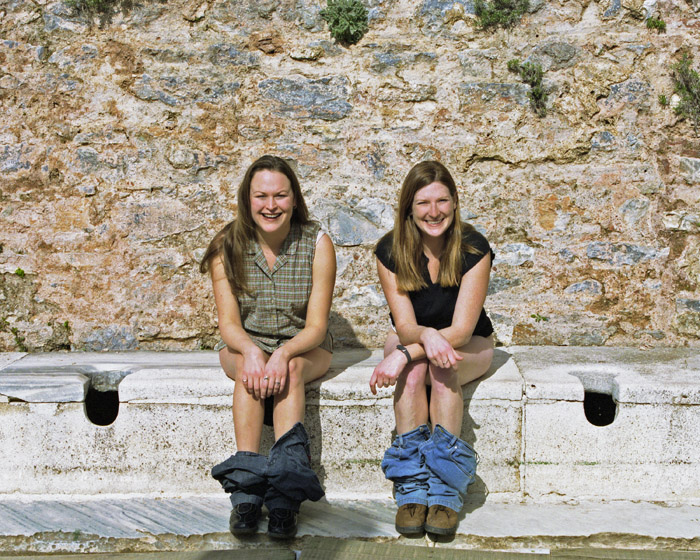 Article by Morna Gregory for Memorial Post
No great story ever started with someone eating a salad, they say, so we kicked it off by drinking beer on a beach in Fiji.
My bestie Sian and I were laying on a deserted stretch of soft white sand, swilling beer and talking toilets. We had both travelled tons, and we were marvelling at the different types of toilets we'd used. Squat toilets, egg-shaped toilet pods, open-air urinals (don't ask), self-cleaning toilets, historical toilets, the shit list goes on. An especially enlightening discussion was had on the many and mysterious ways to flush them. You're always looking for something to push, pull, turn, crank, wave at or stomp on. "We need to make a book," I declared, shoving the base of my Fiji Bitter bottle into the sand, "about the toilets around the world."
Like all great plans made over beer, we didn't think much of the toilet book idea after that. Until a few years later, when Sian needed a subject for the final project of her photography degree: toilets. We decided to use her school project to kick off the book.
Our vision was a stunning coffee table book with big, glossy photos and riveting write-ups. A witty and surprising look at different cultures through the materials, locations and mechanics of toilets from all around the globe. A clean, tasteful toilet book, if you will. No shit shots allowed – and we had unlimited opportunities for shit shots. (Sure, we missed an opportunity for a niche market book right there.) We were going to sell millions of copies, make millions of dollars and do guest appearances on the Letterman Show. We were gonna buy five copies for our mothers.
The toilet tour
Our logical starting point was Europe, a treasure trove of curious commodes. Logical because we were both living there at the time. After a series of unusual weekend road trips spent sniffing out the most interesting toilets in Europe, Sian had enough for her project and we had enough for the Europe chapter of our book.
Police escort Officer Charles and Sian
Toilet Fields, Limpopo, South Africa
We couldn't wait to tackle the toilets the rest of the world had to offer, but first we needed two things: a publisher, and a ton of money to travel. We pitched the Europe chapter to a bunch of publishers and they all turned us down. Whatever, we'll deal with that one later. We pooled our savings and also hit up some toilet manufacturers for sponsorship. Most of them said no too but a few of the more astute companies* saw the potential and helped fund the Toilet Tour (love you guys!)
Off we went to scour the corners of the earth in search of book-worthy toilets. Six continents and 26 countries later, we had documented a mother lode of fascinating crappers. One was even made of gold. We found space station toilets, toilets carved out of cacti, solar powered toilets, toilets on stilts, self-cleaning toilets, toilets that clean you, toilets cleaned by pigs, urinals for women, toilets inhabited by seals, entire fields of toilets and over a hundred more.
Toilet research in Beijing, China
Spending that much time on such an unconventional pursuit increases the chances of freaky situations exponentially. Like bursting into a porn party in the high Andes. Or having a gun pulled on us in South Africa. Flushing out the Great Masturbator from an Autobahn rest stop. Flying to Miami in possession of Bolivian coca leaves (don't). Evading the Pizza Freak. Marching with the Red Army on Tiananmen Square. The adventures alone could fill volumes, many of which are just too out there to mention.
Toilets of the World
…and our baby is born
It's not a big coffee table book, but it is glossy and gorgeously designed. We didn't make millions and we didn't go on Letterman (we were considered, though) but we did travel the world, go on a mini book tour (California) and host a toilet exhibition (Germany). Toilets of the World is out in eight languages and counting. Seeing Morna Gregoryova and Sian Jamesova on the Czech cover still makes us feel like tennis stars. We can add published author to our resumes, and we like to think that's got a certain cachet.
Das Bild newspaper Duisburg, Germany
The number of people we met along the way who said they had the same idea, have a huge collection of toilet pics, always wanted to do the same book, etc… is in the hundreds. Were we the first to have the idea? Not by a long shot. Were we the first to take it from idea to ISBN number? You bet your bidet we were.
By now you've likely flushed out the moral of this toilet tale: If you have an idea that you're passionate about, even if people think you're on crack, just shit or get off the pot already. And don't start anything over salad.
Do not try this at home. You could lose your home, your spouse, your pets, your savings and your sanity. Was it worth it? Hell yes.
Follow TOTW on Facebook!
Facebook facebook.com.bathroom.book
Twitter @toiletsbook
Text © Morna E. Gregory
Photos © Sian James
*Proud sponsors of Toilets of the World:
Haniel-CWS, Villeroy & Bosch, Falcon Waterfree Technologies, Thomas Crapper Company, Vistek Camera.

ConnectingDirectors.com is the leading online daily publication for funeral professionals with a reader base of over 45,000 of the most elite and forward-thinking professionals in the profession. With ConnectingDirectors.com we have created a global community through an online platform allowing funeral professionals to Stay Current. Stay Informed and Stay Elite.

Latest posts by CDFuneralNews (see all)
You may be interested
Funeral Industry News
861 views
Funeral Industry News
273 views
Funeral Industry News
273 views
RELEASE THE FN CRAKN! | FUNERAL nation 114
CDFuneralNews
-
June 18, 2018
It's a barn burner... The Commander is moving his Command Post!!! Besides the Commander on the move, the boys speak…
Frontrunner Professional
3 views
Comments