Cremated Remains Traveling to Space is Really Happening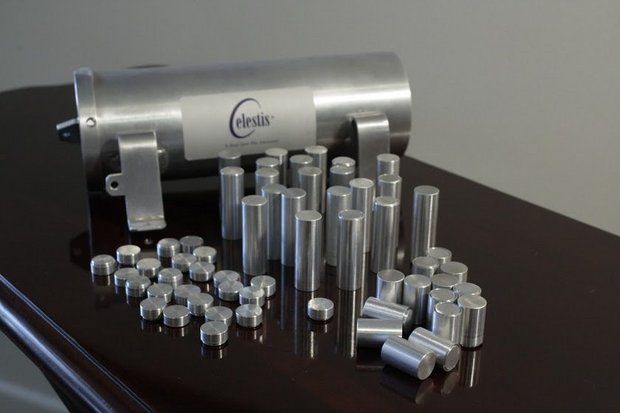 Originally published by NJ.com
Rob Stemmerman's ashes, along with those of other passengers, will be placed in cylinders similar to those shown for the trip into space. (Photo provided by Celestis Inc.)
Space will be the final frontier for a deceased Burlington County resident when his ashes are launched into sub-space through Celestis' Conestoga Rocket Flight program.
Karen Carney, of Hainesport, said her husband Rob Stemmermann, an Army veteran who died in January 2012, always dreamed of going into space.
So now, after planning for more than a year, Carney will travel to New Mexico's Spaceport America on Oct. 20 to fulfill his dream posthumously.
"He was funny and a total fan of Stephen Hawking, and he always read up on all the latest and greatest in space travel," Carney said. "We went on vacation every year and when I would ask him where he wanted to go, every year he would say, 'Space.'"
After Stemmermann's death, Carney was reading an article about Celestis, an affiliate of Space Services Inc. in Houston, that helps families honor the memory of loved ones through unique, post-cremation memorial spaceflights.
"They have different things you can do," Carney said. "I was going to do the one that sends the ashes into orbit, but they said that could take 10 years, and that's too long."
Too long, she said, because she is on mission.
"I'm taking seven journeys, and spreading his ashes at seven different locations," Carney said. "Space is the second to last journey."
Stemmermann's ashes have also been taken to Paris, sprinkled into the Pacific Ocean in Costa Rica, and will soon go to the Ganges River in India.
"We were supposed to go there the year he died," Carney said. "Each place, I go with someone different. I'm writing a book about it. Luckily we did a lot of things together, so there's no regrets –  only that he didn't go into space, and now he is."
Stephen Eisele, vice president of business development for Celestis, said the program is the world's first and only successful memorial spaceflight company in the world.
"We fulfill the dreams of those who always wanted to go into space," Eisele said. "A symbolic proportion of the cremated remains are sent into space."
But Carney's trip to New Mexico will be more than just a rocket launch.
"There is a three-day agenda," Eisele said. "It's awe inspiring and exciting to see a loved one, knowing they are on a rocket, going into outer space."
Carney said her 25-year-old nephew will accompany her on this leg of her journey.
"On Sunday, we take a tour of Spaceport America, mission control, and see the ashes in the rocket," she said.
Later, there is a memorial service for all of the deceased passengers.
"The families really bond over their loved ones," Eisele said.
On launch day, Carney said they board a bus at 5 a.m. and travel out to the middle of the desert.
"There's a countdown to launch and the families see it happen," Eisele said.
Eisele said the rocket goes into sub-space where it will experience a lack of gravity, and quickly returns to Earth.
"A helicopter retrieves it and the families can take the capsule with their loved ones' remains back home with them as a keepsake," he said.
Families also receive a DVD of the flight.
"It's strange to say, but it's almost cathartic," Eisele said. "It's kind of like lighting the largest candle ever in memory of your loved one, then watching it take off."
Carney said her husband would "be cracking up," about his trip to space.
"I think he would think everything I'm doing is pretty cool," she said. "I'm continuing what we used to enjoy doing together."
For more information about Celestis, visit www.celestis.com.

ConnectingDirectors.com is the leading online daily publication for funeral professionals with a reader base of over 45,000 of the most elite and forward-thinking professionals in the profession. With ConnectingDirectors.com we have created a global community through an online platform allowing funeral professionals to Stay Current. Stay Informed and Stay Elite.

Latest posts by CDFuneralNews (see all)
You may be interested
Funeral Industry News
1286 views
Funeral Industry News
32 views
Funeral Industry News
32 views
Tukios Announces New HD Video Book Product
CDFuneralNews
-
June 20, 2018
OGDEN, Utah - Tukios has introduced an innovative new keepsake with the recently released Video Book. At an affordable price,…
Funeral Industry News
650 views
Funeral Industry News
650 views
Mean Internet Comments – Funeral Edition
CDFuneralNews
-
June 20, 2018
We shine a light on some of the harsh words posted on social media towards DISRUPT Media's CEO, Ryan Thogmartin.…
Comments