13 Essential Books for Funeral Professionals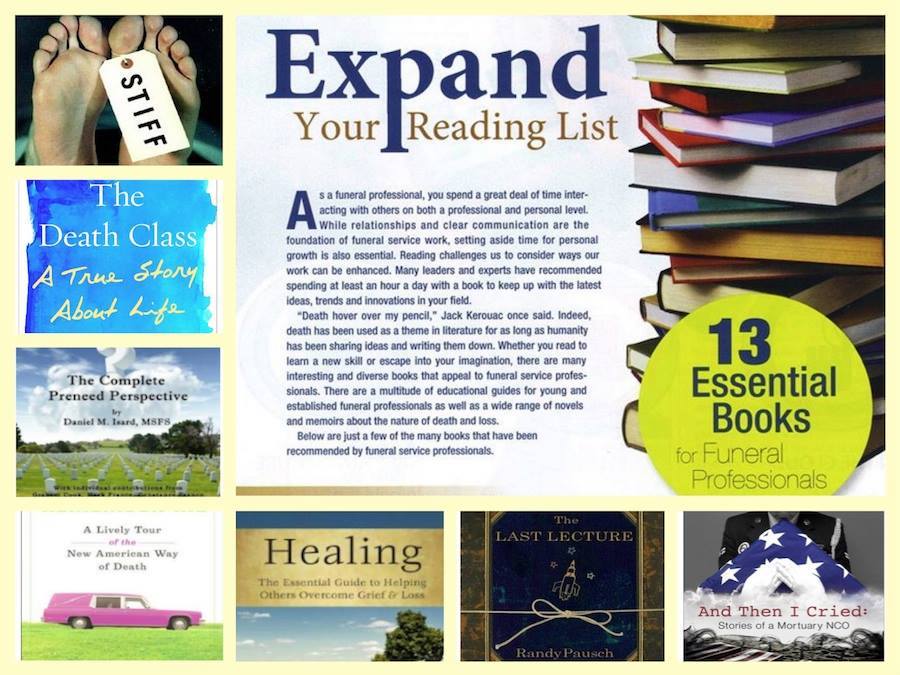 Originally published by American Funeral Director and ASD – Answering Service for Directors
Originally published in the June 2014 issue of American Funeral Director magazine.
As a funeral professional, you spend a great deal of time interacting with others both on a professional and personal level. While relationships and clear communication are the foundation of funeral service work, setting aside time for personal growth is also essential. Reading challenges us to consider ways our work can be enhanced. Many leaders and experts have recommended spending at least an hour a day with a book to keep up with the latest ideas, trends and innovations in your field.
"Death hovers over my pencil," Jack Kerouac once said. Indeed, death has been used as a theme in literature for as long as humanity has been sharing ideas and writing them down. Whether you read to learn a new skill or escape into your imagination, there are many interesting and diverse books that appeal to funeral service professionals. There are a multitude of educational guides for young and established directors as well as a wide range of novels and memoirs about the nature of death and loss.
Below are just a few of the many books that have been recommended by funeral service professionals.
Outstanding Memoirs
"Mortician Diaries: The Dead-Honest Truth from a Life Spent with Death" 

By June Knights Nadle.
After working for more than 50 years in the funeral business, 80-year-old undertaker and grandmother, June Knights Nadle, set out to record her stories and recollections in this engaging narrative. While some of Nadle's stories are humorous and others are quite sad, they all shed light on the different ways people grieve and cope with loss. Her firsthand accounts are filled with memorable characters and insightful wisdom gleaned from more than five decades of experience serving families. To purchase this book please visit Amazon.
"And Then I Cried: Stories of a Mortuary NCO"
By Justin Jordan
If you're looking for a different perspective on funeral service work, this memoir illuminates the often-overlooked work of Mortuary Affairs officers in the military. The first-person account from Justin Jordan is told in graphic detail, describing the often shocking state of those killed in battle as well as the anguish he experienced dealing with families of the fallen. The book also describes Justin's own battle with post-traumatic stress disorder and explains how traumatic experiences can affect your brain. To purchase this book please visit Amazon.
---
Informative How-To Books
"Deathcare Marketing, 25 FAQs" 

By Glenn Gould
With more than 3,000 copies sold, Glenn Gould's guide on how funeral home owners can grow their market share continues to inspire innovative thinking. The book, used in mortuary colleges nationally, tackles both ownership challenges and consumer issues faced by funeral directors. As CEO of MKJ Marketing, Gould has compiled insights from more than 500 market research studies. His book is organized into frequently asked questions, making it an easy and thorough go-to guide for locating common questions about funeral home ownership, sales, branding, advertising and other marketing challenges. To purchase this book please visit Amazon.
"Selling the Invisible: A Field Guide to Modern Marketing"
By Harry Beckwith
At funeral trade shows and conferences, it is common to see both funeral directors and experts in other fields providing insights as speakers. Listening to an outside perspective challenges you to consider how an approach used by a different industry can be adapted for your business. In the book, "Selling the Invisible: A Field Guide to Modern Marketing", author, Harry Beckwith, examines how service-based businesses are still being marketed like products and why it is critical to focus instead on the intangible value your business offers. The book provides case studies on how other companies have done this successfully.
"This book has a lot of great pointers about creating value and showing value in our product," said funeral director, Steve Mailloux, of Needham-Jay Funeral Homes in Petrolia, Oregon. "It also gives good reminders about how consumers think. I strongly recommend it." To purchase this book please visit Amazon.
"The Complete Preneed Perspective" 

By Daniel M. Isard
With more than 30 years experience consulting and appraising funeral homes throughout the U.S., Daniel M. Isard, president of The Foresight Companies, has acquired a great deal of knowledge on the subject of preneed. His book, "The Complete Preneed Perspective," is considered the most comprehensive and detailed resource for funeral home owners interested in marketing, servicing or funding prearranged funeral and cemetery contracts. The book also includes insights from other innovative leaders, providing a spectrum of different preneed selling techniques and best practices. To purchase this book please visit Kates Boylston Publications.
---
Inspiring Non-Fiction
"A Very Easy Death"
By Simone de Beauvoir
For more than 50 years, Simone de Beauvoir's "A Very Easy Death" has been hailed as a literary masterpiece for its powerful descriptions of the last stages of life. The memoir follows Madame de Beauvoir, the author's mother, during the last six weeks of her life in honest, beautiful and sometimes painful detail. After more than five decades in print, the story continues to help generations face the tragedy of an imminent death.
"Madame de Beauvoir's story is a sad one with unfortunate health complications, one right after another," said funeral director, Lauren Polanski, of Daniel R. Smolarek Funeral Home in Cheektowaga, New York. "The author lets her honesty with her mother's demise flow freely onto the pages." To purchase this book please visit Amazon.
"The Death Class: A True Story about Life" 

by Erica Hayasaki
This recently released novel made headlines earlier this year as "the last lesson you'd ever need on life." For more than four years, the author shadowed Kean University (NJ) Professor, Norma Bowe, who is known as the "Professor of Death." Her unique college course, "Death in Perspective" includes class field trips to cemeteries, morgues, hospices, prisons and funeral homes to find life's meaning in death. Between lessons on organ donation and creating a will, Bowe teaches her students how to understand the value of their own lives. To purchase this book please visit Amazon.
"The Last Lecture"
By Randy Pausch with Jeffrey Zaslow
Computer Science Professor, Randy Pausch's famous lecture on "Really Achieving Your Childhood Dreams" has inspired millions of readers since the speech was first published in 2008. After being diagnosed with pancreatic cancer, Pausch addressed students at Pittsburgh's Carnegie Mellon University about the importance of recognizing the moments that matter and approaching life with a childlike wonder. After his speech, Randy stated in an interview he gave the lecture as a last gift to his children with hopes they might discover his words one day. The book has since inspired millions of people around the globe to embrace Pausch's philosophy. To purchase this book please visit Amazon.
---
Helpful Guides
"Healing: The Essential Guide to Helping Others Overcome Grief & Loss" 

By Alicia King
Learning the words to say to provide comfort to someone mourning a loss requires time and patience. Funeral directors learn the words and body language to console the bereaved from observing other directors, but this indefinable skill can only improve with experience and study. This book, written by Alicia King with honesty and compassion, offers practical advice on what to say and do to help. After suffering a series of major tragedies in a short period of time, King began to notice what eased her pain and what prolonged it when others came over to visit. Her book lists examples of ways to comfort the grief stricken and is a valuable resource for both funeral directors and families. To purchase this book please visit Amazon.
"The Party of Your Life: Get the Funeral You Want by Planning it Yourself"
By Erika Dillman
Today, more and more families are interested in different ways to personalize their loved one's funeral. If you're looking for ideas and inspiration for customizing a funeral for a family, take some time to read this guide by Erika Dillman. The fun, tongue-in-cheek book is brimming with suggestions how to add personality to any funeral service. It's also a great recommendation for families that express an interest in preplanning a unique send off.
"I like this book because it challenges people to think of our inevitable demise and funeral planning in a totally different light," said Kara Kelley-Thorp, Family Service Counselor at Sunset Funeral Home and Crematory in Minneapolis. To purchase this book please visitAmazon.
"Remember Me: A Lively Tour of the New American Way of Death" 

By Lisa Takeuchi Cullen
Time Magazine Writer, Lisa Takeuchi Cullen, examines the changing customs of the death care profession and how Americans are reinventing funeral traditions. Cullen traveled to funeral homes around the country to document the different ways families now pay tribute their loved ones. Green funerals, themed caskets and memorial reefs are all investigated along with the families that chose these less conventional options. Remember Me offers insights for directors interested in learning about modern funeral trends other firms have embraced. To purchase this book please visit Amazon.
---
Excellent Reads for Students
"Does this Mean You'll See Me Naked?"
By Robert Webster
Mortuary science students, funeral interns and anyone who is new to the profession can learn a great deal from this book that combines educational information with engaging stories. Funeral Director, Robert Webster, gives a behind-the-scenes look at the work of funeral directors, from the various types of services offered to preparing a body for viewing to conflicts within families. To purchase this book please visit Amazon.
"I liked this book for a lot of reasons. It's fascinating to a newcomer," says Kelley-Thorpe.
"Stiff: The Curious Lives of Human Cadavers" 

By Mary Roach
This book may have been published more than 10 years ago, but the intriguing details and witty observations found inside show no signs of decay. Science writer Mary Roach's exploration of cadaver decomposition, embalming techniques and forensic data analysis has interested future funeral directors for more than a decade. The National Funeral Directors Association's 2013 Mortuary Science Student Expectation Study even listed "Stiff" as a possible answer for why students became interested in a funeral service career. While not everything in the book relates specifically to the work of directors, the author's take on everything from cannibalism to crucifixion is both fascinating and funny to read. To purchase this book please visit Amazon.
American Funeral Director, June 2014.
Photo credit: ASD
---
What are some other books that you would recommend to your peers? Leave us a comment and share them with us – we'd love to hear your recommendations.

ConnectingDirectors.com is the leading online daily publication for funeral professionals with a reader base of over 45,000 of the most elite and forward-thinking professionals in the profession. With ConnectingDirectors.com we have created a global community through an online platform allowing funeral professionals to Stay Current. Stay Informed and Stay Elite.

Latest posts by CDFuneralNews (see all)
You may be interested
Funeral Industry News
6 views
Funeral Industry News
515 views
Funeral Industry News
515 views
Mean Internet Comments – Funeral Edition
CDFuneralNews
-
June 20, 2018
We shine a light on some of the harsh words posted on social media towards DISRUPT Media's CEO, Ryan Thogmartin.…
Funeral Industry News
1183 views
Comments