Walmart Caskets and Other Spooky Funeral Service Trends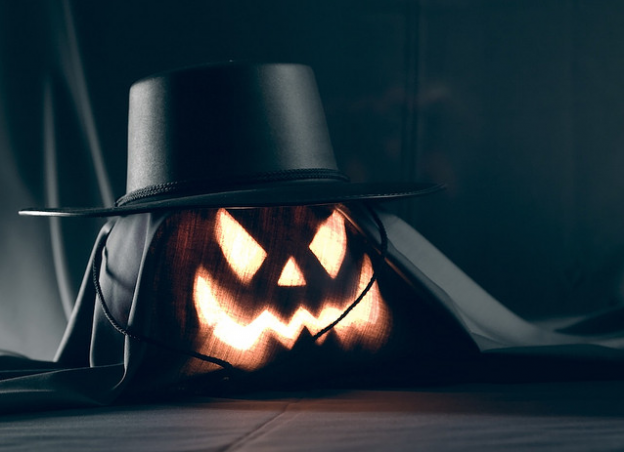 Guest Article Contributed by: Krystal Penrose, FuneralOne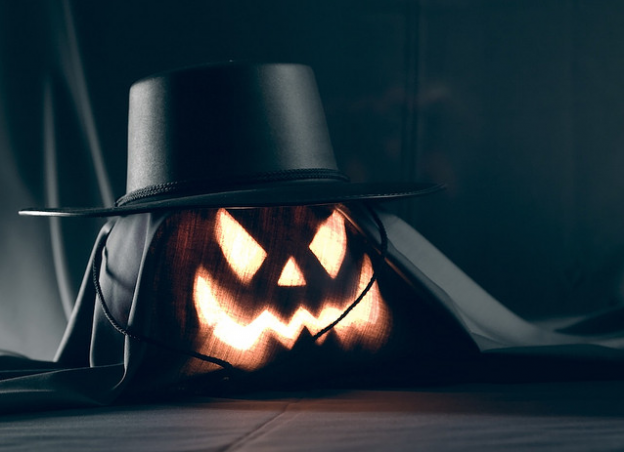 It's Halloween! It's time for trick-or-treaters, Halloween candy stomach aches, brains in a bag, drive-thru funerals… you know, the usual.
I've saved all the disturbing funeral service trends I've discovered online just for Halloween. Because really, what's scarier than Walmart caskets and cheesy funeral home advertising?
While you're in the Halloween spirit, enjoy these 5 scary funeral service trends!
1. Walmart caskets
When Walmart disrupted every other industry in the U.S., how could we expect them not to disrupt ours? Historically known to put small businesses out of business, Walmart has been offering affordable caskets for a few years now, ranging from $1,000-$1,700. While I think it's completely impersonal and daunting, some price shoppers actually to go for them.
My favorite part about this? They offer free in-store pickup. There's just something about picking up a casket from Walmart that doesn't sit well with me.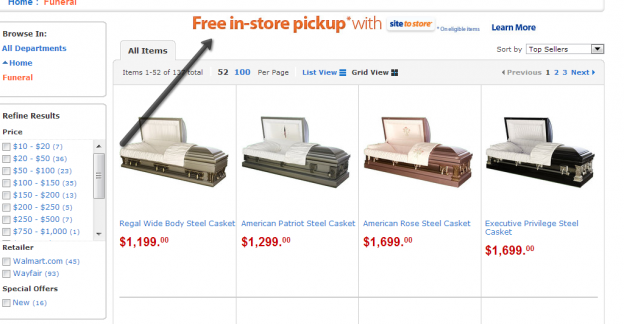 2. Willie the Wimp
Willie the Wimp was a Chicago guy with a bad reputation, and after he was shot, his dad threw him a funeral. But I like to think of as more of a "funeral party." Look at the poor guy! He's propped up holding a steering wheel to a Cadillac Seville-style casket. I'm not sure if this is funeral personalization at its best or its worst? Either way, it's awfully creepy.
In the end, gang-banger Willie the Wimp didn't have his claim to fame until after his death. His casket inspired someone to even write a song about it! Talk about celebrating the life lived.
Willie the Wimp was buried today, 
They laid him to rest in a special way. 
Sent him off in the finest style 
That casket-mobile really drove 'em wild 
Southside Chicago will think of him often 
Talkin' 'bout Willie the Wimp and his Cadillac coffin, 
Willie the Wimp and his Cadillac coffin
That casket, it looked like a fine Seville 
He had a vanity license and a Cadillac grille 
Willie was propped up in the driver's seat 
He had diamonds on his fingers and a smile sweet 
Fine red suit had the whole town talkin' 
Talkin' 'bout Willie the Wimp and his Cadillac coffin 
Willie the Wimp and his Cadillac coffin
Oh, Cadillac to Heaven he was wavin' the banner 
He left like he lived, in a lively manner 
With a-hundred dollar bills in his fingers tight 
He had flowers for wheels and a-flashin' headlights 
He been wishin' for wings, no way he was walkin' 
Talkin' 'bout Willie the Wimp and his Cadillac coffin 
Yeah, Willie the Wimp and his Cadillac coffin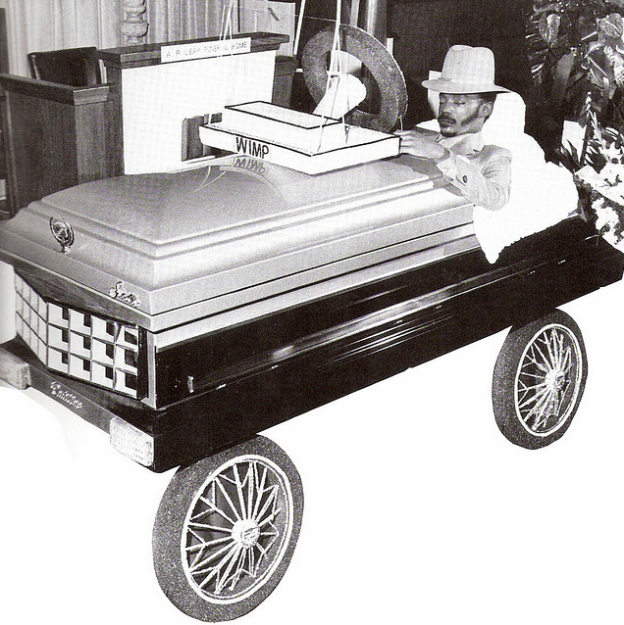 3. Drive-thru funeral parlor
I'm not going to say this is a completely awful idea… I mean hey, at least funeral homes are tuning into the fact that the families of today are in a hurry. But something about this doesn't sit right with me. Drive-thrus are for greased up junk food, not remembering the life lived.
This idea is definitely a symbol of the fact that many people in this country can't stop for one minute to even pay tribute to someone they cared about. Is it just me, or is this a trend we want to stay away from?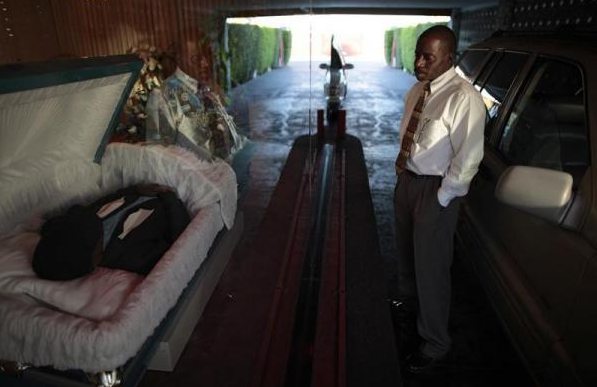 4. Brain in a bag
This isn't so much a trend, (and I sure hope it never becomes one). But, two years ago a family in Utah complained about a bag they received from their funeral director. They said it had a "foul smell" to it. Turns out, the funeral director placed the loved one's brain into a bag and gave it to the family (without telling them it was a brain).
According to the funeral director, that's a common practice. But isn't it important to let the family know you're giving them their loved one's brain before you actually do? Just the thought of that is enough to give me chills!
5. Advertising that scares families away
Do I even need any explanation for this one? How in the world does one relate a happy, lovey-dovey holiday to preplanning their funeral? Not exactly an ideal way to connect with your target audience.
It get's even weirder at the end when they say "By the way, did we tell you we were affordable?" Excuse me while I ditch my romantic dinner date to plan my significant other's funeral! This isn't exactly my idea of "the perfect gift" on Valentine's Day!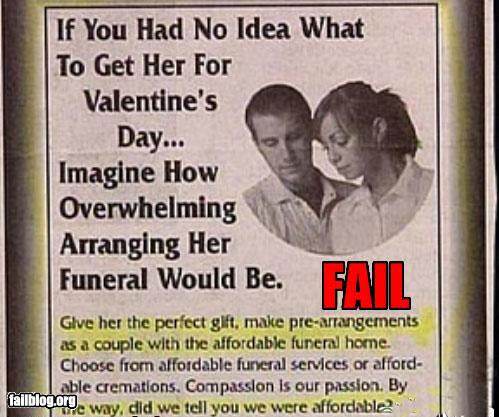 Which one of these trends scares you the most?  They're all up there in our book!
 ABOUT THE AUTHOR: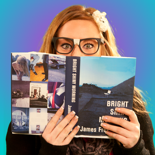 Krystal Penrose is the content marketer and funeralOne blog manager. As content marketer, her role is to research the changing needs of today's families, and present them to funeral professionals through educational content. Krystal also engages with thought leaders in the industry to help create an  online community for funeral professionals across the country. funeralOne's solutions include:website design, aftercare, eCommerce, and personalization software. Connect with Krystal on Google+

ConnectingDirectors.com is the leading online daily publication for funeral professionals with a reader base of over 45,000 of the most elite and forward-thinking professionals in the profession. With ConnectingDirectors.com we have created a global community through an online platform allowing funeral professionals to Stay Current. Stay Informed and Stay Elite.

Latest posts by CDFuneralNews (see all)
You may be interested
Funeral Industry News
940 views
Funeral Industry News
276 views
Funeral Industry News
276 views
RELEASE THE FN CRAKN! | FUNERAL nation 114
CDFuneralNews
-
June 18, 2018
It's a barn burner... The Commander is moving his Command Post!!! Besides the Commander on the move, the boys speak…
Frontrunner Professional
3 views
Comments