Mysendoff.com Launches An Interactive Songbook For Funeral Planning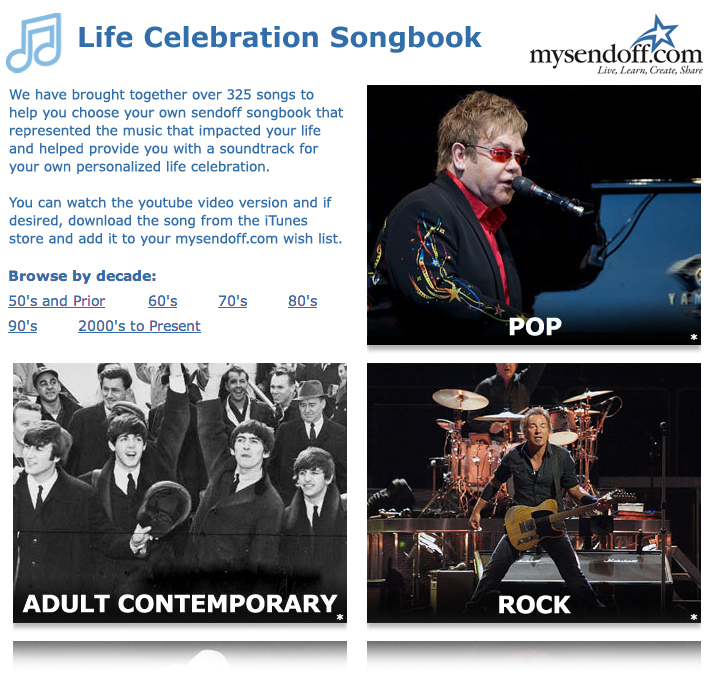 New Resource for Funeral Directors To Help Personalize Funeral Celebrations
October 5, 2012 Charlotte, NC -NFDA Expo 2012 – The love of music is the one common denominator that we all share throughout our lives. Whether we are young school children listening to the latest pop songs, middle-age people looking to recapture youthful memories or seniors reminiscing about the good old days. There is no denying that music provides the soundtrack of our lives and is an important part of helping to define who we are and the memories we cherish.
Looking to help funeral professionals stay ahead of the curve as personalization including videos and music become more popular choices with today's evolving funerals, mysendoff.com, the Internet's largest resource for funeral-related information has just introduced an "industry first" music listing of songs that funeral professionals can use to help families and pre-need clients plan and personalize their funeral life celebrations.
The best part is that mysendoff.com's online Life Celebration Songbook, that contains song sample links to each of the 325 songs, is free to use by simply registering at mysendoff.com.
Mysendoff.com's "Life Celebration Songbook" has been developed as a baseline to help start the conversation about funeral planning, and it can be a very effective and valuable tool for funeral directors to have in their portfolio of services to offer families, because every person who will ever be involved in planning a funeral life celebration shares a love for music. Families will certainly appreciate having such a diverse selection of music selections and the choices of mysendoff.com's Songbook offered to them when making arrangements.
With Frank Sinatra's "My Way" to Neil Young's "Long May You Run" country singer Tim McGraw's "Live Life Like You Are Dying" and even Celine Dion's major hit "My Heart Will Go On" from the movie Titanic, this innovative music list covers most popular music categories and is another valuable tool that mysendoff.com offers to progressive funeral professionals looking to stay ahead of the changing needs of today's funeral consumers.
"We have often heard people say that they would like to have a certain song played at their funeral, and this was the catalyst to the creation of the world's first music list created specifically for funeral life celebrations," says Colin Firth, who has created mysendoff.com as a social media platform to bring the discussion of funeral planning into the mainstream.
Firth points out that Apple CEO Steve Jobs who passed away one year ago today had personally requested that internationally renowned cellist Yo-Yo Ma play at his funeral. Mr. Ma played a selection of his own songs as did folksinger Joan Baez and several weeks later, Apple held another life celebration tribute to Jobs that included singer Norah Jones and the band Coldplay. These sendoffs for Mr. Jobs were a fitting musical tribute to the man who helped revolutionize the music industry with the creation of the iPod digital music player and the formation of the iTunes store.
Firth adds, "We spent the past six months researching songs that celebrate life and speak about love and loss. We will admit that our song list won't include everyone's choices of the millions of songs that have been recorded, but it is a great base to build on and we are encouraging people to submit their own personal song requests that we will review and consider adding to our "Life Celebration Songbook. Our goal is to at least help start the conversation about funerals with this functional resource."
To make the Songbook fully interactive and user-friendly for every funeral professional, mysendoff.com has even included easy-to-use links to the YouTube video channel and even to the Apple iTunes online music store where funeral professionals can actually watch a video or play a short sample of the chosen song during an arrangement meeting. If the family chooses a certain song they (or the funeral home) can then purchase it through iTunes and play their selections during visitation or other services if the funeral home carries the appropriate licensing through the music agencies.
"We understand that forward-thinking funeral professionals are always looking for new ways to deliver more value to their clients and at mysendoff.com, we want to help put creative new options in the hands of funeral professionals. Our innovative "Life Celebration Songbook" just might be that extra difference on deciding which funeral professional a family chooses in today's changing market," adds Firth.
To learn more about mysendoff.com's "Life Celebration Songbook" please visit  www.mysendoff.com/music-list or drop by their booth #1230 at the NFDA Convention in Charlotte.
Mysendoff.com is helping bring together today's changing funeral consumer and funeral professionals by bringing the topic of funeral planning into the mainstream with the first social media site for funerals. Mysendoff.com also offers an "industry first" content sharing agreement for funeral home interested in adding new content/stories to their websites and Facebook pages.
You can contact mysendoff.com founder Colin Firth at [email protected] or 705-523-0555.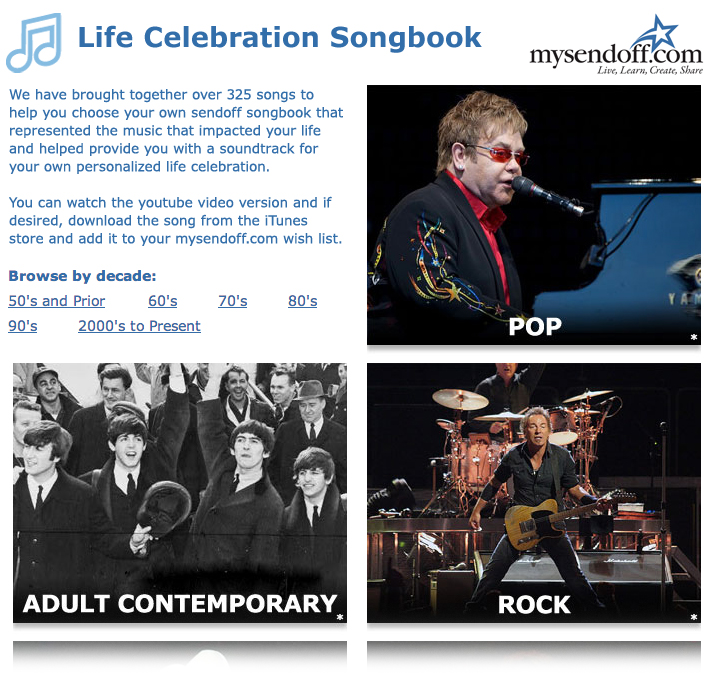 ConnectingDirectors.com is the leading online daily publication for funeral professionals with a reader base of over 45,000 of the most elite and forward-thinking professionals in the profession. With ConnectingDirectors.com we have created a global community through an online platform allowing funeral professionals to Stay Current. Stay Informed and Stay Elite.

Latest posts by CDFuneralNews (see all)
You may be interested
Funeral Industry News
697 views
Funeral Industry News
25 views
Funeral Industry News
25 views
Tukios Announces New HD Video Book Product
CDFuneralNews
-
June 20, 2018
OGDEN, Utah - Tukios has introduced an innovative new keepsake with the recently released Video Book. At an affordable price,…
Funeral Industry News
617 views
Funeral Industry News
617 views
Mean Internet Comments – Funeral Edition
CDFuneralNews
-
June 20, 2018
We shine a light on some of the harsh words posted on social media towards DISRUPT Media's CEO, Ryan Thogmartin.…
Comments