Strategy, It's Your Foundation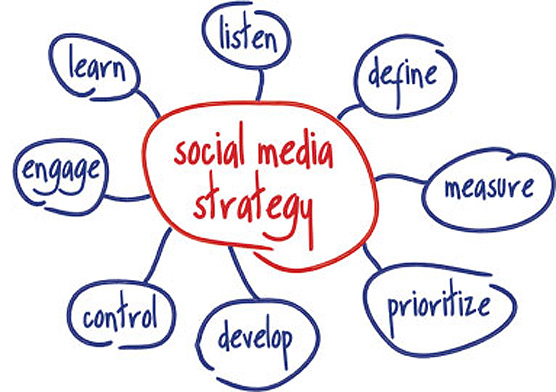 We have all heard the expression "…bringing a knife to a gun fight." Well that expression applies when you jump head first into social media marketing with no focused strategy or channel game plan.
My social media company, DISRUPT Media Group, coined the now viral phrase:
"Social media marketing without a strategy is like eating soup with a fork. You miss all the good stuff."
Following a process to do something is the best way to ensure that results are true to form and delivery is efficient. Social Media projects don't need to be complex. During my years in consulting I've always stressed simple terms and definitions to explain the complicated. A process model should follow the same rules, which are: Be easy to understand, and be actionable.
The process that DISRUPT Media uses is just that: a simple way of listening, identifying, scanning, planning, and implementing.
There are 6 components to the Social Media Design Process (SMDP), which I have highlighted below:
Component #1: Social Media Universe – The social media universe consists of all the social media channels, websites, applications, and devices (online & offline). These are places where people can communicate with each other socially. This is where the conversation begins.
Component #2: Social Profile – A social profile is a composite understanding of customers and users. Social profiles consist of traits and characteristics. They allow us to understand the user. Much like user personas, social profiles are the key building blocks of a social media strategy.
Component #3: Social Media Strategy – A social media strategy defines the goals and objectives for organizations looking to partake in social media. A social media strategy can be compared to a blueprint for success. It outlines the game plan, the tactics, and the channels that will be used throughout each social media initiative.
Component #4: Social Media Game Plan – A social media game plan is way to guide each individual social media tactic. Think of a game plan like a football game plan. In order to defeat your opponent on Sunday you need a game plan for success.
Component #5: Social Media Tactic – Tactics are what we use to get the job done. A social media tactic is any method for completing our game plan and reaching the goal of our strategy.
For example: a tactic might be to build a custom app inside your Facebook Page that would permit users to add thoughts and ideas to different personalized funeral packages.
Component #6: Social Media Channel – Tactics reside in social media channels. These are places where customers, users, and anyone else are participating in the ongoing conversation.
Example: A blog "Personalized Funeral Options" is a channel. A fan page on Facebook for your funeral home is a channel. There are more channels out there than we can count.
The Social Media Design Process has 4 Steps:
1.    First, we identify a social profile(s) for your client families and prospect customers: These profiles tell us more about who your customers are, their met & unmet needs, and how they use social media channels.
2.    We then scan both your firm and funeral profession within the social media universe and design a customer focused social media strategy that encompasses a business goal, marketing initiative or brand objective.
3.    Next, we identify social media tactics that best fit the strategy. We create a social media game plan around each tactic so that we can measure and determine if the tactics we chose are working with your overall strategy.
4.    Finally, we implement the chosen tactics into various social media channels.
The right process makes social media easier. Without a simplified process for creating a customer focused social media strategy you're going to be stuck in the same place you are now: knowing you need to be active in the social universe but not having any idea where to get started. Eventually you will take the leap, but without a customer focused social media strategy to guide your every move, your desire and passion to get your firm socially active will burnout and your social pages will be left dormant, not updated, with no customer engagement.
CEO at DISRUPT Media and ConnectingDirector.com
Ryan Thogmartin is the Owner and CEO of DISRUPT Media.

DISRUPT Media is a full-service creative agency built for the now. We partner with death care companies to drive deep-rooted brand loyalty and measurable leads through social media.

More Fans. More Conversations. More Leads.

Ryan is also the founder of ConnectingDirectors.com. ConnectingDirectors.com is the leading online daily publication for funeral professionals with a reader base of over 45,000 of the most elite and forward-thinking professionals in the profession. With ConnectingDirectors.com Ryan has created a global community through an online platform allowing funeral professionals to Stay Current. Stay Informed and Stay Elite.
Latest posts by Ryan Thogmartin (see all)
You may be interested
Funeral Industry News
438 views
Funeral Industry News
17 views
Funeral Industry News
17 views
Tukios Announces New HD Video Book Product
CDFuneralNews
-
June 20, 2018
OGDEN, Utah - Tukios has introduced an innovative new keepsake with the recently released Video Book. At an affordable price,…
Funeral Industry News
587 views
Funeral Industry News
587 views
Mean Internet Comments – Funeral Edition
CDFuneralNews
-
June 20, 2018
We shine a light on some of the harsh words posted on social media towards DISRUPT Media's CEO, Ryan Thogmartin.…
Comments