2023 Cremation Symposium: Ignite the Spark!
WHEELING, IL— We never knew the value of a capable funeral professional until COVID hit. Finding qualified employees is never easy, but add to that a pandemic, compassion fatigue, the Great Resignation, and "quiet quitting," and you have the recipe for a workforce in trouble. At the 2023 Cremation Symposium, the Cremation Association of North America (CANA) places the problem center stage to reignite our passion and purpose for funeral service. Join CANA February 8-10, 2023 at The LINQ Hotel + Experience in Las Vegas to find your spark!
CANA events are known for providing opportunities for owners and managers from across the profession to connect on today's issues impacting their businesses. The 2023 Symposium, packed into just a day and a half, is filled with sessions that spark conversation and infuse energy for innovative solutions which carry over to networking, shared meals, and roundtables.
The 2023 Cremation Symposium provides practical takeaways to put to use right away. CANA's experts in staff engagement, culture and customer service, efficiencies and other solutions will reignite your passion for your funeral, cemetery, and cremation business.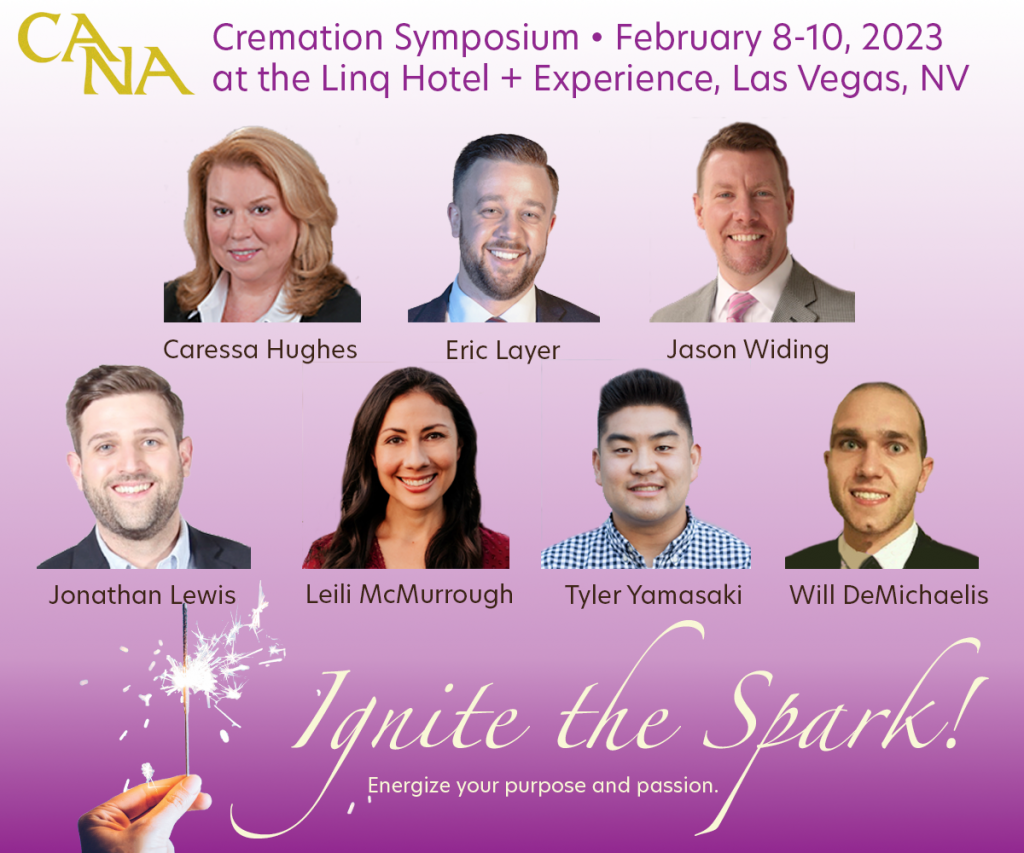 The Keynote will help you restore the "spark" that's needed by your most important target audience: the people with your name on their paychecks. In The Right Way of Management: Meaning and Purpose for Your People, Eric Layer will share proven research and strategies from inside and outside the funeral business from his consulting firm McKee Wallwork and 2020 book The Right Way of Death.
In a very special session of The Young and the Restless, Leili McMurrough of Worsham College will share various perspectives from mortuary students, recent graduates, apprentices, and first-year funeral directors. You will learn how to create a funeral home environment that welcomes and retains these future leaders in our industry by taking an "employee-centered" perspective.
Jason Widing of Foundation Partners Group will reveal new data to help you understand how the last two years of consumer expectations about online deathcare services will impact the way we offer those services in the future. In Online Deathcare: Evolving Consumer Expectations, we'll see how a business's culture must align with these evolving customer expectations to succeed.
Will de Michaelis and Tyler Yamasaki promise A Gentle Fireside Chat during their session: Efficiency or Die. Sharing their own experiences, and inviting stories from the audience, Will and Tyler will look at how adopting technology can increase revenues, improve workforce satisfaction, and provide better service for families.
Jonathan Lewis, President of consulting firm McKee Wallwork, will lead a compelling discussion on how to understand the holistic picture of your company's health – including how culture and your relationship with your employees is closely tied with your earnings and financial success – during his Culture Compass workshop session. Jonathan also keeps the Symposium moving as the event emcee, offering insights and activities to engage participants throughout the event!
Then, CANA President and SCI AVP of Government and Industry Relations Caressa Hughes moderates a discussion of Emerging Trends sparking debate within the profession including the changes to the FTC Funeral Rule, split licensure and new forms of disposition.
And don't forget everyone's favorite Roundtable Discussions where presenters dive deeper into the content and get one-on-one feedback on ideas and challenges.
This carefully crafted experience is at the heart of what makes CANA's Cremation Symposium special. We place networking at the core of the event to bring practitioners together to share their problems and collaborate on solutions. Plus, with evenings free to take in the sights and sounds of Las Vegas, this is the event to reignite friendships and re-energize for the year ahead.
Registration is open to join CANA for the 2023 Cremation Symposium February 8-10, 2023 at The LINQ Hotel + Experience in Las Vegas. Visit goCANA.org/CANAignite to spark excitement for what we have in store!
About CANA
Founded in 1913, the Cremation Association of North America (CANA) is an international organization of over 3,500 members, composed of funeral homes, cemeteries, crematories, industry suppliers, and consultants. CANA members believe that cremation is preparation for memorialization.