Robert "Bob" Hoaglund Inducted into Messenger's Hall of Fame
AUBURN, IN – Messenger, a leading provider in funeral stationery, personalization solutions and insurance funding, inducted Robert "Bob" Hoaglund into its Sales Hall of Fame during their corporate dinner held in conjunction with last month's National Funeral Directors Convention in Nashville, Tennessee.
Inaugurated in 2006, Messenger's Sales Hall of Fame recognizes individuals who make outstanding strides in Sales Achievements and Leadership throughout their tenure with Messenger. Hoaglund enjoyed a successful thirty-one year career in funeral stationery supply before officially retiring in 2020 after 17 years as Vice President of Sales & Marketing at Messenger. Hoaglund was presented with a plaque to commemorate his leadership achievements. The plaque was presented by Bob Hoaglund's son, Mark Hoaglund, who was also a special guest at the event.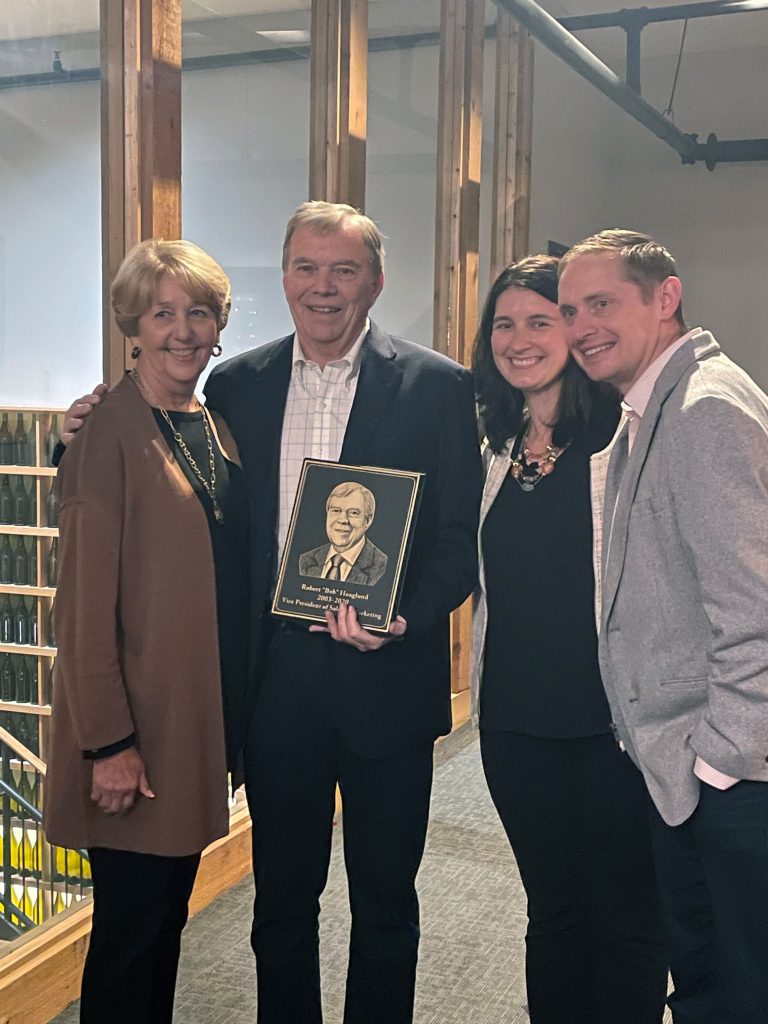 During his acceptance speech, an emotional Hoaglund addressed the Messenger team, "Every time we get together it's a big family reunion. And, being a part of it this year and considering last year, it's been that more special and even more special to have my family here with me tonight." Hoaglund's wife, son and daughter-in-law were in attendance for this special honor. Hoaglund had this to say about his career at Messenger, "This [honor] certainly wouldn't be possible without all of you. A great leader surrounds themselves with great people and hard workers. I've been fortunate over the years to develop that kind of team. It's been the best years of my life and I'll never forget the success and the great times we've had."
Hoaglund's successor, Heather Garman, stated "Bob's contributions to Messenger have been significant. He has been a truly exemplary visionary and Messenger would not be where we are today without his leadership, guidance and kindness. Bob is so deserving of this prestigious sales honor."
A plaque in honor of Hoaglund's contributions is now featured on the Hall of Fame at Messenger's corporate headquarters in Auburn, Indiana.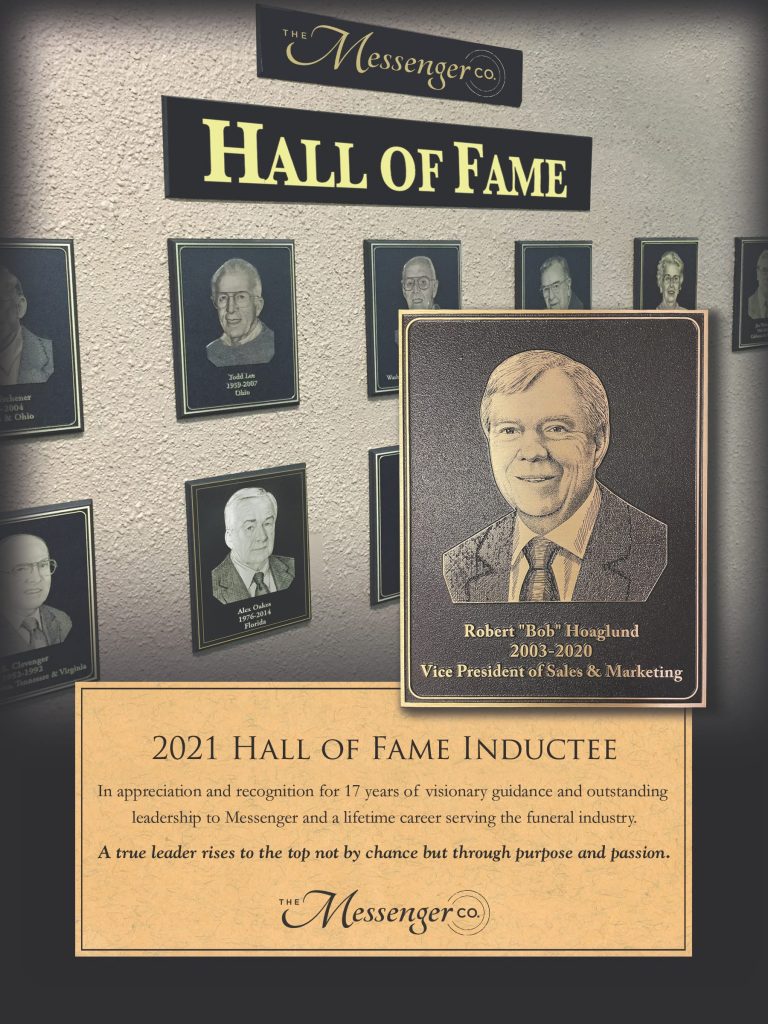 The Messenger Co., LLC, headquartered in Auburn, Indiana, was founded in 1913 by Frank Messenger, who started in the religious calendar business. Messenger has since become the leading provider of stationery, funeral service items and personalization services. In 2019, Messenger acquired Express Funeral Funding, the largest privately-held insurance assignment funding company. Focused on being a trusted partner to funeral professionals, Messenger delivers time saving solutions to increase customer satisfaction and add value. Messenger provides quality product and technology solutions with quick lead times and exemplary service, exclusive partnerships and one of the most experienced and extensive sales teams in the funeral industry. For more information about Messenger, visit www.messengerstationery.com or call 1.800.827.5151.