Thacker Caskets Announces Sales Awards
Thacker Caskets is excited to share that they hosted their annual sales meeting and on Wednesday, July 28, celebrated five members of the sales team at their annual Awards Dinner at Tenth Ward Distilling Company in Frederick, MD. Members of the sales team were presented with awards for sales excellence for the year 2020.
On the sales meeting, Paul Graham, National Sales Director, said "This past year's Annual Sales Meeting was truly amazing! Our team bonded like no other year and had a great time learning and honing in on their sales skills. It's always great when we can gather as a whole team and learn from each other. This is an awesome group that have great relationships with the funeral homes that they serve. It's an honor to lead such an amazing team!"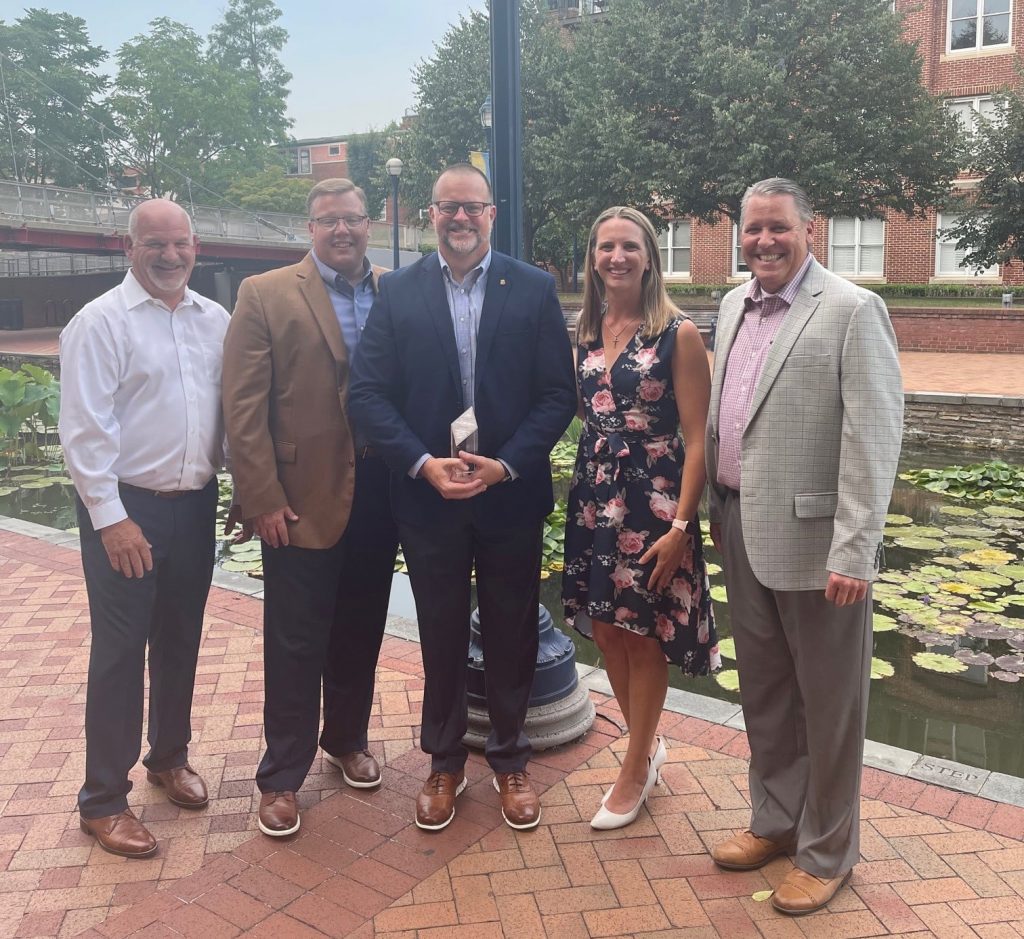 Greg Sullivan was presented with the first award for Rookie of the Year. Greg, who has since been promoted to Sales Director, joined Thacker Caskets in December of 2019 as a sales consultant in the Indiana market. Next, Will Drew and Bucky Stevens were awarded for 5 years of service with Thacker Caskets. Will is the sales consultant in the Georgia territory and Bucky is the sales consultant in the Virginia territory. The next award was presented to New York/Pennsylvania sales rep, Bob Cullen, for 30 years of service with Thacker Caskets!
The final award, Salesperson of the Year, was presented to Chad Mitchell. The announcement came from a surprise video made by his wife, Kendall, to declare him as the winner of Thacker's most prestigious sales award.
On winning Salesperson of the year, Chad said, "It's beyond humbling to receive this award for the year 2020. A very difficult year for our nation, world, and industry. Therefore I 100% thank and dedicate this award to our Canton, Mississippi distribution center workers and drivers who went way beyond their job descriptions to serve our customers tirelessly and professionally. And made this sales consultant look way better than he is… 'when you see a turtle sitting on top of a fence post, you know he didn't get there by himself."
Paul Graham said, "Chad Mitchell is so deserving of being our 2020 Sales Consultant of the Year! His hard work and dedication is evident in the relationships he has with funeral homes in his territory. Chad is also a wonderful family man who has a strong faith that is exemplified in his daily life. It's a pleasure to work with Chad and I know he will enjoy continued success with Thacker."
2020 was an unprecedented year throughout the entire industry and Thacker Caskets is proud of each of the award winners and the entire sales team for their remarkable performances and continued dedication to the funeral homes they serve. To send congratulations or for information
on the sales rep in your area please call 800.637.8891 or visit thackercaskets.com.