New CANA Study Reveals Increase in Cremation Rates
Thanks to Connecting Directors contributor Eric Pereira for this important update!
This year has changed a lot for the foreseeable future, including cremation growth, according to the Cremation Association of North America (CANA). CANA members are reporting that they have seen increased cremation in their businesses. Death rates have increased and more families are requesting cremation than before.
I spoke with Barbara Kemmis, Executive Director at CANA (Cremation Association of North America) to learn more about the implications of the latest data they found in regard to increasing cremation rates across the United States.
CANA collected data from 15 states for the period from March-August 2020. They chose this six-month period intentionally to examine the beginning of the COVID-19 pandemic.
The report notes that most states, as a matter of policy, do not release provisional data, but all states will be included in the next CANA annual Statistics Report scheduled for publication in May 2021. The data reported here is provisional, subject to change, and collected from what was available at the time of publication.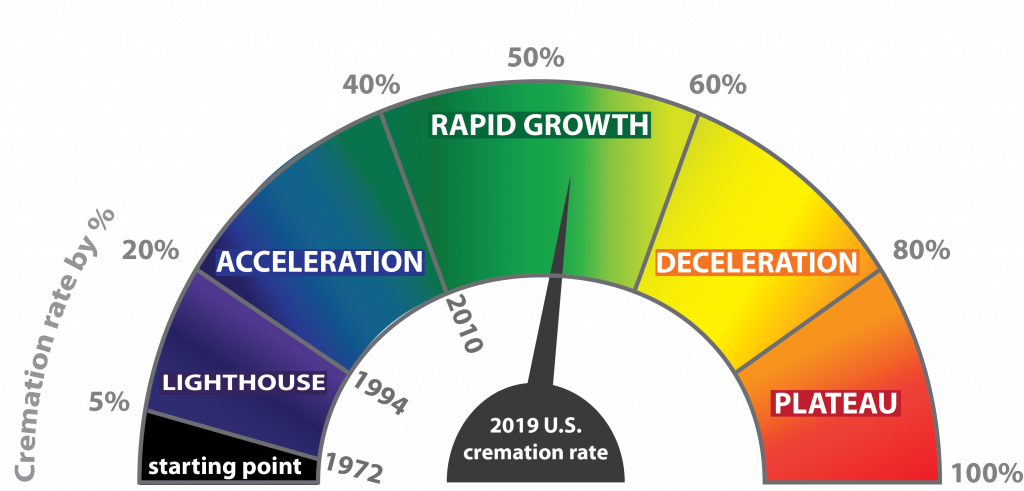 So how fast is cremation growing?
CANA has tracked cremation rates since the first mechanized cremation in 1867. It took nearly 100 years for the national cremation rate to hit 5%; it grew steadily and predictably at about 1-2% annually for the next 45 years, eventually exceeding 50% in 2016
The average annual cremation growth rate has been around 1.5% for the last decade, but the rate has jumped in these reporting states to an average of 2.74%. That average rate may be higher in your state or region. CANA states this is important as a benchmark for your own business and to plan for the immediate future
"What we've discovered is it's not a straight-line growth when it comes to cremation," Kemmis said. "It's a little bit of a curve — so that's where we get the rapid growth stage."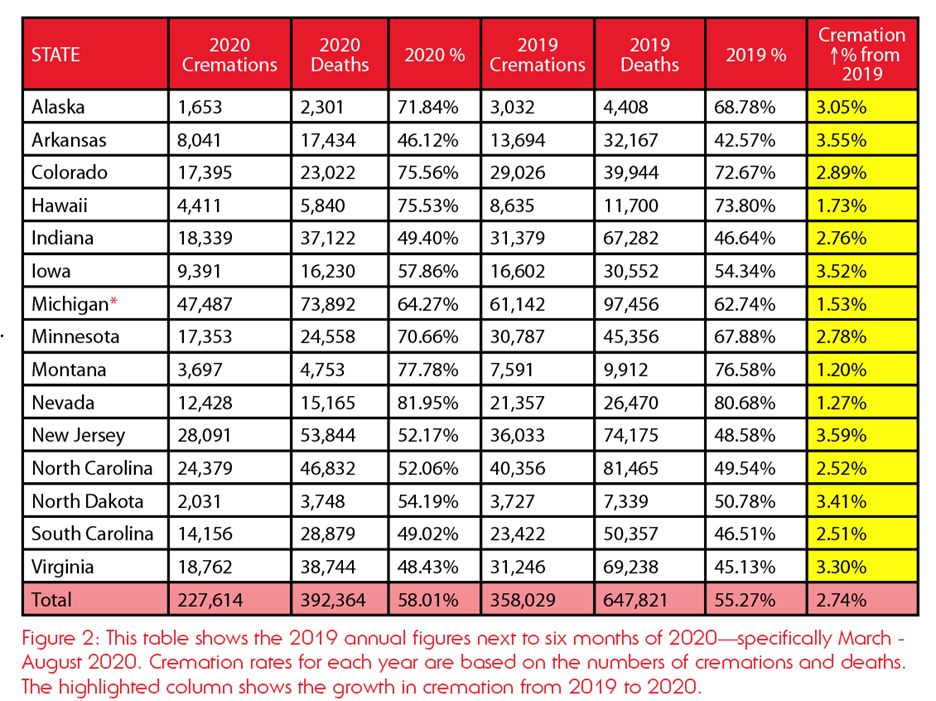 Kemmis said this snapshot of data raises as many questions as it answers. "Is this a persistent trend? Are cremation rates going to stay 3 points up or are they going to go down? We're going to have to wait a few years to see how that plays out."
One of the concerns she's heard from many of CANA's board members is the normalization of and "training" people into direct cremation with no services or limited service.
"That's a little scary because once you develop a habit, you keep doing it right? So, what if we're training a whole generation of people that you don't gather?" she said. However, Kemmis believes the human impulse to gather will prevail once it is deemed safe again.
If you don't see your state represented, Kemmis recommends you look for a nearby state as they tend to follow the same pattern regionally, and also check the CDC website for excess deaths. To see the CDC reports of excess deaths, click here.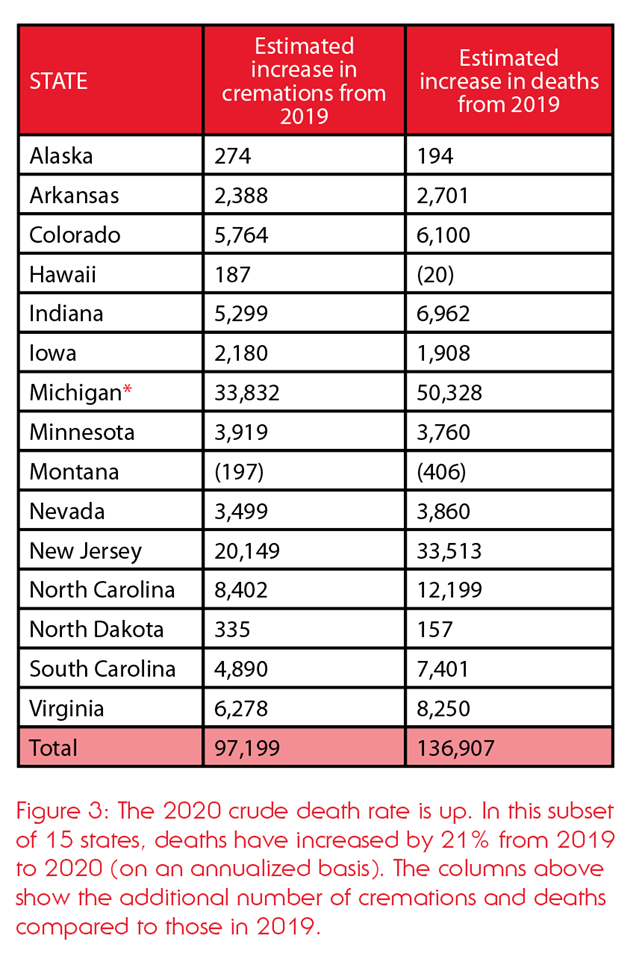 "We did this research because we were curious… certainly the immediate future is more deaths, higher caseloads, lower revenue, which is a reality of all of this," Kemmis said. "Because whether gathering restrictions aren't in place or remain in place, people are afraid. They're afraid to come together."
Ultimately, this research helps with planning for the worst outcome but hoping for the best by making data-driven decisions.
Kemmis mentioned if your funeral home is in a slow phase, now is the time to revamp your WI-FI, other in-house technology and ensure you can provide adequate live cast. "I think that's going to be here to stay," she said. "I don't think we're going to be able to roll back technology. We shouldn't."
For this data report, CANA staff followed methodologies from CANA's Annual Cremation Statistics Reports published each year. Data was gathered from the vital statistics department of each state.
*Data received from Michigan differs from data reported by the CDC.