Where There's Smoke, There's … A COVID-Related Crematory Controversy
Black smoke billowing against a blue sky will inevitably spark questions, calls, and the ever-present speculative social media posts. Most people simply want to sate their curiosity, and make sure nothing which they care about is burning down. Others take the opportunity to opine about air pollution and the diminishing ozone layer. In most cases, though, when folks find out the smoke is the result of a controlled forest burn, a backyard bonfire, or a car fire, they go about their business.

But when the offending black smoke is pouring out of a crematory, it's a "whole 'nother" story.
Dispelling myths
Barbara Kemmis, Executive Director of the Cremation Association of North America (CANA), authored an excellent blog post in October addressing the environmental impact of cremation. The post reiterated what deathcare professionals know all too well — there are many misconceptions about what happens to a body during cremation, as well as myths about who regulates the process.
Largely because human remains are not considered "solid waste," emissions produced during cremation do not fall under the purview of the U.S. Environmental Protection Agency (EPA). Instead, state and local agencies grant air permits. With so many varying levels of oversight, there's really no nationwide standard for what's measured or managed. As CANA shares, these governing bodies have different concerns, from nitrous oxide emissions on the west coast to mercury emissions in the Great Lakes area.
Crematory equipment manufacturers, however, have always prioritized environmental safety, and continue to improve fuel efficiency, emissions controls, and of course, smoke. There are also measures crematory operators can take to reduce the impact of their services to surrounding communities, as Kemmis explains.
The cloud over COVID cremations
The bodies themselves are just one of the factors that create the by-products of incineration — they aren't even the main component of concern. Instead, it's the non-human elements such as burial containers, implants, keepsakes, clothing, and the fuel powering the equipment that produce the most disturbing byproducts.
At Sheridan Park Crematory and Buffalo City Cremation in Buffalo, New York, it's body bags that are to blame.
In September, neighbors of these facilities began reporting black smoke pouring out of both facilities. Videos were shared with New York's Department of Environmental Conservation (DEC), which promptly investigated. The DEC shut down operations at Sheridan Park citing air permit violations.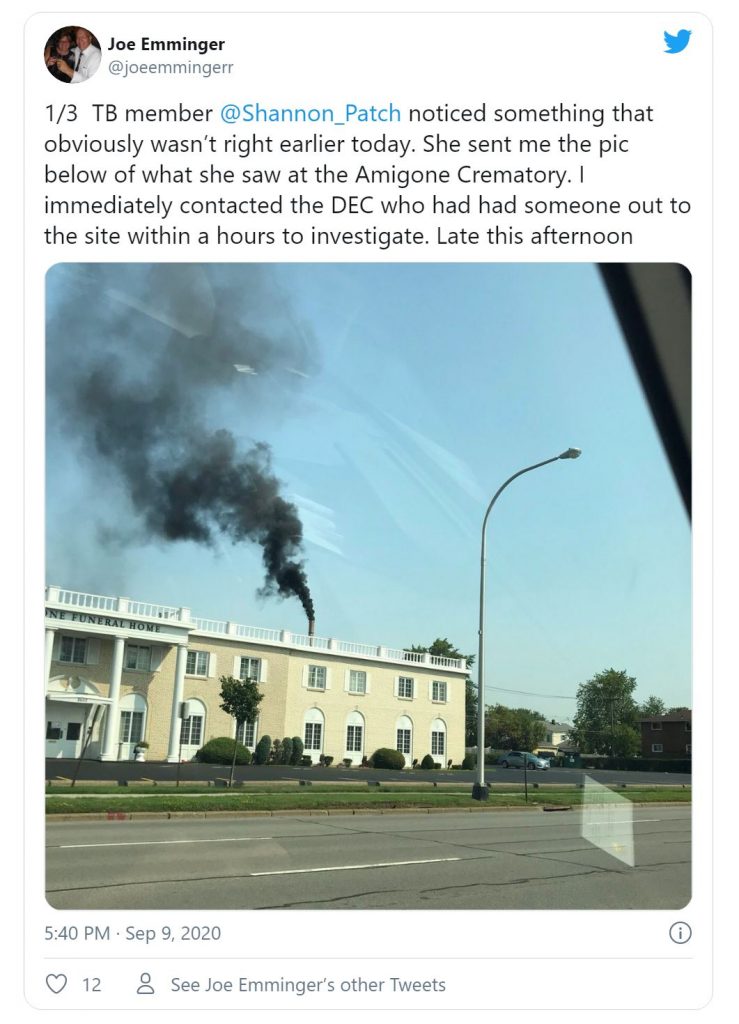 At first, sources from the DEC told neighbors the black smoke at Sheridan Park was a "result of the cremation chamber overheating after two large bodies were burned in succession." The "excessively high temperature" presumably bypassed the equipment's pollution control system.
On November 20, though, another explanation surfaced after a local news station accessed DEC investigation reports via the Freedom of Information Act. According to WIVB News 4 in Buffalo, the president of Buffalo City Cemetery told the DEC the black smoke was most likely the product of "disaster strength" or "crash strength" body pouches.
A no-win situation
David Fleming, a representative of the New York State Association of Cemeteries backed up this theory. A 30% increase in cremations in 2020 — mostly due to the pandemic — has "depleted the supply of lighter and thinner body pouches." The thicker, heavier, rubberized bags offered a temporary and necessary solution for many organizations handling human remains.
Compounding the COVID issue is the fact that crematory operators aren't allowed to open up sealed pine boxes to inspect what sort of body bag was used.
"So there can be instances where those remains are delivered to crematories in these heavy crash bags," Fleming told WIVB, "and the crematory operators would have no idea that these heavy rubberized containers were included and it does cause a buildup of black smoke at times because of this heavy plastic material. It's unfortunate but it has happened at times around the state."
A similar situation became a viral controversy in Laredo, Texas in August. A resident who lives near South Texas Mortuary and Cremation Services took to social media to bemoan the black smoke issuing from the crematory, attracting the attention of fire, health, and environmental officials.
Again, the culprits were the body bags encapsulating the bodies COVID-19 victims. An investigation found that the crematory wasn't violating any regulations and the smoke wasn't posing any "extreme situation for the environment of residents." However, they did ask the crematorium to stop cremating bodies inside the bags.
Back to the misunderstandings…
The New York and Texas incidents elicited a range of frenetic responses, fueled by inflated concerns about COVID, climate change, and the overall "ick factor" of supposedly breathing in human remains.
"The smell was still horrible," said Chris Benevidas, whose Facebook video showing the smoke in Laredo garnered 39,000 views. "The smell lasted around three days. I had to light candles. It lasted in my lungs, in my throat, in my nose. I'm worried about that stuff, and then now I'm finding out it's COVID bodies."
Neighbors in Buffalo shared the same concerns, according to the local NPR station.
"It was just horrible. Human flesh is not pleasant," neighbor Ron Labuda said. "Can you imagine it, smelling human flesh? And also, people driving down Sheridan Drive or anywhere have got somebody's relative on their car, or when you walk by. Think about that, that's what was coming out – remains."