SEO Tips – Thinking Outside the Box with Backlinking
By Alan Hillsberg
I'm going to share an effective local Link Building Strategy that can be easily adapted to your funeral home or crematory. What I'm about to show you is not only the SEO value you will get out of this effective strategy but the value that comes from building real relationships with families in the communities you serve.
So that we are all on the same page, the definition of a backlink is an incoming hyperlink from one web page to another website. As an example, if I find your listing on Google and I click on your listing, it will take me to your website. That's a backlink from Google. "Traditional SEO theory suggests the more backlinks you have pointing back to your site, the more popular your site will be"
That statement still holds true today but the links you want are quality links from high domain authority websites. Link building was the end all, be all for the last 20 years in SEO and today link building still does play an important role in ranking, but it's not as heavy as it used to be, unless you do it right. Most SEO's unfortunately don't, and a good reason why some of you may question your SEO results.
When I look at inbound links coming into your organization from SEO, I see two types of value links. You have your industry links and you have your local links. Funeral Industry Links, from your local association, from the NFDA, from Cana, from Connecting directors, from us. These are all industry links. Then there are local links like your Chamber of Commerce, or other organizations that are geographically local to your business.
Putting those two link profiles together communicates to the search engines like Google that you are involved in this industry, (Industry Links) and you are located in a particular geographical area. (local links)
Industry and local link profiles working together are an extremely powerful combination to help you blow past and rank higher than your competition in the demographic you serve.
Here is how we do it ….
We start off with Google in a targeted area (in this case, we will target Pasadena CA) and look for "sponsors" or "non profit organizations" or "charities." In our sample we will type in Pasadena CA "sponsors" animal rescue.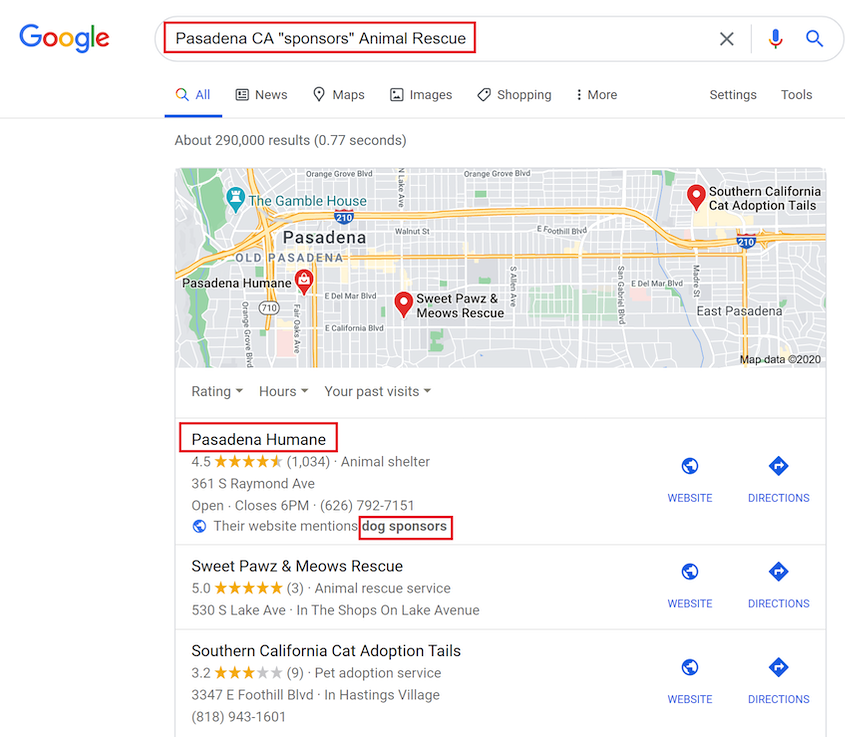 The parenthesis tells Google we want an exact match so we know we are only pulling up sites that have sponsors on their website. We can add non-profit or charity at the end of the phrase as well – in this case I put in animal rescue. This will pull up pages that have various sponsor pages – not all of them will be great to choose from, you're going to have to dig through this list to find quality sponsorships, but it's worth it.
When we type in Pasadena CA "sponsors" animal rescue – we see Pasadena Humane that seems interesting. We see that it is a local link as they are located in Pasadena and since I already researched this site, let me show you what I am looking for; Give > Corporate Giving > Community Partners. In the community partners section, I find that Pasadena Humane clearly states that a sponsorship provides a link directly to your website.

What I need to make clear is the additional benefits aside from getting a backlink from an organization. You are not just getting a valued local link inside the demographic you service, but you are getting a banner in front of thousands of that organization's audience that live and work in the area you service.
Corporate social responsibility or CSR for short, is an excellent strategy for increasing calls to your funeral home or crematory. Simply, CSR means that a business gives back to the community they are a part of. Families like to hear local businesses are engaged with the community they serve. To back that statement up, studies have shown that people are more likely to do business with an organization that supports the community they live and work in.
When we are looking at all these sponsorship opportunities, you only need to pick up 5-6 of them to get exposure to thousands of people in the demographic you serve in a very cost effective manner.  It's not expensive at all when you are looking at the big picture. This is a strong method of local link building while building the community connection you are making with that business.
The goal here is to go after high authority domains that offer low cost sponsorship opportunities. I found that colleges and universities, animal rescue and sports and youth organizations fit that profile, although they are not the only organizations that offer a very low buy in.
Now a funeral home or crematory has another differentiator they can use in their favor. You can now take that organization, promote it on your website, put it across your landing page or promote that on social media.  You are effectively letting the community know that you are sponsoring these local organizations in your targeted demographic, and at the same time receiving  seo value by having these sponsorships link back over to you.
This is a great way to build high authority, highly relevant backlinks, and a community connection!
Any backlink that is going to carry any real weight, you're just not going to get from submitting your site to the search engines, Google knows who all the directories are, what you can put yourself into, none of that is going to carry the same weight are these unique, local organizations that are inside your service area that are recognizing your business by linking to you! You can't get these custom links by submitting to a  directory, and that's what will set you apart from your competition, because you have these links and your competition does not!
"In fact, these are links impossible to get if you are not active in the community that you serve."
Also keep in mind these local organizations are very well connected to the people in your town. Think of the people that operate these 501c's, they know everybody in these towns, so hitching your wagon to theirs is not a bad idea, you'll be getting exposure to their audiences and you'll be recognized as someone that gives back to the community. You're getting involved with the community while getting all this SEO value back as well.
Most Funeral Homes are missing these differentiators, they don't have those community ties or community links. This is a great way to solve that problem.
One other point, many of our funeral home and crematory clients have something they are passionate about. Maybe they are into feeding the hungry or maybe they are into the environment. You can customize your search to animal rescue as the example shown or maybe a funeral home is into golf, they might look up a summer camp that will take on an inexpensive sponsorship. So a funeral home or crematory doesn't have to use my search terms, you can put in domestic violence or drug abuse or rehab or veterans or any topics important to you. A funeral home or crematory can customize their link building to connect to what's important and passionate to them.
What we do is customize a back link campaign to resonate with a customer to get even more narrow and focused on what is important to them. No other agency I know is doing this, no other agency in my mastermind group knows of any agency doing this and it's another thing that separates us from our competition… and can be an effective way to separate you from your competition.
---
Alan Hillsberg is the founder and marketing director of Funeral Marketing Services. (www.funeralmarketingservices.com) Their primary focus is creating visibility for your funeral home or crematory at the exact moment a family is doing an on-line search. Exclusively working with funeral homes and crematories has helped him develop a specialized knowledge in (SEO) Search Engine Optimization and Pay Per Click Advertising with glowing testimonials from the clients he serves throughout the USA in the Death Care Space. Alan can be reached at alan@funeralmarketingservices.com or call 516-812-9326.