Parting Pro: The Online Arrangements Solution 
A lot has been said about the importance of remote conveniences during — and most likely after — the current pandemic. Now more than ever, death care professionals are searching for the best systems and providers to meet the needs of families from a distance. When it comes to online arrangements, there's no better solution than Parting Pro.
Funeral directors can now have families select and purchase services and merchandise, get all necessary forms filled out and signed digitally, and collect payment online. 
Our new normal
"COVID-19 has pushed funeral service up five years overnight," says Tyler Yamasaki, CEO of Parting Pro. "People have been reluctant to change before, but we've never had a catalyst like this. Now it's a necessity. We're realizing we're now in our new normal."
Luckily, Yamasaki had already envisioned the reality of a mostly-virtual world. About four years ago he introduced Parting Pro, a standalone software platform that allows families to select and purchase products and services from crematories and funeral homes remotely. 
"Parting Pro offers funeral homes the opportunity to serve families in any way they want," says Yamasaki. "Families can make arrangements, select merchandise, and pay online."
A full-service tool for full-service providers
Crematory owners were some of the first death care professionals to embrace Parting Pro. The simple, straightforward nature of direct cremation arrangements lent itself to a streamlined online experience. However, more full-service funeral homes are realizing the need for a virtual tool — especially amid COVID-19 restrictions.
"We've seen an increase in usage with our current customers, new customers, funeral homes, and cremation societies," says Yamasaki. "Parting Pro helps them minimize the time families have to be out of their homes."
One of the most important benefits of Parting Pro is that it offers families a choice in the way they make selections and purchases. The platform is meant to complement face-to-face arrangement meetings rather than replace them.
"The whole point of the software is to help funeral homes serve families in a modern way," Yamasaki explains. "For some, there's a fear that it takes away a personal touch, or that it's not as communicative an experience as an in-person meeting. But that's not the case."
Benefits of digital
Parting Pro testimonials and the reviews from families who made online arrangements overwhelmingly show that families appreciate an online option. That sort of first-hand feedback is usually difficult to gather from families. After all, posting a review of your funeral home on Google or Yelp is probably among their least concerns after an arrangement meeting.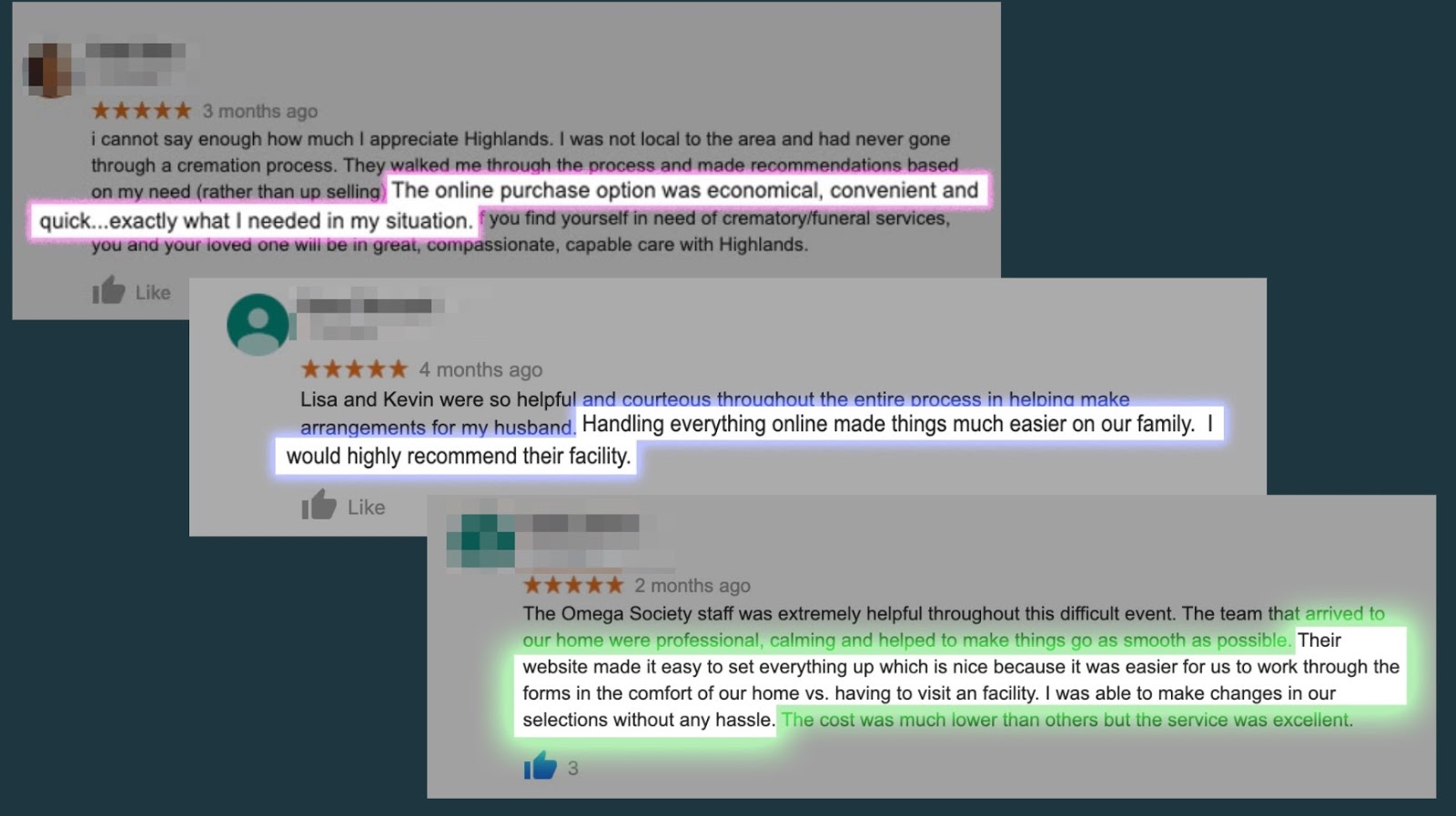 However, Parting Pro requests a review from families as part of the digital experience. Not only do positive reviews validate your organization's credibility; they also enhance your online presence. When families search online for a funeral home — like they search for most every other purchase — they're more likely to find your establishment first.
The seamless Parting Pro process exceeds the expectations of savvy, online shoppers. Its clean, transparent interface is simple to use and eliminates outdated, clunky processes like faxing paperwork. Many families even complete their arrangements from their tablets or smartphones.

"Parting Pro provides a modern experience that families will love," says Yamasaki. "It truly helps your funeral home look good."
Upselling simplified
Yamasaki and his Parting Pro clients have discovered that giving families the freedom to make their own decisions translates to higher sales.
"Families who are shopping online don't feel they're being pressured to be sold something," Yamasaki explains. "They like that they can choose for themselves. With Parting Pro, families are more inclined to buy what they love and spend what they want."
In fact, even families who log on with the expectation of a direct cremation will select additional merchandise or services with Parting Pro.
"It just gives families the option to see everything the funeral home offers," says Yamasaki. He explains that families can take their time reviewing everything on a General Price List as well as keepsake items and other products. If they don't complete the purchase, the information they've provided becomes a lead for your staff to pursue and convert into a sale.
Start today
There's no better time than the present to put Parting Pro to work for your organization. Complete setup takes less than two weeks, and includes onboarding and training for your team. Your Parting Pro platform is customized to seamlessly blend with your brand and your website. And because Parting Pro is standalone software, it works with any website platform.
To learn more about Parting Pro and start offering your families a modern online experience visit PartingPro.com or call 510-709-6458.