Death Care Hits The Theatre Stage With Premiere of Hail Cremation!
Plenty of hit Broadway shows have been based on true stories of historic figures (Hamilton, anyone?). However, the upcoming theatre production of Hail Cremation!, although true and historic, definitely will be one-of-a-kind. 
Hail Cremation! a "musical odyssey"
Hail Cremation!, which will be performed from March 23 to April 4, 2020, at the National Theatre in Wales, details the life of William Price, the purported "father" of cremation. According to the theatre's website, the show promises to be a "musical odyssey." It's billed as a "psychedelic fusion of live music, dance and video." It "will take you on a riotous journey to celebrate the life of one of Wales' most visionary radicals."
Here's a quick synopsis by the play's author, Jon Tregenna:
Why William Price?
William Price was quite the interesting character. The National Theatre's website describes him with this list of attributes:
Passionate Welshman
Brutish anarchist
Troublesome heathen
Father of modern cremation
Champagne-drinking socialist
Madman just like his father
Charlatan
Jingoistic narcissist
Almost totally forgotten. 
Born in 1800 to an "impoverished Anglican clergyman" and an "illiterate maidservant," Price studied medicine in London and by the early 1820s was a successful south Wales physician. The plight of low-paid ironworkers toiling in dangerous conditions led Price to campaign for social change. His activism put him in dire straits with the Church of England, and he actually fled to Paris to escape charges of treason.
After returning to his Wales medical practice in the early 1840s, other doctors derided him for his "unconventional" treatments. He refused to treat smokers, believed in a vegetarian diet, and prescribed herbal remedies accompanied by druidic chanting.
Price's eccentricities extended to his appearance. He was prone to streak naked across the hills of his hometown. When not naked, Price wore an outfit of red pants and a red shirt and no socks. He sported a foot-long beard and wore a fox-skin headdress complete with the fox's head, legs, and tail.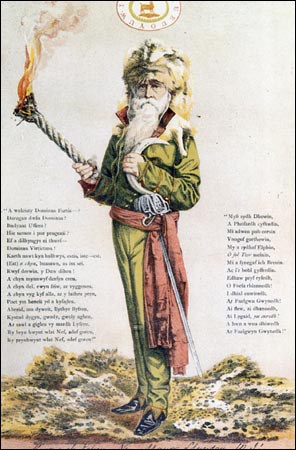 Giving birth to cremation
Price also believed in druidism and free love, and thought marriage enslaved women. As a result, his four children were all illegitimate. At age 83, Price fathered a son, whom he named Jesus Christ, with his 23-year-old housekeeper. Jesus died when he was only five months old. 
As a druid, Price believed in the religion's ancient ritual of cremation — even though cremation was illegal in Britain. Thus, he wrapped his infant son in linen, placed his body in a casket, and set it atop an open pyre in a field on his property. Price dressed in flowing druid robes and timed the cremation to coincide with the town's chapel services.
Police intervened, snatching the casket from the flames and arresting Price for the crime of illegally disposing of a body. Neighbors threw rocks at Price's house to punish him for his sacrilege. 
At his trial, wearing a tartan shawl over his red outfit, Price argued that traditional burial was a "waste of good land, polluted the earth, water, and air, and presented a danger to living creatures." The judge ruled in his favor, declaring that if a cremation wasn't a public nuisance, it was legal. This 1884 ruling paved the way for Britain's 1902 Cremation Act, which legalized cremation.
An appropriate farewell
Not surprisingly, Price's last will and testament directed that his body was to be cremated. In fact, according to one biography, his will specified that Price "be put upright in his uncle's old chair and placed on top of a cord of wood and two tons of coal." He also asked to be cremated at noon and for his family to scatter his ashes "to help grow grass and flowers."
When Price died in January 1893 at 93 years of age, an estimated 20,000 spectators attended his cremation. As another part of Price's will directed, his family sold tickets to the event. When the funeral pyre died down, these attendees reportedly picked through the ashes for souvenirs.
From vegetarianism to cremation, Price's beliefs were far ahead of his time. However, many historians still attribute his eccentricities and bizarre behavior to mental illness. Additionally, some sources attribute the modern cremation movement in Britain to Queen Victoria's surgeon, who founded the first European crematories. We won't argue either way, but it's doubtful we'll see a theatre production on the life of the royal surgeon. The legend of William Price as the father of cremation is way more fun. Hail Cremation!