Coronavirus Fears Force Funeral Ban and Free Expedited Cremations in China
As the death toll from the novel coronavirus outbreak steadily increases in China, officials are swiftly adjusting death care practices to prevent further spread of infection. 
As of Tuesday, February 4, there had been more than 420 coronavirus deaths in China, up from 106 a week earlier. The Chinese government also reports more than 20,000 confirmed cases. This is about 15,000 more cases than during the 2003 SARS outbreak. Infections have now been reported in at least 23 countries, with two countries reporting deaths.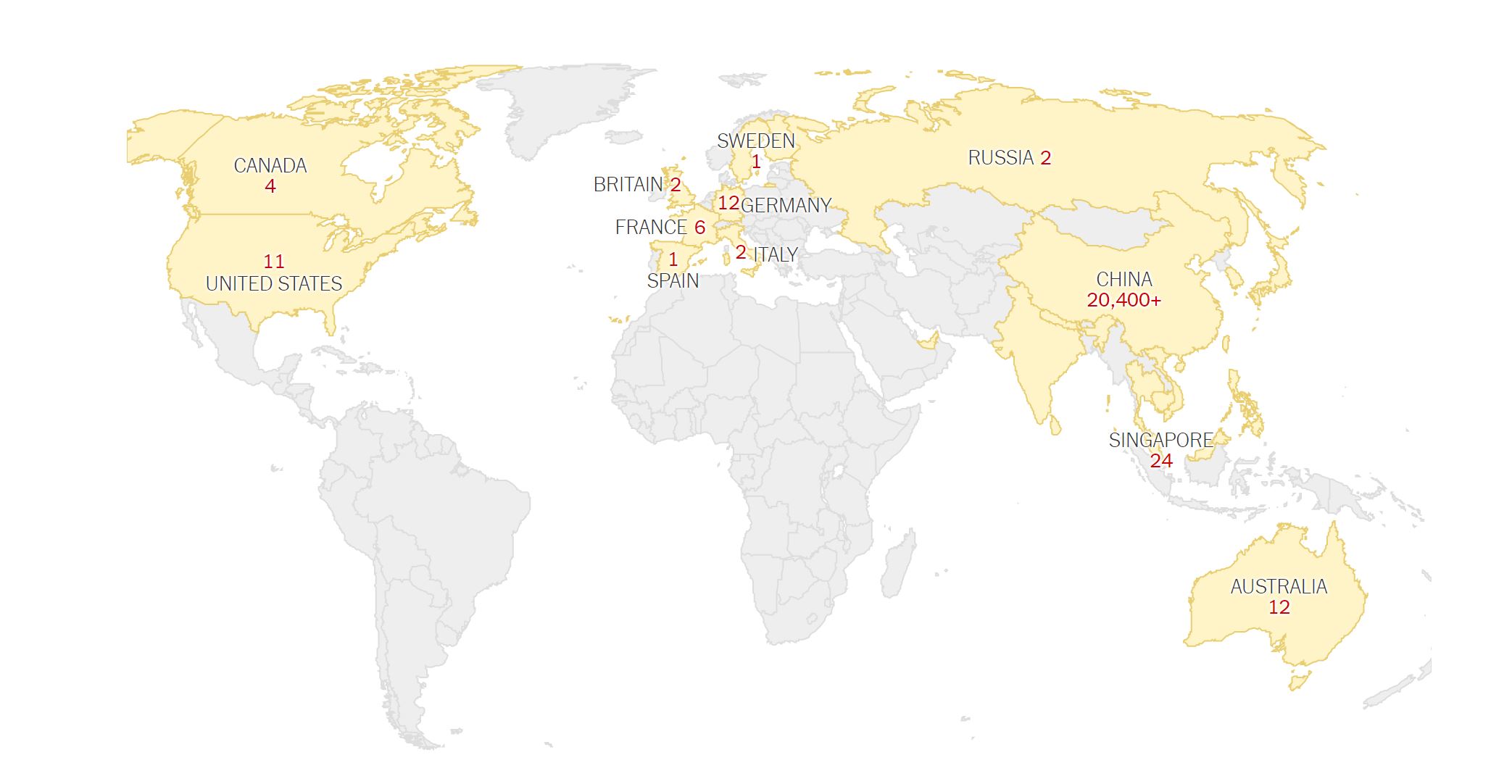 Death care impact
On Saturday, February 1, China's National Health Commission (NHC) issued the following regulations for handling deceased victims:
Medical staff are required to disinfect and seal the remains; breaking the seal is forbidden

Medical staff will issue a death certificate, notify the family, and then notify local funeral services

Funeral services will collect the body and directly cremate the remains; they will then issue a cremation certificate

No one is permitted to visit the remains during this process
These regulations apply to the entire country of China. In Wuhan city, the epicenter of the outbreak, officials are providing free cremation services for coronavirus victims. Memorial services or public gatherings of any kind are also prohibited.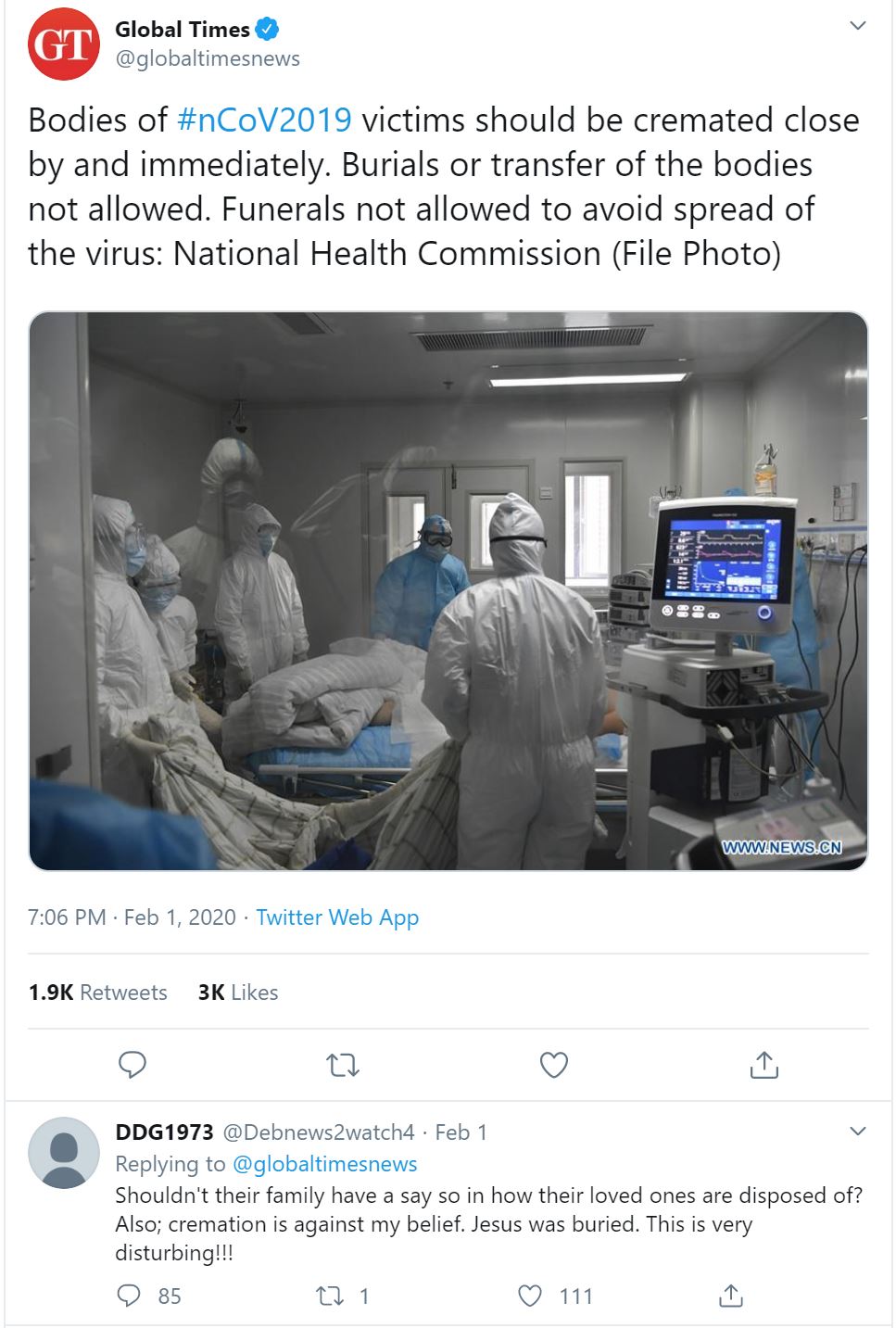 Answering the call
The city is also providing funeral homes with additional vehicles, staff, and protection gear. Despite this assistance, though, Chinese medical and death care professionals are overwhelmed. The New York Times reports that sick people are being turned away from overflowing hospitals, even as temporary field hospitals are being constructed. A transportation ban and city-wide lockdown has led to shortage of medical supplies, and even ambulances are backlogged by hundreds of calls.
Families are quarantining themselves at home to futilely fight coronavirus symptoms on their own. Unfortunately, this means exposing family members to the highly-contagious virus. This has also led officials to believe that even more bodies will be found in homes within the coming days. The World Health Organization has estimates that one if 50 people infected with the virus will die.
Cremation specifications
The necessary, yet specific, body-handling regulations will strain funeral home resources. Funeral home staff are required to:
Designate a special cremation furnace

Disinfect funeral vehicles, cremation equipment, and related places with a specific solution

Establish and follow a designated route from the hospital to the funeral home

Set up a special temporary passageway from the funeral home entrance to the cremation furnace

Only full-time funeral home staff may transport remains

Staff should wear "work clothes, disposable work caps, disposable gloves and long-sleeved rubber gloves, disposable protective clothing, medical protective masks, goggles, or protective screens, work shoes or rubber boots, etc."
The regulations also address the inevitable situations of the deaths of visitors to the country and families religiously opposed to cremation. There are no exceptions to the direct cremation mandate. The rules simply say that families may dispose of cremains as they wish when they receive them.
The good, the bad, and the ugly
Authorities are scrambling to provide psychological support for first responders, medical personnel, and death care workers, in addition to families of the deceased. The efforts are intended to recognize individuals developing mental health problems and prevent suicides and "extreme acts."
Even as some professionals are risking infection to provide vital assistance, others are taking advantage of a terrible situation. A country-wide shortage of respirator face masks means the price for a box of 20 skyrocketed from $90 to $321 in just two days. 
Sadly, this practice extends to funeral homes. Families are reporting "higher than usual fees for funeral-related services" amid the coronavirus crisis. The government has accordingly sent inspection teams to funeral homes and set up a hotline for suspected price-gouging.