Five Killer Reasons to Try Tukios Today
Tribute videos have become a staple in today's funeral programs. In fact, they're often the focal point of the entire service. When done well, tributes tell a meaningful story, celebrate the life of the deceased, and create a lasting memorial for family and friends to cherish. 
Every funeral director wants to create a professional, personalized, and memorable tribute video for every family they serve. However, the nature of the death care industry often intervenes. Unpredictable schedules, limited staff availability, and a lack of expertise can make creating the "perfect" video difficult or impossible.
You need a way to create beautiful, customized tribute videos quickly, seamlessly, and effortlessly. Today there are several tribute video software options that offer a few of these benefits. But there's only one that does it all, and at an incredibly affordable cost. That's Tukios. 
All tribute video programs are not created equally
"At Tukios, tribute videos are our singular focus," says Curtis Funk, the company's founder and CEO. "This allows us to do everything better. We're not trying to be everything to everyone. We only do one thing, and we do it well."
Funk created Tukios in 2010 to answer unmet needs and resolve the frustrations of funeral directors struggling to create tribute videos. "One of Tukios' core values is to do things differently," he explains. "So many of our killer features seemed obvious to us, but the other software companies just didn't offer them."
Tukios automated tribute video software offers a ton of all-inclusive outside-the-box features. Simple yet game-changing details — like being cloud-based so you can create videos from anywhere — are all part of basic Tukios offering. However, Funk points out five features that truly set Tukios apart from similar software systems.
Killer Feature #1: 10-Minute (Or Less) Video Creation 
Funk doesn't mince words when it comes to the reality of running a funeral home. "We know videos are one of the lowest-margin items funeral directors offer," he says. "Directors shouldn't have to spend so much time to create a quality video when they could use that time serving the family in other ways."
A typical tribute video can take a director two to three hours to produce, start to finish. Tukios' time-saving features take the bulk of the burden off the director. Once you upload your content and hit "create," the software does most of the work.
"Our customers can't believe how much time this software saves them," says Funk. "When we demo the process in a minute-and-a-half. They can't believe it's that simple."

Killer Feature #2: Convenient Crowdsourcing 
Often, the video creation process begins with a shoebox full of photos one family member has quickly gathered and dumped on your desk. They feel rushed and overwhelmed, and they're usually limited to readily-available printed photos. What about those digital images they've captured over the past few decades? And have they sourced images from other loved ones?
You may never get away from scanning printed photos. But Tukios has made the process of adding photos incredibly easy and collaborative with its crowdsourcing feature. 
"Families and friends can upload photos straight into the Tukios system," says Funk. "They can send them from any computer or mobile device, and the images won't lose their high-resolution quality. The family also has the ability to arrange the photos in the order they desire."

Killer Feature #3: On-The-Fly Editing and Simple Sharing
Have you ever created a tribute video and burned the DVD, only to find you've misspelled the deceased's name? Or what about the photo the family wants to add at the last minute? That one crucial correction or small addition might take hours (and several wasted DVDs) to complete. 
Because Tukios is cloud-based, you can log in from anywhere and make edits to your video simply, in just seconds. Your edits go into effect immediately, even if you're at one location and the video is playing in another. 
"We wrote our Direct Delivery app for Android TV boxes," explains Funk. "You can send your video on a specific screen anywhere in the world. It's a great feature for multi-location funeral homes. You can just check a box for each screen you'd like to send the video to and that device will download the HD video file."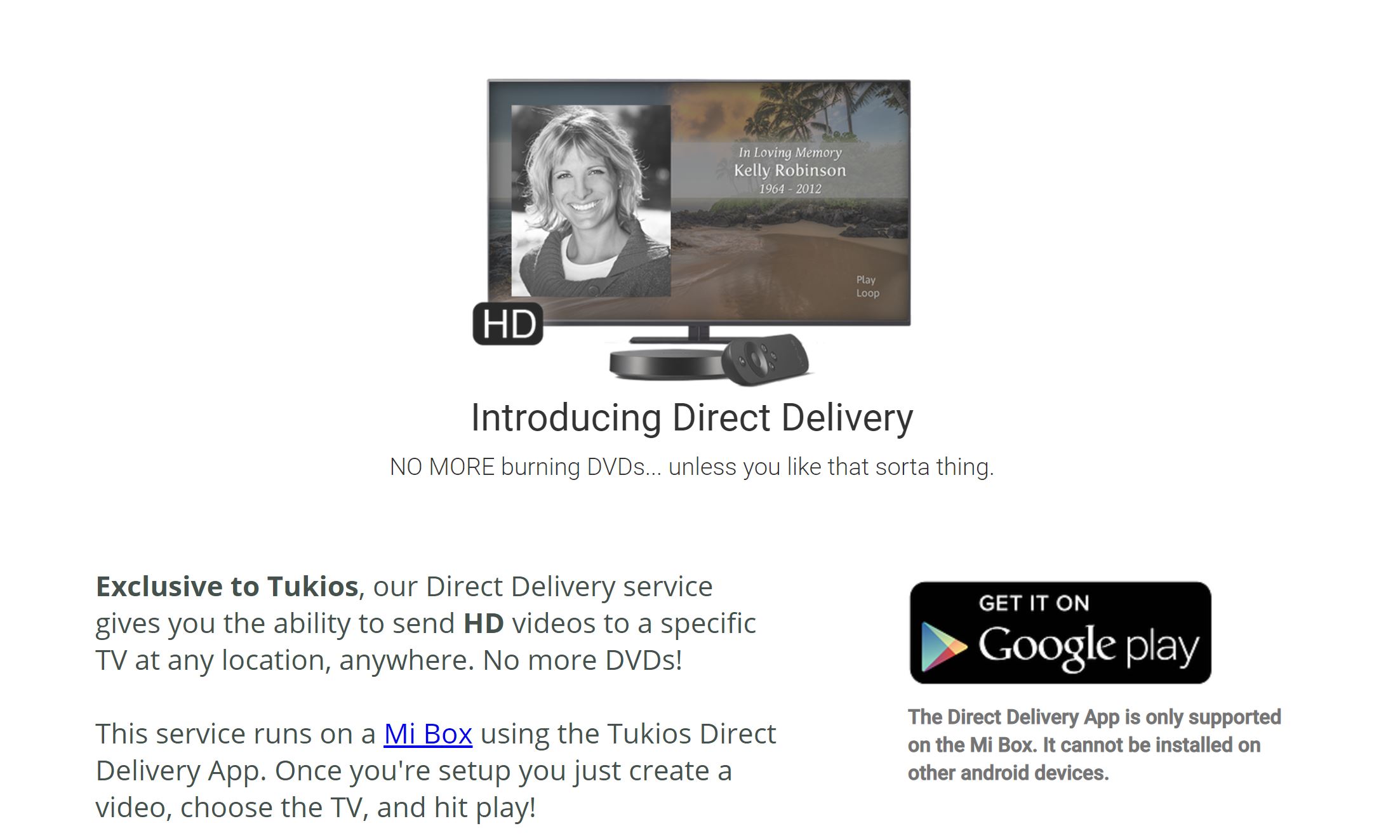 Killer Feature #4: Profitable Retail Opportunities
Tukios has built a complete retail store around its tribute video product — but your customers will never know Tukios is behind it. 
"We always maintain a presence behind the scenes," says Funk. "Our retail store is white-labeled for each funeral home, so the families who interact with your site never see the name 'Tukios.' At the end of the day, everything we do is for the benefit of the funeral home."
With Tukios, you can offer friends and family members a variety of keepsakes they can purchase at their convenience. You can easily embed a video with it's connected retail store directly on the obituary or tribute page. 
Loved ones can order a video keepsake on DVD or a wooden flash drive imprinted with the deceased's photo. There are also options for photo books, or a premium video book with an HD screen.
The Tukios store operates on a revenue-sharing basis. Your funeral home bases its pricing on the Tukios wholesale price, so you can set up your own pricing. Tukios fulfills and ships the orders directly to the buyer, and credits your account.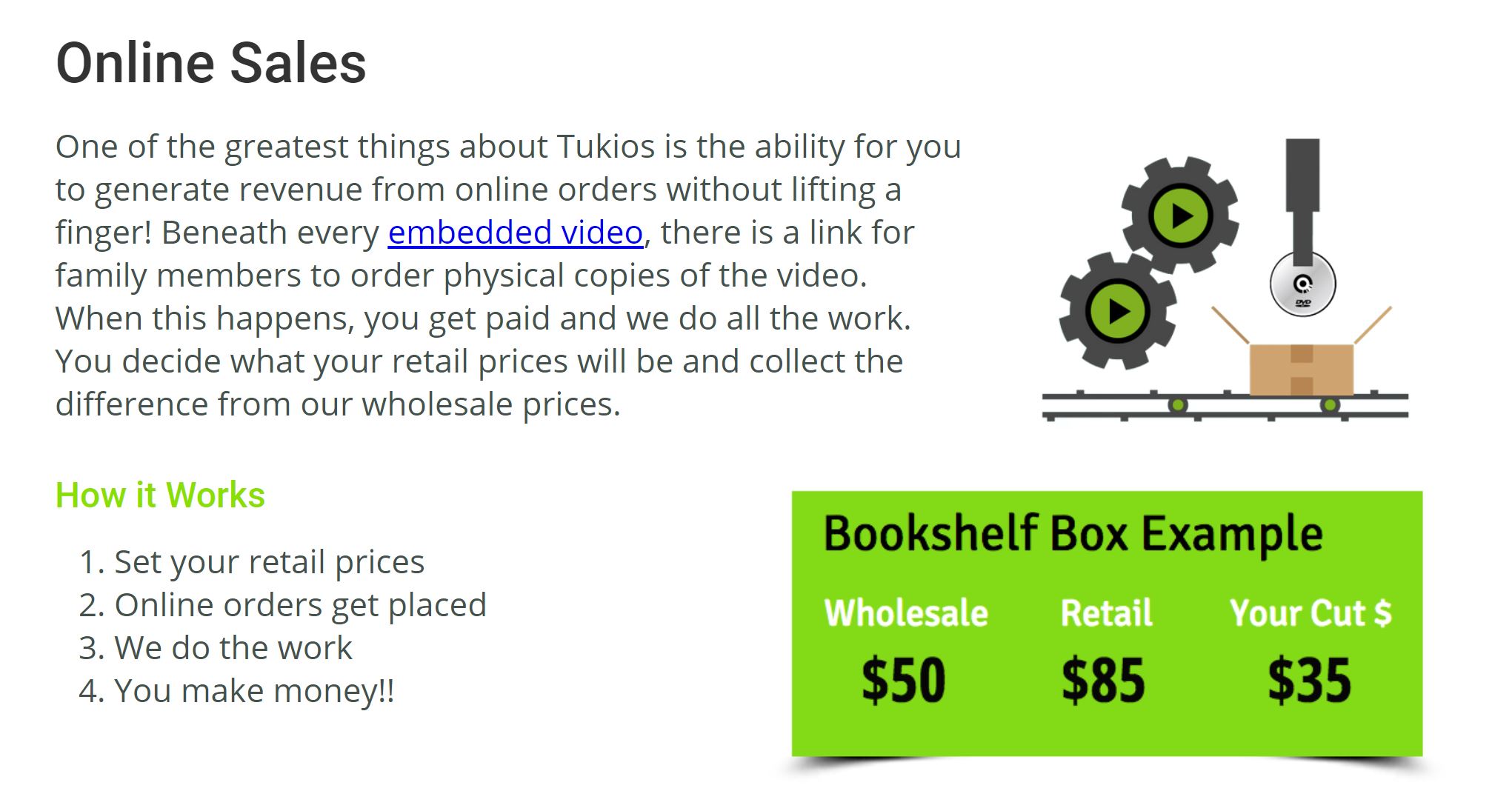 Killer Feature #5: Themes, Themes, and More Themes
More than ever, families demand and expect personalization in every aspect of funeral celebrations and services. This especially applies to tribute videos. That's why Tukios' software library includes an ever-growing selection of innovative themes. 
"With our theme builder funeral directors can choose from more than 180 themes or create their own," says Funk. "We're seeing directors creating 40 to 50 custom themes everyday, from F16s and violins to beetle fighting. When we see a repeating theme, like the Cliffs of Moor in Ireland, we'll produce a more cinematic version of that theme and add it to our library."
Tukios' custom theme builder feature is so innovative it was won the NFDA Innovation Award in 2016. 

Bonus Feature: Killer Customer Service
One compliment resonates throughout Tukios' 154 5-star Facebook reviews: exceptional customer service.

The Tukios team is available by phone or email, even outside office hours. If you've ever considered upgrading your tribute video software, now is the time to contact Tukios or visit their website to test it out for free.