Why Aren't All Obituaries Written Like These?
Obituaries are usually pretty conventional affairs, as you well know. For the most part, they follow a standard, somber, straight-to-the-point template. However, every year a few obits break that mold. When they do, they usually go viral on social media; some are even shared in the news. 
The authors of these obituaries are usually family members with a knack for writing. They've used their talents to craft poignant, funny, or even irreverent tributes to their loved ones. Many of these obituaries truly illustrate the deceased's personality, making you wish you had known them in life. They also do a wonderful job of replacing the "dash" between birth and death dates with more than just an occupation and church membership.
If only all obits could be written like the following, which are some of the most impressive of 2019.
Mr. Tim Schrandt of Ridgeway, Iowa

Tim Schrandt's obituary describes a larger-than-life character who was born "100 years too late" and "made his last inappropriate comment" on March 29, 2019. He worked "with a bunch of morons" and left behind "a hell of a lot of stuff that his family doesn't know what to do with." This stuff included a "Virgin Mary in a bathtub shrine (you Catholics know what we're talking about)."
The obituary's author recognizes its unusual nature, writing that a "common obituary phrase is 'He'd give the shirt off his back.' Well, Tim was prepared to do that, and he could do it quickly, because he always wore his shirts unbuttoned ¾ the way down." 
Perhaps the end of the obituary is the most touching — and the most humorous.
Tim led a good life and had a peaceful death – but the transition was a bitch. And for the record, he did not lose his battle with cancer. When he died, the cancer died, so technically it was a tie! He was ready to meet his Maker, we're just not sure "The Maker" is ready to meet Tim.
Good luck God!
We are considering establishing a Go-Fund-Me account for G. Heileman Brewing Co., the brewers of Old Style beer, as we anticipate they are about to experience significant hardship as a result of the loss of Tim's business. Keep them in your thoughts.
Mrs. Sybil Hicks of Hamilton, Ontario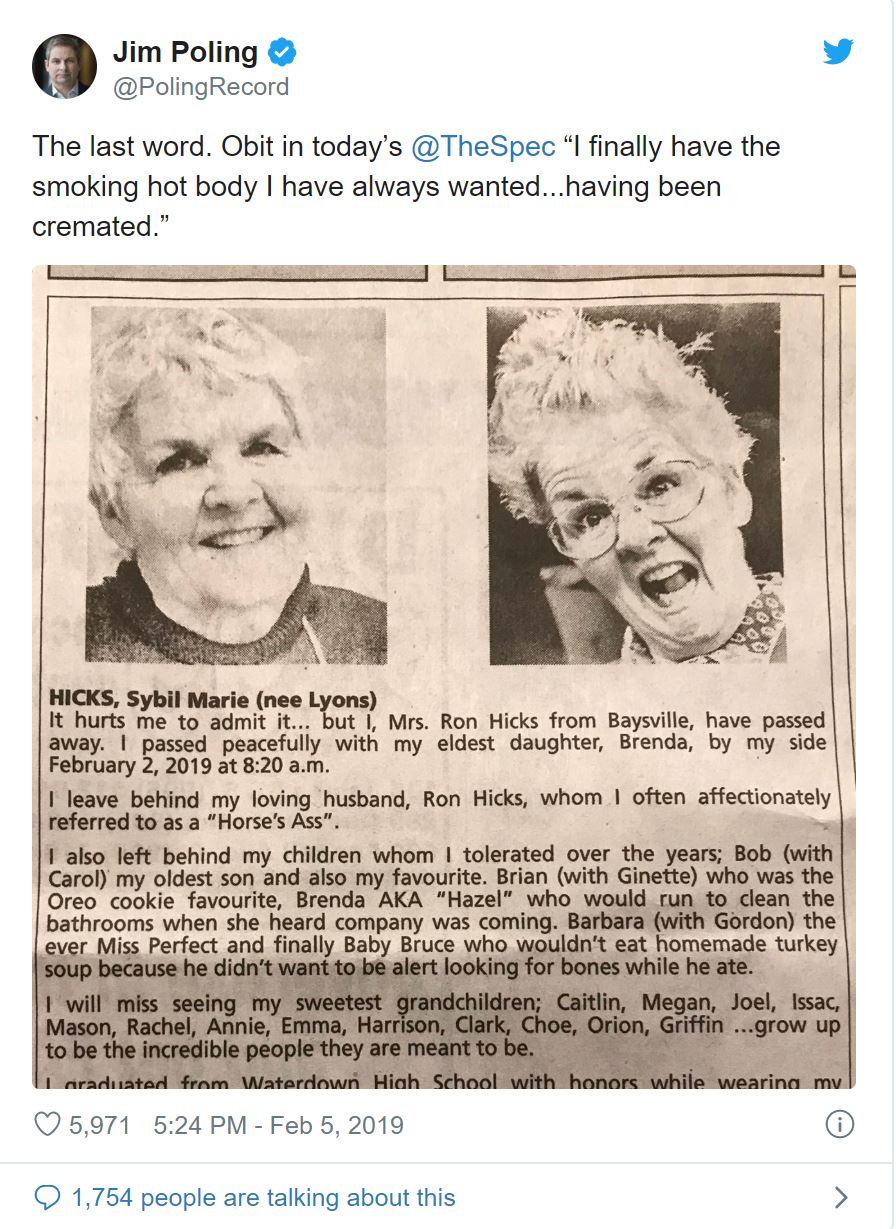 Canadian Sybil Hicks' obituary was so unusual — for so many reasons — that it made headlines in Ireland. First of all, it was written in the first person, presumably by the deceased, but actually by her children. "It hurts me to admit it," they wrote, "but I […] have passed away." Secondly, it's funny; Hicks even refers to her "loving husband" as a "Horse's Ass." 
Lastly, the obit is accompanied by both a smiling photo and more comical image. The second captures Hicks pulling a face, with a wide open mouth, raised eyebrows, and unkempt hair. 
The obituary closes with an invitation to "come say goodbye" and a hilarious admission. "I finally have the smoking hot body I've always wanted…having been cremated."
Mr. Joseph A. Heller, Jr. of New Haven, Connecticut
Joseph Heller's 1300-word obituary is a highly descriptive and thoroughly fitting tribute to a lifelong prankster. Readers learned that Heller named his first dog "Fart" and "thwarted lunch thieves with laxative-laced chocolate cake," among other juicy biographical facts. 
In one long paragraph, the author describes Heller's life as a mischievous child, protective father, and loving grandfather. He was also a "consummate napper" and no "occasion too formal […] that Joe didn't interrupt with his apnea and voluminous snoring."
Like Schrandt's and Hicks' obituaries, Heller's has a great ending. 
The family is seeking donations to offset the expense of publishing an exceedingly long obituary which would have really pissed Joe off. 
None of his leftovers or kitchen concoctions will be pawned off on any unsuspecting guests. Feel free to be as late as you'd like as Joe was never on time for anything because of the aforementioned napping habits. Joe despised formality and stuffiness and would really be ticked off if you showed up in a suit. Dress comfortably. The family encourages you to don the most inappropriate T-Shirt that you are comfortable being seen in public with as Joe often did.
Mr. John J. Ford of Plymouth, Minnesota

John Ford's obituary is relatively short and sweet. However, the obituary's author opens it with a parting shot at Ford's favorite NFL football team, the Minnesota Vikings.
Ford, apparently, died while surrounded by family "after the Vikings allowed 17 unanswered points." Perhaps the author was trying to guilt the team into a better performance following their 37-30 loss to Seattle?
Mr. William Ebeltoft of Columbia Falls, Montana
William Ebeltoft's heartbreakingly poignant obituary is a vast departure from these first four examples. His obituary went viral because it is beautifully written and brutally honest. It's also a tribute to a veteran who "died 50 years after he lost, in Vietnam, all that underpinned his life."
The author describes Ebeltoft as a beloved person who "lived three lives: before, during, and after Vietnam." The obit paints a picture of a "handsome man" with a "quick, earthy wit" whose experience as an Army helicopter pilot left him a "war-damaged boy." During Vietnam, the writer continues, Ebeltoft "lived with horrors of which he would only seldom speak."
After being discharged with numerous medals of honor for bravery, Ebeltoft "had a rough re-entry into civilian life." The author recognizes that Ebeltoft, like many Vietnam veterans, was "battered hard and unfairly by the cruel winds of the times in which they fought."
His struggles led to a failed business and marriage, and eventually Ebeltoft's "mental faculties escaped him." At the Veteran's Home where he lived for 26 years, "the patina of his memory covered life's sorrows, and it was a blessing."
Ebeltoft's incredibly touching obituary illustrates just one of the many, many lives forever changed by war. Like each of these other viral obituaries, it tells the story of a unique life of a person who was at the same time ordinary and extraordinary. 
What can we do to honor each and every life in this way?