Funeral Crowdfunding: The Good, The Bad, and The Downright Deplorable
Crowdfunding funeral expenses isn't a brand new concept. In fact, Connecting Directors shared the launch of then-groundbreaking Graceful Goodbye funeral crowdfunding site way back in 2013. While the Graceful Goodbye platform has since been shut down, plenty of other options have popped up in its place. Today, "memorial" crowdfunding is one of the fastest-growing causes on GoFundMe, the most popular site for personal fundraising. GoFundMe's 125,000+ annual memorial campaigns have raised more than $330 million each year.
Why is memorial crowdfunding growing in popularity? Let's look at the math. Today, total final expenses hovering around $9000 on average. At the same time, four in 10 Americans report they would not be able to scrape up $400 if an emergency arose. Plus, as of 2018 only 59% of Americans have life insurance, and about half of those are underinsured. This equation adds up to a whole lot of families having to look for alternative ways to pay you.
The good thing about funeral crowdfunding
The whole idea behind crowdfunding is certainly inspiring. Crowdfunding unites people from across the world in a common cause.  It's what Helen Keller meant when she said, "Alone we can do so little; together we can do so much." 
Memorial crowdfunding, specifically, brings together acquaintances, friends, and often even strangers who share a respect or love for the deceased. As these tributes add up, the family's financial burdens are slightly lessened. The average donation to a crowdfunding campaign is $88, and the average total raised is around $7,000. Although some campaigns never take off, others can raise tens of thousands. 
Several new funeral-focused crowdfunding sites have replaced the defunct Graceful Goodbye, including Fund The Funeral, Funeral Fund, and Social Funeral Funding. Additionally, tribute site and funeral home website providers like Ever Loved and Frazer Consultants have incorporated crowdfunding options for an all-inclusive experience.
Obviously, the growing popularity of memorial crowdfunding should mean an increase in payments for your services. 
The bad thing about funeral crowdfunding
Unfortunately, some money raised on crowdfunding sites never makes it to the funeral home. Many of the mainstream multi-cause platforms like GoFundMe, DonationTo, Fundly, and PlumFund use payment services like PayPal, WePay, or Stripe to process payments. 
When it's time to withdraw funds, most of these sites require payment to go directly to the organizer. Some, though, like GoFundMe, offer the option to invite others, perhaps the funeral home, to get set up to withdraw funds. 
Because Fund The Funeral, Frazer's crowdfunding module, and Social Funeral Funding are built for exclusively for funeral expenses, they are set up to allow donations to go directly into your bank account to be credited to the families' balance. Of course, your obligation would be to refund to the family any donations received above the remaining balance. 
The fee structure of some sites is another other potential drawback of memorial crowdfunding. Some charge organizers a "platform fee" to set up an account. Many charge donors a credit card processing fee of a percentage of the transaction (usually 2.9%) plus a fixed fee (about 30 cents). Still others deduct a flat percentage, say 5%, from every donation. 
Then there's Funeral Fund, which charges donors a flat percentage plus a credit card processing fee plus a fixed fee. If your funeral home becomes a Funeral Fund Partner, the services charges donors a 2% administrative fee. This adds up to a 9.9% deduction from each donation.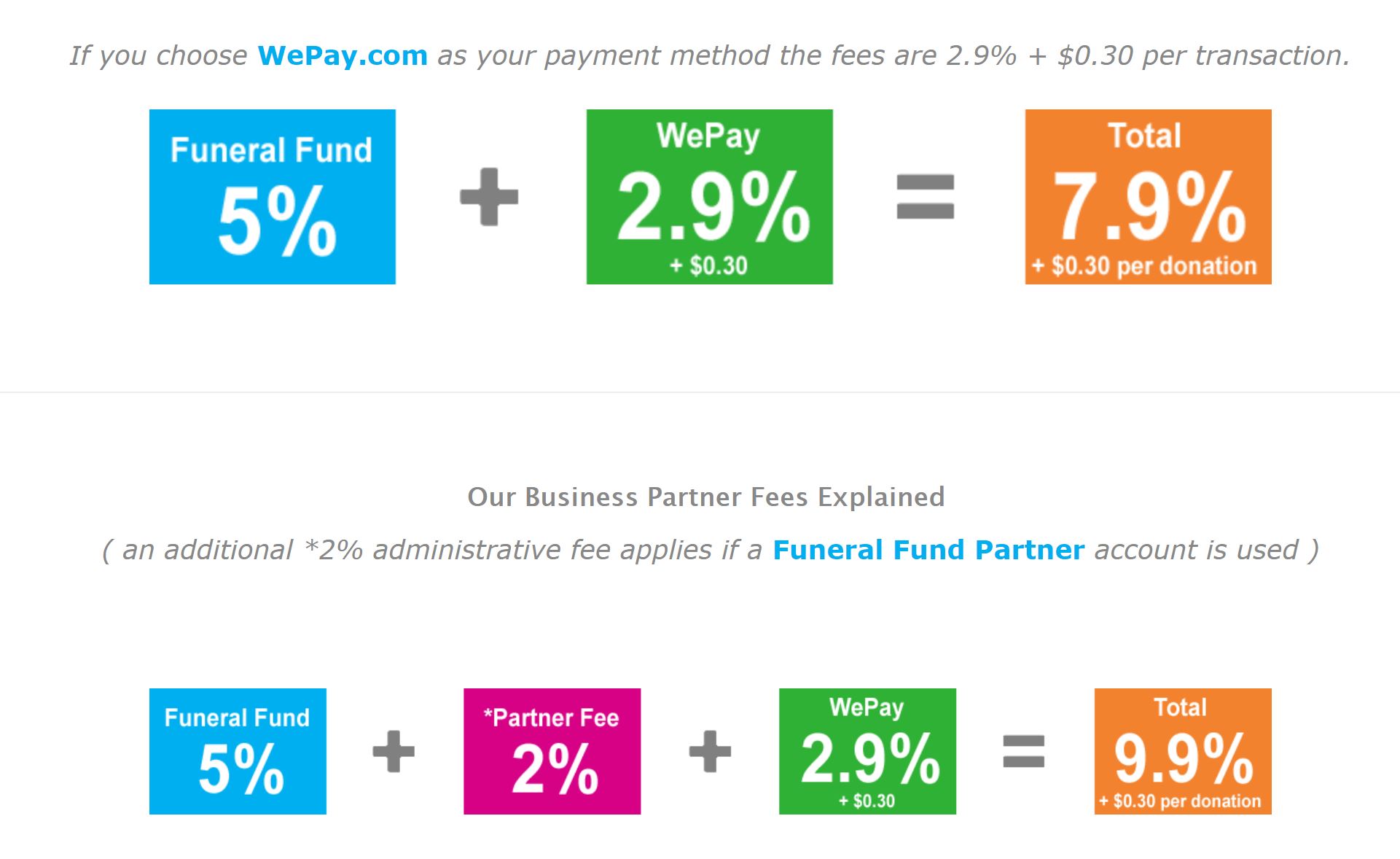 The ugly potential of crowdfunding
You can bet that as memorial crowdfunding continues to flourish, there will be more new sites looking for a piece of those funding fees. One of those, Funeral Fund Me, has already come and gone. In June 2018, the New York Times highlighted the platform, which was founded by a 26-year-old personal trainer whose dad was in the funeral business. 
The Times also revealed that the six memorial accounts on the new site, which features inspiring stories and images of the deceased, were actually fake. The site's creator acknowledged to the Times that these were "mock-ups" but failed to disclose that fact on her site. Today there's no sign of Funeral Fund Me online.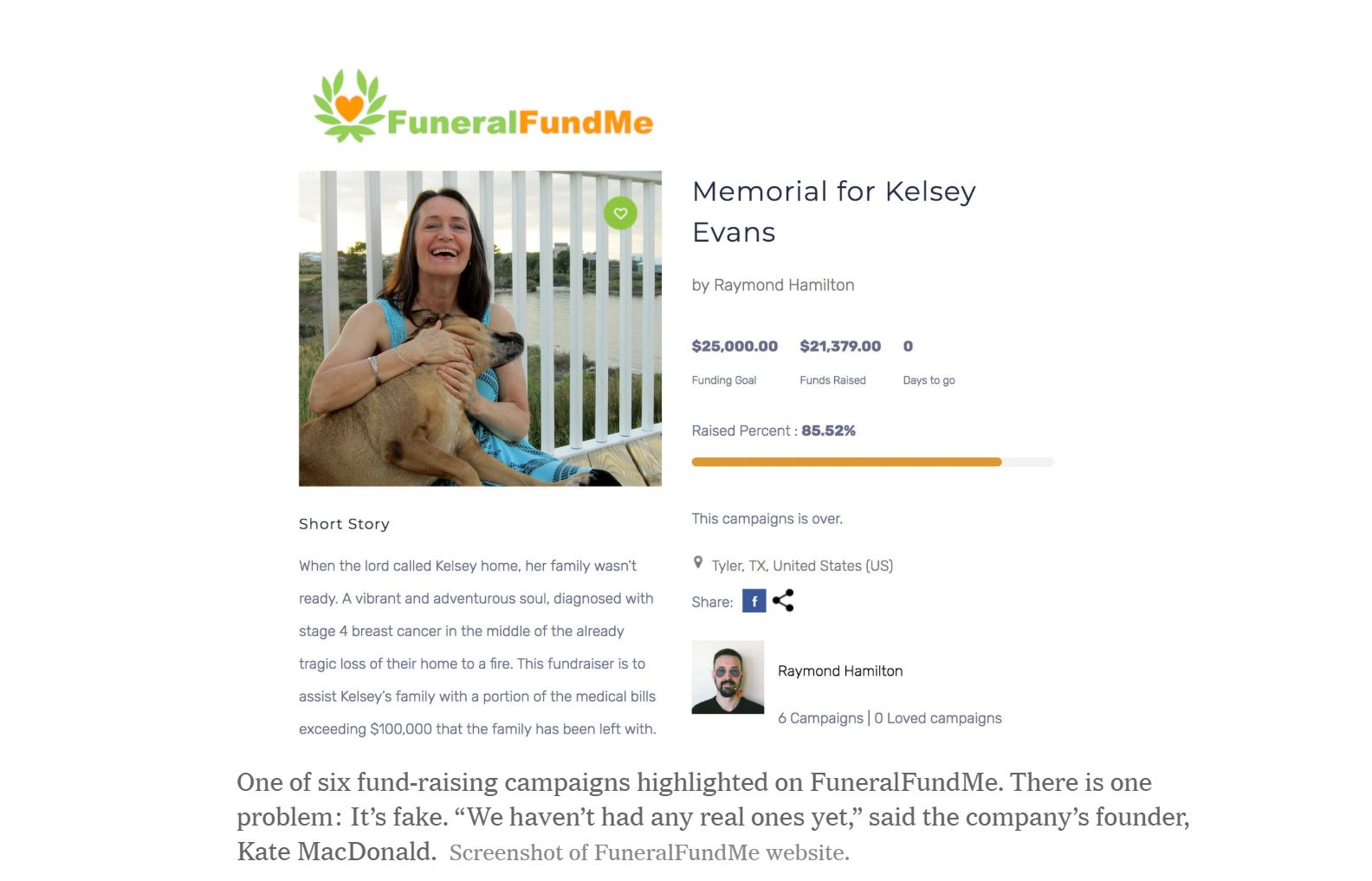 There's always the chance a family won't turn over crowd-raised funds to you. But there's also a chance they'll use crowdfunding to defraud donors. Funeral director Jonathan Fisher told the New York Times being defrauded was one of the reasons he founded Fund The Funeral. According to Fisher, one family solicited donations for the funeral of an infant, even though Fisher performed the services at no cost. He only learned of the fund when a potential donor called with questions.
So what's a funeral director to do?
Funeral crowdfunding is definitely a good choice for some families. Familiarizing yourself with the best crowdfunding platforms could allow you to educate them on their options. It could also increase your chances of collecting what's due to your funeral home.