Selected Board Director Jake Johnson Gives Back to the Independent Funeral Service Profession Through Newest Book
Deerfield, Ill. — Jake Johnson, Board Director, Selected Independent Funeral Homes, has released his new book Staying Alive in the Funeral and Cemetery Profession. The book brings the insights funeral service professionals need to understand current trends and opportunities to buy, grow, and sell while building a proud legacy.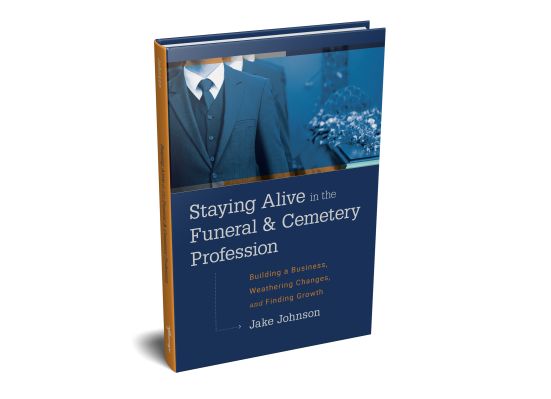 "This is a great book for the front-line employee as well as anyone in management to gain a better understanding and appreciation for what a funeral business has been, is, and will be facing as customer preferences shift and the internet and applications continue to gain popularity," said Johnson. "I often am skeptical when I see a must-read for our profession, but this is a must-read," said James H. Busch, Selected member and President of Busch Funeral and Crematory.
Johnson decided that 100% of the proceeds will be going back to the industry in a variety of ways. He plans to donate a portion of these books to mortuary schools to provide to those who are entering the profession. Proceeds also will be donated to the Funeral Service Foundation, ICCFA's Educational Trust, and the Selected Educational Trust.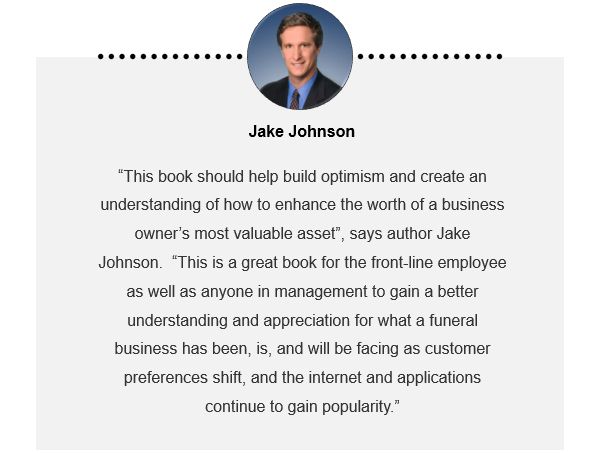 The book as well as the audio version also are available for purchase on Amazon.com. Selected members can purchase the book at a discounted rate at Selected's Online Store.
Order online or call us at 800-323-4219 to place your order by phone.
About Selected Independent Funeral Homes: Connecting Leaders. Transforming Care. Selected Independent Funeral Homes (www.selectedfuneralhomes.org) delivers innovative and pertinent resources, solutions and ongoing support necessary for enduring excellence to its international network of independently owned death care providers who aspire to be the very best in their profession. Selected serves as a resource for support for our members in achieving the best practice performance and recognized leadership in service to families. Selected offers many distinct advantages and benefits to its growing membership. While remaining faithful to its founding principles and its one-hundred-year tradition, the association is constantly evaluating new and exciting ways to better serve its members today. Selected empowers funeral firm owners and employees to achieve their goals by creating business tools, developing education, and connecting members to better each other. We are Selected. And together, we are stronger.