Learn the Captivating Story Behind Presidential Funeral Director Bob Boetticher
The Honor of a Lifetime
When Bob Boetticher got on a plane from Houston to Los Angeles on June 5, 2004, he knew it would be the most important service call of his illustrious career. A lifelong admirer of Ronald Reagan, Boetticher would now serve as the President's funeral director, aiding in the complex and sensitive preparations of the first state funeral since Lyndon Baines Johnson's death in 1973. Boetticher had prepared for this moment for over a year, but in a sense he'd been preparing his entire life.
A True Calling
Growing up in Southern California, Bob Boetticher once dreamed of following in the footsteps of his uncle and becoming a film director. To his surprise, a high school aptitude test predicted a different kind of directing in his future: funeral directing. After graduation, Boetticher took a job with an ambulance and mortuary transport company, where he had his first experiences coming face to face with the dead. Though it took some getting used to, the work felt rewarding and Boetticher decided to pursue a career in funeral service, enrolling in the California College of Mortuary Science.
Drafted midway through his mortuary school education, Boetticher served in Germany during the Vietnam War, embalming American personnel who died overseas. It was there that he met his wife, Jarka, with whom he returned to the U.S. and purchased his first funeral home in Teton County, Wyoming. There, he served as both funeral director and coroner investigating Yellowstone deaths. He was then hired by Service Corporation International and moved to Houston to work at their headquarters. His achievements include serving as president of SCI's Museum of Funeral History and spearheading the development of a new embalming fluid.
In 2002, Boetticher received a call from the Reagan family's staff, setting in motion his role as presidential funeral director. When President Reagan died two years later, Boetticher and his team of assistants immediately began executing the detailed funeral plan, often developed almost as soon as presidents take office. He personally oversaw each aspect of the burial, from embalming the body to pressing the American flag that draped the mahogany casket. In the days leading up to the funeral, he barely slept as he constantly answered phone calls and dealt with a variety of government officials, dignitaries, and family members. The formalities lasted for over a week. The President's body was flown to Washington, D.C., where close to 90,000 people paid their respects as he laid in state at the Capitol. After the state funeral in D.C., Reagan's body was flown back to California for burial at the presidential library in Simi Valley. At the head of the motorcade, Bob Boetticher drove the limousine that carried the President.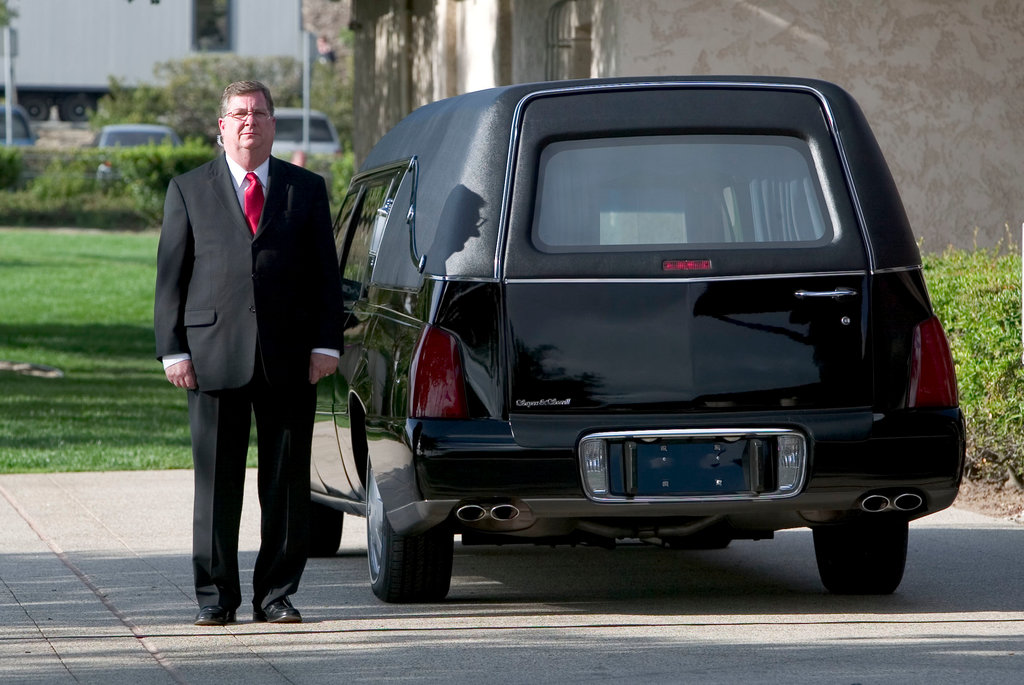 The American State Funeral
A fixture in American life, the state funeral is a highly scripted and public affair. Although the first state funeral dates back to William Henry Harrison's death in 1841, it was only with the advent of improved communication technologies like the telegraph, radio, and television that the nation truly began to mourn its leaders collectively. State funerals have become more and more elaborate affairs, involving thousands of military service members and rigorously choreographed rituals and processions over multiple days. President Reagan's funeral, the first to take place after the attacks of September 11, was also deemed a National Special Security Event and staffed by the Secret Service for added security.
Burying a President
To help orchestrate the many moving pieces that a state funeral entails, the federal government contracts LHT Consulting Group, a high-end funeral services company run by Boetticher and owned by SCI. The Department of Defense contracts LHT to provide specialized equipment, vehicles, and services for state funerals. With its nationwide resources and a network of funeral directors ready to serve as an on-call "Ceremonial Funeral Team," the firm offers "unique capabilities" when it comes to ensuring the momentous event goes smoothly. "The world is watching," Boetticher commented in an AP interview, adding, "I have to do everything right." An unflappable professional, Boetticher has handled funerals for other important political figures including former presidents Gerald Ford and George H.W. Bush and first ladies Betty Ford and Nancy Reagan.
While such high-profile ceremonies are by nature uniquely challenging and expensive, some consumer advocates like the Funeral Consumers Alliance criticize SCI for alleged unethical practices and inflated pricing. The firm and Department of Defense both declined to comment on the fees paid for funeral services, with a DOD spokeswoman saying only that services are provided at "market rates."
Ultimately, Boetticher says, his job isn't too different from one funeral to another. Grieving families "all react the same" to the death of a loved one. We hold funerals, first and foremost, for the family. In the case of a state funeral, their private grief gets put on public display among the pomp and circumstance. As the liaison between family, the public, and a variety of government officials, Boetticher is determined to "suffuse death with dignity," holding himself and his firm to a high standard of service in these very public, nationally significant moments of mourning.  
Article by Connecting Directors contributor Diana Eliza Ionescu