Cemetery Sink Holes are a Growing Concern… NY Cemetery Sued for $5MM
A New York woman is suing Long Island's St. Charles Resurrection Cemetery after a traumatic visit to her parents' grave that resulted in a cracked tooth and recurring nightmares. Joanne Cullen of North Bellmore, Long Island is now seeking $5 million from the cemetery's operator, citing extreme emotional distress and trauma.
In December 2016, Cullen was bending down at her parents' headstone to adjust a wreath when a sinkhole opened beneath her, "swallowing" her up to her hips in soft soil. As she fell, she hit her head on the gravestone and cracked a tooth while trying to steady herself. The "terrifying and traumatizing" event occurred at dusk, and no one was around to hear her calls for help. Her suit claims that after the horrific event, she has suffered recurring nightmares, requires counseling, and can no longer bring herself to visit the cemetery. "We want to make sure the cemetery and employees learn from this," stated her lawyer. "We want to make sure this doesn't happen to anyone else."
Ms. Cullen's lawyer, Joseph Perrini, believes the sinkhole occurred due to an underground void left by workers backfilling an adjacent gravesite.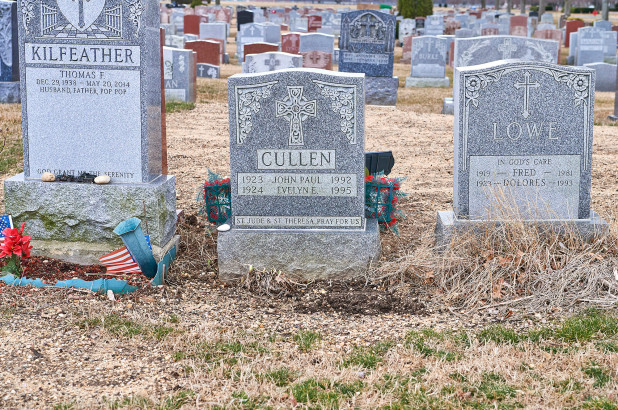 Sinkholes occur when rainwater accumulates above an underground cavity or loose soil, causing the earth to compact and sink under the weight. This is a relatively common problem in areas where bedrock is soluble and soil is susceptible to flooding, and can pose a safety concern for cemetery visitors. In 2014, heavy rains caused dozens of coffins in a U.K. cemetery to sink further into the ground, causing a series of holes. A Los Angeles cemetery suffered similar damage in 2017, also after a period of prolonged rain. In New York state, the historic Hillside Cemetery is making plans to fill sinkholes left by disintegrating wooden caskets to ensure no visitors injure themselves in the sunken graves.
St. Charles Resurrection Cemetery is owned and operated by the Roman Catholic Diocese of Brooklyn, which operates several other cemeteries in the area. The Roman Catholic cemetery boasts a long lists of famous residents and is supported by endowment.
Article by Connecting Directors contributor Diana Eliza Ionescu