Facebook's NEW 'Tributes' Section Could Signal the End of Online Obits
In 2009 Facebook began switching the profiles of dead users to "memorial status" and in 2015 Facebook added a feature in which users can indicate a "legacy contract" to manage their profiles after they die. This week, Facebook made its biggest addition ever to memorial pages by adding a new section called 'Tributes.'
According to Mashable, "Facebook is rolling out a new feature for memorialized accounts that will allow people to leave messages in a Tributes section that is separate from the rest of the profile's timeline. Depending on a memorialized account's privacy settings, friends can currently still post on its timeline, including in the comments of posts the person made before they died. If a memorialized account has a Tributes section, however, posts made after the day it was memorialized (which prevents anyone else from logging in) will be placed there.'
The progression of these memorial pages is causing them to look similar to many products on the market and could even eventually replace the memorial section on your funeral home's website diverting your web traffic elsewhere.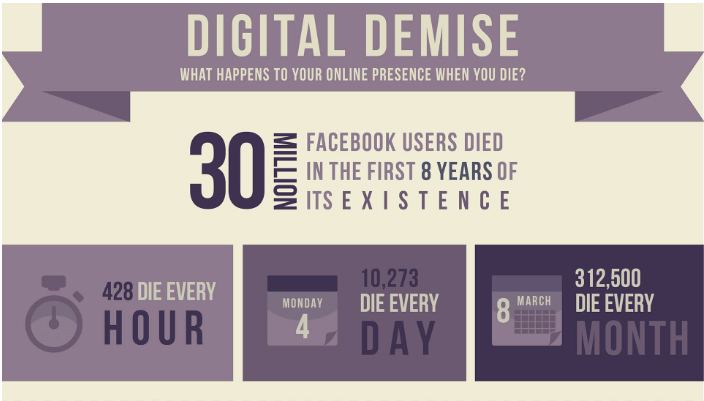 Will users use Facebook over independent digital memorialization services?
Internet users gravitate towards tools that are effortless, obvious, and intuitive or towards tools that offer a completely unique value proposition. Logistically and from a user experience standpoint, memorialization pages make far more sense when they are hosted on Facebook. Facebook has two major advantages. First, everyone already knows how to use Facebook, while separate digital memorialization tools need to be learned. The second major advantage is Facebook's existing user base which not only makes it easy for existing networks of people to connect to the digital memorial, but it also has major advantages when competing against similar tools.
There are many companies with skin in the digital memorialization game including Qeepr.com, Legacy.com, Remembered.com, Tributes.com, and Batesville's app Bridges.
We've seen Facebook crush billion dollar companies using competing technologies in the past. For example, Snapchat introduced stories which were radically successful… and then in response, Instagram (owned by Facebook) launched their own version of stories to their vastly superior user-base. This move was the beginning of the end for Snapchat's short-lived social media empire. Lesson: competing with Facebook is a terrible idea. I'm not saying that Batesville will be crushed under the fist of Facebook, but all these apps and tools are at extremely high risk of becoming obsolete.
Does anyone else have a chance in the digital memorialization race?
Well… it depends. If Facebook stops innovating their memorialization features now, then yes (temporarily). This move by Facebook is a big deal, but even after adding a dedicated Tributes section, memorialized Facebook pages still lack the robustness of many popular digital memorialization platforms in which you can add themes, photos, write obituaries, invite collaborators, and more.
Dead users and, in turn, memorialization, is an increasing concern for Facebook. By 2012 Facebook already had 30 million dead users and current estimates say there are 10,000 new dead users each day.  Hachem Sadikki, a statistician and PhD student at the University of Massachusetts, has predicted the year that there will be more dead Facebook users than living ones – 2098. This is a massive issue for the social network that will certainly be addressed in the future.
And let's be real here… lack-of-resources is not the reason Facebook hasn't rolled out a more robust memorialization platform – the users need to find it valuable. Looking at Sadikki's research shows that as long as Facebook remains in existence, a rapidly increasing number of users will be impacted by digital memorialization.
If Facebook sees value in a more robust memorialization suite they will either build it or buy it. It would be easy for them to acquire one of the existing technologies for $500,000-$5MM (these are not crazy-profitable enterprises), but more than likely they will just build one internally because it is not that complex.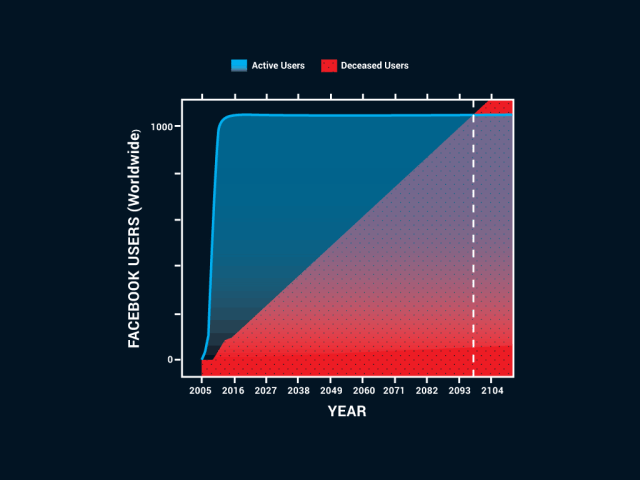 Does this matter for funeral homes?
When Facebook memorialization pages get robust enough and popular enough to replace obituaries it will actually save the funeral homes time and money by not having to help families fill out digital memorialization tools. That said, a large portion of users who visit a funeral home's website are there for the obit and funeral details and these local-eyes have been proven to be an effective marketing strategy. Facebook replacing obituaries will sever a major visibility point and marketing opportunity for funeral homes, but it will do this evenly across the entire industry so no one group or region will be at a disadvantage.
This situation does, though, leave a huge opportunity for forward-thinking funeral homes. The people who were previously visiting your funeral home's website looking for obituaries and funeral information will now be on Facebook. Establishing a presence on Facebook now will give you a major advantage when the rapid shift begins.
Don't be the quintessential funeral home that changes when it's too late. Schedule a demo with DISRUPT Media today, to learn how you can get a headstart on your competitors and capture their lost views with Facebook.