Selected Independent Funeral Homes Educational Trust Names Recipient of 2019 Leadership Academy Scholarship
DEERFIELD, ILL. — February 11, 2019 — Selected Independent Funeral Homes Educational Trust has chosen Alissa Dodds as the 2019 recipient of the Selected Educational Trust Leadership Academy Scholarship. Dodds, a funeral director at Conroy-Tully Walker Funeral Homes & Cremation Services, Portland, Maine, was selected from among the largest pool of candidates
in the history of this scholarship program. This award, sponsored in full by Homesteaders Life Company, will allow Dodds to attend Selected's Leadership Academy, a two-year structured program offered exclusively to members of Selected Independent Funeral Homes.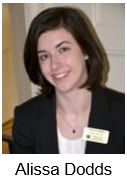 Dodds joined the professional staff of Conroy-Tully Walker in 2015. Since that time, she has earned a reputation for providing excellent care to families. Dodds, a great asset to her firm, serves with compassion and care. She is continually seeking ways to grow and improve in her techniques, procedures and personalization – for her firm, her clients and her profession.
Upon winning this scholarship, Dodds told Trust staff, "It is such an opportunity to have something like this available to me and to have an avenue where people come together and learn from one another as well as their instructors. But mostly getting the scholarship for this program will enable me to learn how funeral service practices and procedures are done differently around the country as well as within the industry."
Dodds graduated from Mount Ida College having attained her degree in Funeral Home Management. She is a native of Rye, New Hampshire and currently resides in South Portland. She enjoys running, reading and spending time with family and friends.
The scholarship will cover Dodds' registration fee for the two-year term of the 2019 Leadership Academy class. She will also receive an annual stipend to assist with the cost of books, fees and related-expenses. The total estimated value of this scholarship is $4,890.
Any individual currently employed full-time (and not a majority owner) at a firm maintaining full membership in Selected Independent Funeral Homes is eligible to apply. For more information about the Trust or this scholarship program, please contact Bea Pedersen.