The Good Cemeterian: On a Mission to Honor Our Heroes
Here in the south, we have a saying that, although grammatically incorrect, is nevertheless accepted and understood. When we speak of someone with a big heart, who does great things for others without seeking recognition or reward, we say, "He (or she) is good people."
Andrew Lumish is good people.
For the past five years, Lumish has quietly and methodically restored the aged, virtually unreadable tombstones of more than 1500 veterans resting in Tampa, Florida's vast Woodlawn Cemetery. These veterans aren't ancestors or family friends; they are simply individuals who committed themselves to serving and defending the freedom of strangers–some even making the ultimate sacrifice. It's a sacrifice Lumish knows all too well.
"Several years ago Andrew met an Air Force veteran, Chris, who suffered from severe post-traumatic stress disorder," says Jen Armbruster, who assists Lumish in his mission. "They became quick friends, and Andrew became Chris's confidante."
Chris worked for Lumish's professional upholstery and carpet cleaning company…until one day, when he didn't respond to Lumish's texts. Tragically, Lumish learned that Chris had taken his own life.
"Andrew lives with the guilt that he could have helped Chris and somehow prevented his suicide," shares Armbruster. "Everything he does is in Chris's honor."
The Good Cemeterian
Lumish's devotion to both Chris and tombstone cleaning has earned him the appropriate moniker "The Good Cemeterian," a name he adopted for his website and social media profiles. Lumish diligently sets aside several hours every Sunday for his cemetery work. But even for someone in the professional cleaning industry, bringing old tombstones back to their former glory is hard work.
"It takes a few months to see the effects," explains Armbruster, "but you see a huge difference. Andrew usually has about 12 gravestone cleanings in process at the same time."

Spreading the love…and the D/2
When Lumish set his mind to this monumental undertaking, he researched the best product for gravestone restoration, looking for something that was powerful enough to remove decades or centuries of debris and detritus without damaging the stone. He discovered D/2 Biological Solution, an eco-friendly liquid mixture that had been tested and approved for use by the National Parks Service for the restoration of stones in national cemeteries. Lumish teamed up with a D/2 distributor to offer product discounts and affordable starter kits to The Good Cemeterian's followers who want to emulate his work in their own local graveyards.
The effect of Lumish's selfless project has spread well beyond Woodlawn Cemetery. Every February, during Black History Month, Lumish devotes his efforts to restoring stones in African-American cemeteries. In October, he and D/2 supplier Cemetery Preservation Supply LLC teamed up with the Tennessee National Parks Service for HOPE Crew Volunteer Day. Along with hundreds of other volunteers, Lumish cleaned more than 4,000 headstones of veterans in Stones River National Cemetery in Murfreesboro, Tennessee.
Lumish is working with both the National Parks Service and his D/2 distributor to initiate additional volunteer cleaning projects across the United States.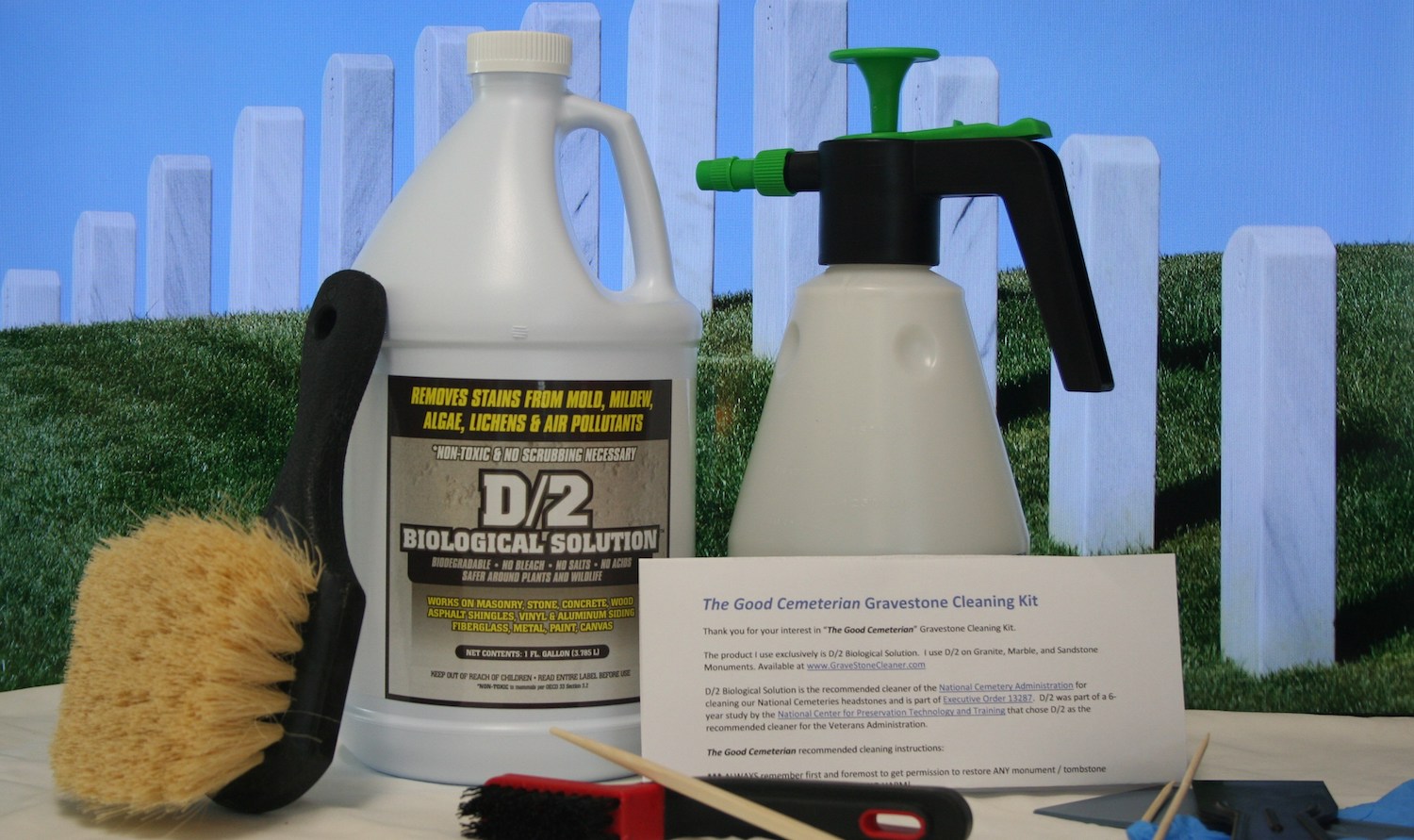 The story beneath the stones
Armbruster joined Lumish's team in August 2016 after coming across his story on Facebook. As someone who is poignantly familiar with PTSD–her daughter's father is a veteran who suffers from the condition–she wanted to help veterans and also find an outlet to help her cope with her own family's struggles.
She reached out to Lumish via a Facebook friend request–which he accepted. When she read a post that Lumish was looking for someone to help with research, she immediately messaged him.
"I'm a painter and an artist, and I have an artist's optimism," says Armbruster. "Although I wasn't a writer or researcher, I told Andrew that if would give me a chance, I would paint a story with words."
Lumish did give her a chance, and since then Armbruster has added a rich layer of history and humanity to the stones Lumish refurbishes, sharing her biographies of each veteran on The Good Cemeterian's Facebook page.
"I look at it as opening up a time capsule every time," she explains. "It's bringing the person beneath the stone back to life in a way. I can't stop until I've put the whole story together."
Preserving the past
Lumish established The Good Cemeterian Historical Preservation Project as a 501(c)3 charitable organization with the mission "to preserve and honor the past through inspiration and education. He accepts donations to continue his work and offers unique products on his website featuring some of Lumish's incredible photography from his Sunday afternoon cemetery strolls.
There's no doubt in Armbruster's mind that Lumish's good work is truly just beginning.
"There are more than 20,000 tombstones [in Woodlawn Cemetery] alone," laughs Armbruster. "Andrew will definitely continue restoring these stones."
Article by Connecting Directors contributor Patricia Hartley