First Green Burial Funeral Home in Colorado Springs Open for Business
Originally Published on The Gazette
When a funeral director is viscerally disturbed by the odor of embalming fluid, you know something is off.
That's what happened to Jon Hallford when he bent over a casket earlier this year to kiss the forehead of a dead relative.
"It was unpleasant and chemical," said the fourth-generation Oklahoman funeral director. "I got to thinking that, 'Wow, I wonder how many times have I facilitated this exact same experience for other families throughout the years?'"
Those thoughts led to action, and months later, during the first week of September, Hallford, wife Carie Hallford and Jack Dhooghe opened Return to Nature Funeral Home, the city's first green burial funeral home. Customers can receive all the services of a traditional funeral home except embalming. No bodies will be filled with toxic fluids in their Victorian-style home south of downtown. Not if the Hallfords have anything to say about it.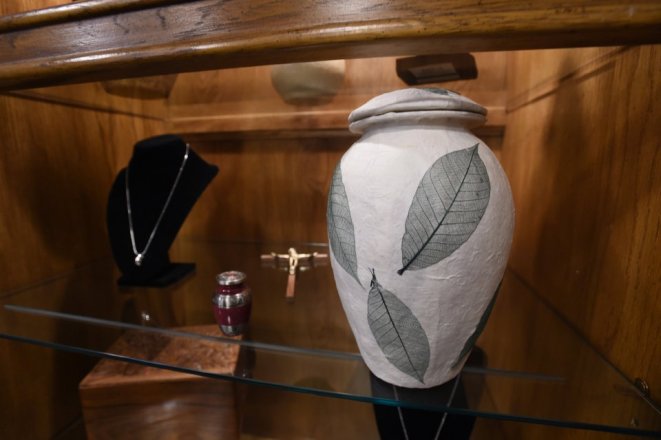 "I knew through mortuary school about the cancer-causing (chemicals) but never really thought about it," Hallford said. "My mind started shifting from, 'I hope I haven't given such an unpleasant experience to families,' to "I have really been ingesting this stuff for so many years.'"
And it's not just Hallford and thousands of other mortuary workers who have soaked up the deadly chemicals; it's also Mother Earth.
About 5.3 million gallons of embalming fluid is used each year in the U.S. – a fluid that is 5 percent to 35 percent formaldehyde and 9 percent to 56 percent ethanol, Funerals360.com reported last year.
In 2011, the U.S. Department of Health and Human Services deemed formaldehyde a known human carcinogen.
Compounding the problem in the multi-billion dollar funeral industry is a lack of stringent regulations. Some states require annual inspections, some don't. Leftover embalming fluids usually wind up swirling down the drain, and the disintegration of an embalmed body in the cemetery means noxious fluids can seep out into the surrounding soil and water, reports Funerals360.com. If the body is embalmed and then cremated, the formaldehyde can enter the atmosphere and remain there for up to 250 days.
Colorado is one of the top 10 cremation states. Almost 80 percent of bodies here are sent to the crematorium, Hallford said. Instead of the standard black box that most funeral homes provide, Return to Nature families are given an attractive biodegradable urn with a biodegradable bag inside.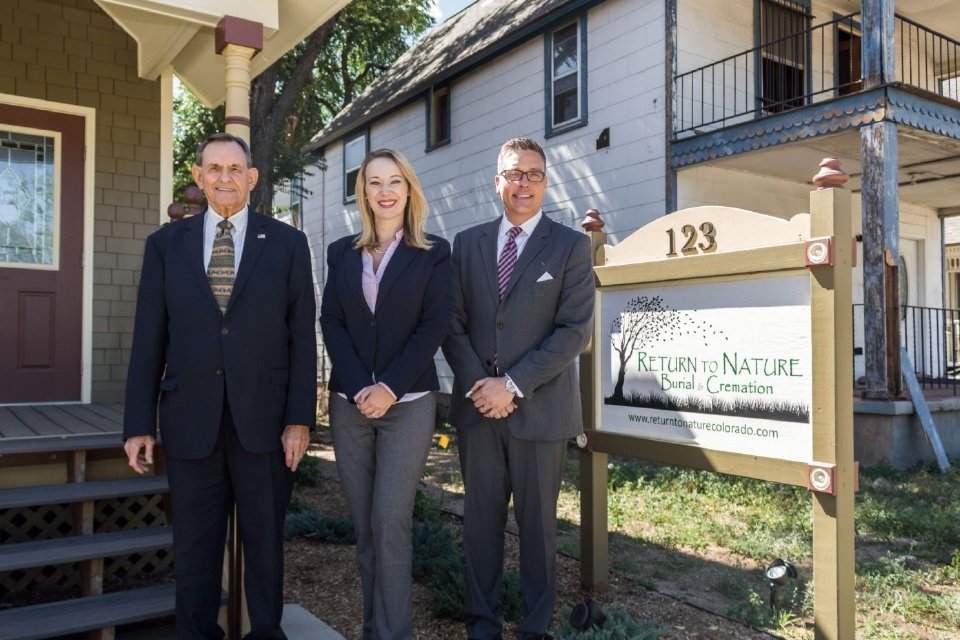 Bodies that aren't cremated are most often taken to either of the city-owned Evergreen or Fairview cemeteries. Both allow green burials, which means bodies are not embalmed and can be buried in a shroud or container made from natural materials. Burial vaults aren't used.
"Every cemetery in America has signs that say non-potable water because of the stuff we're putting into the ground," Hallford said. "And it's not just the chemicals, but the concrete, the rebar, that we're also putting in. We genuinely want to do a better job for our environment. We as an industry, which I'm 100 percent a part of and guilty, have done a horrible job with regards to, if I get done with embalming and have this much left, it just goes right down the drain."
Here's what people might not know: No state or federal law requires bodies to be embalmed. According to the U.S. Centers for Disease Control and Prevention, embalming provides no public health benefit and may contribute significantly to the spread of infectious disease and increased risks of cancer among funeral care practitioners.
Only one law must be obeyed – 24 hours after death, the body must be either embalmed, refrigerated or laid out on dry ice. Families can elect to keep the body at home for viewing and the service, and though most tend to keep it for about three days, there is no legal time frame by which they must dispose of it.
"People don't understand there's this middle ground where they can have a viewing and a visitation and a traditional funeral," said Beth Mosley, Return to Nature's death doula. She helps escort the dying person out of the body, much as a midwife helps bring a baby into the world. Death doulas also help family members with the funeral and the grieving process.
"They think you either have to be embalmed, or you have to go directly to the crematorium. The traditional funeral industrial complex really wants you to believe that. 'We have this thing you need, and you should not think about this at all, and we'll get this away from you as soon as possible, and we're going to charge you a lot of money.' They make you fear the dead body and connection and closure, which is about this deeply primitive thing – to connect with our dead loved ones and understand that they're gone."
In early November, Aisha Sawyer's 6-year-old daughter, My'isha Dawn Amira, died from neuroblastoma. Sawyer had never heard of a home funeral until a Facebook friend shared the story of another family's experience. She found Return to Nature and had a home service for her daughter before having her cremated. Hallford customized a child-size casket for Amira out of a cardboard box and burlap.
"They came every day to check on us and care for my daughter's body," Sawyer wrote in an email. "They were very supportive and helpful through the process. When they gave the OK, my mom and sisters bathed my daughter's body in a bath bomb and clay and then rubbed her body down with oils and dressed her like she was going to school, her favorite place to go. Return to Nature made it a healing experience exactly as we had wished."
How did we get here?
Siphoning organs and fluids out of our loved ones and refilling their bodies with chemicals harkens back to the Civil War. Embalming war casualties was the only way dead bodies would survive the three- to four-week train trip home to their families. Furniture stores began building coffins and learned there was more money to be made in a weekend than crafting a dining room set. Death slowly shifted from the home to an event handled by the funeral home.
"They told people, 'Don't worry, we'll put him in this box in this room; you can come down and look at him. You don't have to take him to your house or worry about the smell. We'll just charge you a fee.' That's how they discovered there's money here," Hallford said. "It exploded from there."
Funerals don't come cheap. A traditional one, with embalming, the casket and makeup, runs about $7,000 to $9,000, he said. Green burials are much more forgiving on the wallet; a Return to Nature burial is about $1,000 to $2,000.
Public response to the new funeral home has been overwhelmingly positive. It's fulfilling for the Hallfords and Mosley to help people better understand their options and to honor the last wishes of the deceased and their loved ones.
"If you want to get shot out of a cannon, wonderful," said Hallford. "We're here to walk you through the process and facilitate whatever it is your family wants to do with mourning the passing of your loved ones, within reason. Our very first service we had in a park and had a biodegradable balloon release. We want to be the exact opposite of cookie cutter."