Foundation Partners Group Hosts Fourth Annual Leadership Conference
"Bigger…Brighter…Bolder" Event Showcases Company's Best Practices and Future Direction  
Orlando, FL – Foundation Partners Group (FPG), a leading provider of innovative funeral, cemetery and cremation experiences, recently hosted their fourth annual Leadership Conference at the Walt Disney World's Grand Floridian Resort and Spa.  The conference, which took place September 11 – 13, included FPG location leaders and the sales management team, along with headquarters staff, executives, sponsors and industry experts for the three-day event.  This unique conference offers attendees an opportunity to network with other FPG members and provides a forum for professional development.
"As the Foundation Partners Group family continues to grow and thrive, this annual conference has provided us with an opportunity for our team members to recharge, reconnect and come together to address some longstanding challenges in funeral service," commented Jim Ford, FPG Chief Customer Officer.  "The gathering helps unify our team as well as focus brainpower to deliver the most beneficial and effective funeral experiences for families and guests in the coming months and years."
Sunday was highlighted by a 9/11 remembrance video and moment of silence.  This was followed with a special ceremony to remember the Pulse nightclub shootings in Orlando, including a presentation about a family who lost a loved one at Pulse and was served by Thompson Funeral Home in Lexington, SC.  The Sunday session concluded with a keynote address from FPG President & CEO, Brad Rex, which provided a state of the company overview.  Rex then led the group to Disney's Epcot theme park for a magical dinner in China, a fireworks dessert party and an after-hours ride on the new Soarin' Around the World attraction.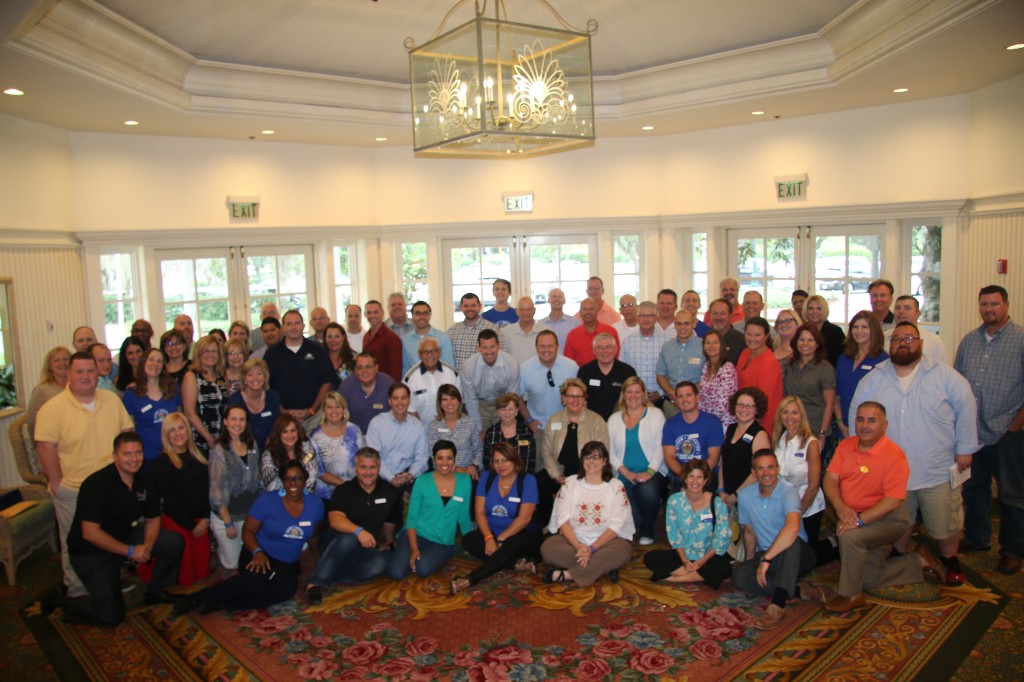 The second day featured a morning presentation by Doug Gober of Gober Strategic Capital titled, "From Scratch: Building a Successful Funeral and Cremation Business from the Ground Up." Rex returned to the stage and demonstrated FPG's differentiated customer experience in a presentation entitled, "Suzanne Clark's Terrible, Beautiful Week".  The Perfect Service award for the funeral home with the highest family satisfaction score was presented to McGuinness Funeral Home in Sewell, NJ.
Following lunch, Jenni Armbrust from the Ken Blanchard Group gave a presentation culled from the book, "Leadership and the One Minute Manager: Increasing Effectiveness through Situational Leadership".  The "Ripple" award was given to McDermott-Crockett Funeral Home in Santa Barbara, CA for their outstanding community outreach endeavors.
Tuesday's agenda included a presentation on performance accountability and a refresher on ShareLife® arrangement conferences.  ShareLife® is FPG's proprietary multi-sensory memorialization experience that provides families with a unique approach to planning a remembrance.  ShareLife® captures the story of a person's life through videos, sounds, scents, innovative technology, and an overall experience that leaves families and friends celebrating the joyful and meaningful moments of a lifetime.
A highlight was the "Bold Leaders" panel discussion with leaders from recently acquired FPG funeral homes, who shared their firms' best practices.  "I've often said a successful FPG acquisition involves more than merely purchasing a facility.  We look to bring on board great leaders and 'out of the box' thinkers," Rex commented. "The insights from the participants in our Bold Leaders panel clearly demonstrated their leadership and innovation."
Danelle O'Neill, the Executive Director at Funeral Service Foundation who attended the event as a guest of FPG, commented, "What struck me most about the conference was the true appreciation by the attendees for the transparency of the management team at Foundation Partners Group.  A number of the attendees were relatively new to FPG and appreciated how open and candid Brad and his team were.  The group was engaged and was encouraged to take chances and change things up for the betterment of FPG and the funeral profession."
About Foundation Partners Group:  Foundation Partners Group (FPG) is a leading provider of innovative funeral, cemetery and cremation experiences.   With headquarters in Orlando, FL, FPG owns funeral homes, cremation centers and cemeteries in 14 states.  As one of the largest private funeral profession operators, the company is actively seeking to expand its locations throughout the U.S.   Foundation Partners is committed to revolutionizing the funeral profession with a customer experience centered approach that harnesses innovation and values the power of relationship and partnership.  For more information, visit the Foundation Partners Group website at www.foundationpartners.com.
Lead Photo caption:  Kurt Lester of Ballweg and Lunsford Funeral Homes, Syracuse, NY; Michael Ashe of Wilhelm Portland Memorial, Portland, OR; Jim Dobbins of Simplicity Lowcountry Cremation and Burial Services, Charleston, SC;  Clair Ferris of Funeral Alternatives of Washington, Tumwater, WA and Danny Jefferson of Pierce Jefferson, Kernersville, NC share best practices with Brad Rex, FPG CEO and President, and the other attendees during the Bold Leaders panel discussion at FPG's "Bigger, Brighter, Bolder" leadership conference.
Photo caption:  Attendees at Foundation Partners Group's "Bigger, Brighter, Bolder" leadership conference pose for a photo at the close of the September 12 session.  This event included location leaders and the sales management team who were joined by the headquarters staff and executive team for the three-day conference.