Erin Whitaker Joins Foundation Partners Group
Third generation funeral director brings strategic business mindset to new position
Orlando, FL – Foundation Partners Group (FPG), a leading provider of innovative funeral, cemetery and cremation experiences and products, has announced that Erin Whitaker has joined the organization as Senior Director, Operations Integration.  In her position, Whitaker will utilize her skills and experience in the areas of operations and process improvement at each of the FPG funeral home and cemetery locations.  In addition, she will lead the implementation of key business and customer experience initiatives at FPG.
As a third generation funeral director, Whitaker brings a diverse and comprehensive background to her role at FPG.  After undergraduate studies, she joined Eastman Kodak as a chemical engineer and project manager.  After six years at Kodak, she returned to South Carolina to attend graduate school to obtain a Master's in Business Administration.  While completing her degree, she began working part-time at the family's funeral home, Whitaker Funeral Home in Newberry, SC.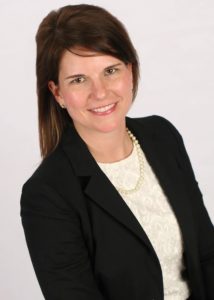 Shortly after receiving her MBA, Whitaker made the decision to return full time to the funeral profession.  She enrolled in mortuary school and became a licensed funeral director and embalmer, joining Whitaker on a permanent basis as both a funeral director and business manager.  As a means to combine her business acumen with her knowledge of funeral service, Whitaker joined The Foresight Companies, LLC as a Financial and Business Management consultant.  During her tenure, she worked with funeral homes and cemeteries nationwide to understand their needs and help them reach their business goals.
"We are honored and delighted for Erin to join our operations team," stated Justin Baxley, Chief Customer Officer for Foundation Partners Group.   "She brings a wide ranging skill set as both a funeral professional and corporate business executive.  Her insight for improving key operational and customer service metrics and driving business performance will be significant in our continued growth and success as an organization."
Whitaker also will assist in the onboarding process for new acquisitions to the FPG network as well as special projects.  She will continue her speaking at funeral service conferences and writing for funeral trade publications.  She also will also continue to serve as a board member for the Cremation Association of North America (CANA).
"This position is well suited for me as it combines my love of funeral service with a fondness for strategic business processes," said Whitaker.  "I look forward to helping Foundation Partners Group fully leverage the power of the ShareLife® portfolio of products and services throughout the network."
Whitaker has a bachelor's degree in chemical engineering from Georgia Tech University as well as a master's of business administration in International Business from the University of South Carolina.  Whitaker is certified as a Black Belt in Six Sigma methodology and has achieved the designation of Certified Funeral Service Practitioner and Certified Preplanning Consultant.
About Foundation Partners Group:  Foundation Partners Group (FPG) is a leading provider of innovative funeral, cemetery and cremation experiences and products.  As one of the largest privately-owned funeral operators, FPG owns and operates funeral homes and cemeteries in 13 states, and is actively seeking to expand its locations throughout the U.S.  With headquarters in Orlando, FL, Foundation Partners is committed to revolutionizing the funeral profession with a customer experience-centered approach that harnesses innovation and values the power of relationship and partnership.  For more information, visit the new Foundation Partners Group website at www.foundationpartners.com.