3 Tips For Creating Great Facebook Content
Article from: DISRUPT Media
Facebook's News Feed is where members spend a majority of their time. It's where people go to catch up on what's happening with friends and find content they value most. The actions people take in News Feed help to determine what Facebook is most likely to show them in the future.
On Nov. 7, Facebook gave members more ways to control and give feedback on their News Feeds.
News Feed settings will now show a list of the top people, Pages and Groups that you've seen in your News Feed over the past week. You can choose to sort by people, Pages or Groups posts, or see an overall summary. Unfollow any friend, Page or Group if you don't want to see their stories in your News Feed. You can also see who you've unfollowed in the past and can choose to re-follow them at anytime.
What You Can Do About It
Create great content!
Pages (specifically funeral homes) who create great, engaging content that is valuable to their followers will have nothing to worry about.
Here are a 3 tips for creating fan-pleasing Facebook Posts.
Use Engaging Text and Visuals
Across social media, heavy emphasis is placed on rich media like photos and videos. Not only do posts featuring them get 75% more engagement, but on Facebook specifically they can help your message stand out.
Keep in mind that there are suggested guidelines to follow to prep your images for the News Feed. Additionally, lifestyle images tend to be more engaging.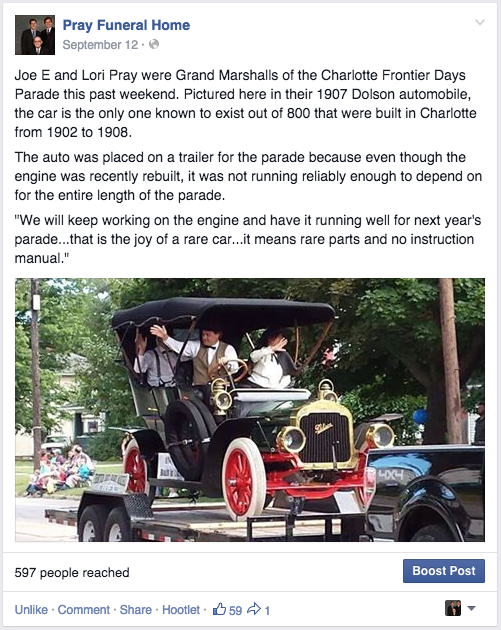 Humor is also a great way to show as lighter side of funeral service. It can also mirror the personality traits of the funeral directors. Consumers are attracted to the humanized funeral director, not the funeral director who conforms to the preconceived stereotypes most consumers are used to.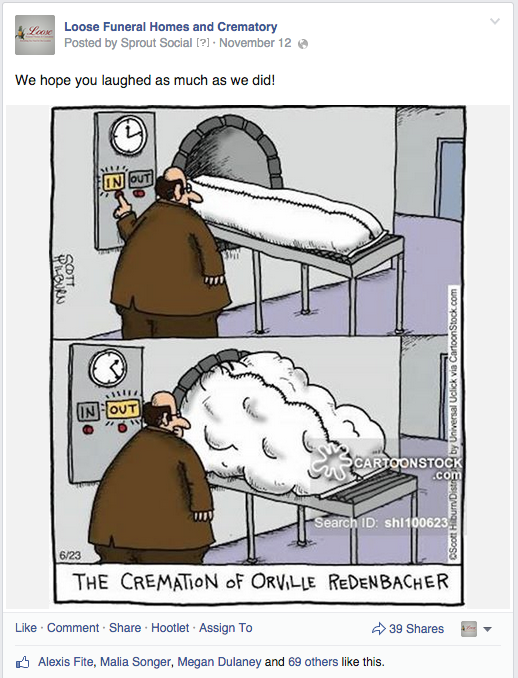 Create Opportunities for Conversation
When it comes to growing your online community, sometimes the easiest way to go about it is by asking for what you want. Facebook posts are a good vehicle by which to ask your audience to share their thoughts and feedback on your products or services. Doing so demonstrates that you're listening and can help improve your business.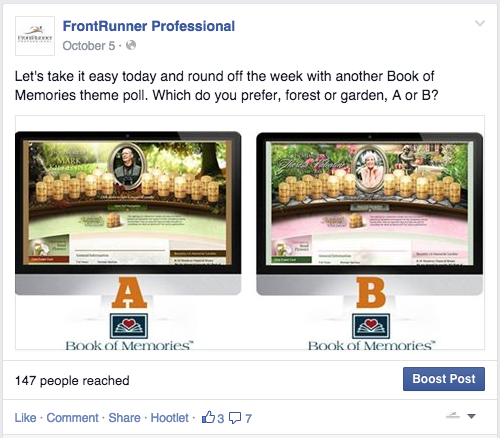 Real-time, relevant conversation is wins fans also. Doing so demonstrates an attention to relationship building and your ability to humanize your brand. Audiences are much more likely to engage with posts when they're related to topics that are timely, such as current events or holidays. Timeliness is also important when replying to comments on your posts. Again, this goes back to creating the opportunity for conversation and showing that you value your customers' insights.
Remember, Facebook is an engagement platform, not a sales platform. There is value in real conversation.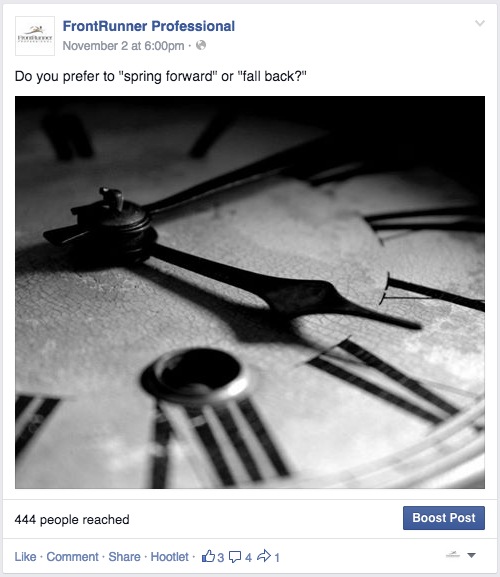 Plan Your Calendar for Timely and Relevant Posts
One of the simplest ways to stay in regular contact with fans is by coming up with ideas for what to talk about each month and incorporating that into your editorial calendar. These conversational prompts will help you post consistently while ensuring that your content is well planned and interesting. Don't be like fighter #1 – see below.
What fighter do you want to be (analogy borrowed from Gary Vaynerchuk):
Fighter #1: The boxer who just comes out at the bell swinging with no real plan of attack, just hopes to land a right hook or two, yet you do nothing to set up the right hook – no jabs, just distributing right hooks that hit nothing but air (sounds tiring).
Fighter #2: Or do you want to be the fighter how has a game plan? The fighter who knows what his strengths are, you know that you can last by throwing jabs strategically waiting for the right moment to slide in with the right hook. You have a strategy that is calculated and proven successful.
DON'T distribute content for the sake of distributing content and DON'T get sucked in by a company who promises to automated your social media. Social media is about caring and caring takes time, you can't buy or automate caring. A funny thing happens when you care about your audience, they, in return, care about you.
Disclaimer: Pray Funeral Home, Loose Funeral Home and Frontrunner Professional are social media clients of DISRUPT Media
About DISRUPT Media
professional funeral home = DISRUPT Media – a full service social media strategy and social content management company.  
discounter/store front = take your pick, there are dozens of so called 'social media experts' in this profession who can help you automate and co-pilot your social media for cheap.
LEARN MORE ABOUT DISRUPT MEDIA