Selected Independent Funeral Homes Honors McCrosky as 2014 Recipient of Prestigious NextGen Award
Compassionate funeral director commended for community outreach and notable achievement
    DEERFIELD, ILL. —February 4, 2014— Selected Independent Funeral Homes has named AnnYager McCrosky of Danville, KY, the 2014 recipient of its NextGen Professional of the Year Award. McCrosky was given the special honor at a ceremony on opening night of the group's annual seminar, taking place January 26-30 at the Westin St. Maarten Dawn Beach Resort and Spa in Phillipsburg, St. Maarten. Recipients are presented a physical award and reimbursed for the meeting registration. The award is designed to highlight career achievements, community/organization involvement and awards/achievements of funeral professionals under the age of 50.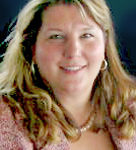 McCrosky is the fourth recipient of the award, and is honored for her compassion, commitment and dedication to her profession and community as noted by supporting letters of recommendation in her application package.
McCrosky is currently Vice President and Secretary of Stith Funeral Homes in Danville and is actively involved in various local causes. She is especially recognized for her remarkable work with children. "I am extremely honored to have received the NextGen Professional of the Year Award," said McCrosky. "The relationships I have made at the NextGen Seminars have helped shape my day-to-day approach to both my professional and my personal life. Our group truly supports and learns from one another, as they are there through the good and the bad."
Selected Independent Funeral Homes created its NextGen program to promote young funeral professionals as well as acknowledge those new to the profession. The four-day NextGen Seminar, held annually, offers educational and networking sessions.
The NextGen Professional of the Year Award is one of several programs of Selected Independent Funeral Homes, a worldwide professional association of independent, locally-owned funeral homes founded in 1917. Applicants are eligible for the award if they are an active employee of a Selected member firm (domestic or international) and under the age of 50 by the annual deadline. By creating the program, Selected hopes to recognize and encourage the next generation of professionals in the funeral industry.
In addition to the networking and educational opportunities available at its annual seminar, NextGen members may serve on the NextGen Advisory Group to help plan the meeting and provide input on other opportunities. Further information on Selected Independent Funeral Homes and NextGen can be found on its website atwww.selectedfuneralhomes.org.
###
About Selected Independent Funeral Homes: Founded in 1917 as National Selected Morticians, Selected Independent Funeral Homes (www.selectedfuneralhomes.org) is the world's oldest and largest association of independently owned funeral homes. Members of the association are expected to operate according to specific standards and best practices in order to provide the public the reliable, high-quality funeral services and funeral-related information.