A Guide For Using Hashtags On Social Networks
Article By: Emma Ellinson, DISRUPT Media
How many times are we told to put hashtags in our posts? They're supposed to be a way of directing traffic to our content and making our accounts or Tweets easier to find.
So how exactly are we supposed to be using these? In some cases they're used as a humorous way of adding extra content or emotion at the end of a post. (See Barney Stinson hashtag obsession.)
But when it comes to marketing your business and promoting your content it's important to know how to use them properly and gain greater success.
Make it Unique
One thing you don't want to happen is to have your posts get lost in the crowd. Let's say you want to promote an event and encourage online conversations. If you use a term that's too generic then people will struggle to find it among the mass of other similar entries.
For example, we include the hashtag #funeralnews on every twitter post for @CDfuneralNews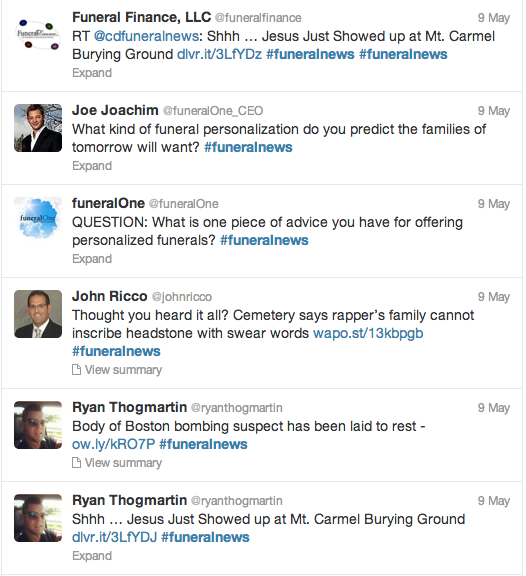 Hashtags are commonly used for events, like the ICCFA convention. The hashtag #ICCFA2013 was used and if we search for this you'll see that all of the Tweets now relate to the same thing.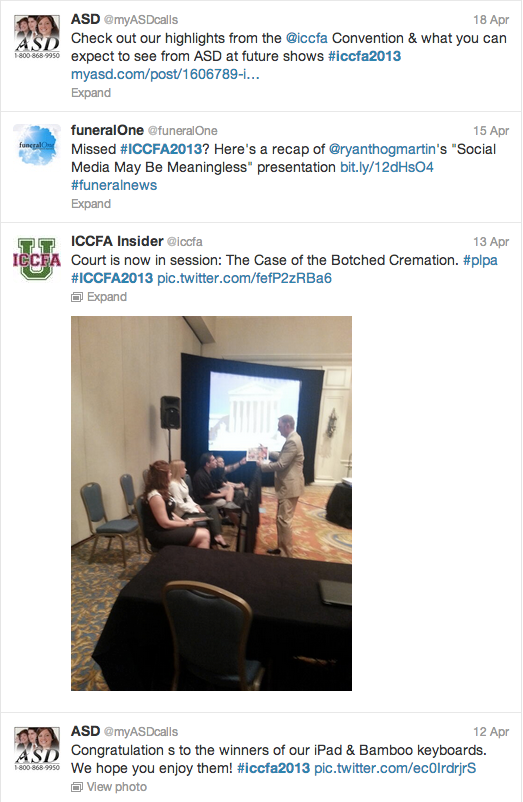 When thinking of a hashtag to use, whether that's for an event or your business in general, make sure it's unique and one of a kind. If you own a funeral home don't end everything with just #funeral, use a hashtag that is made and used by you.
However there's also nothing wrong with using both. A general term might help people to find you in the first place, but a unique word or phrase will enable a continual dialogue that relates to only you.
Make it Easy to Remember
If a hundred people attend your special event that's been labelled with the hashtag #specEvent2013ltsWTV how many of those hundred do you think will remember it when they come to use it? Probably none (seeing as it's utter nonsense).
Don't make the hashtag too long or complicated. If the name of your business is too long, try abbreviating it or using your initials. Going back to the ICCFA convention again, #ICCFA2013 is a great example of making it simple and memorable.
Hashtags aren't just for Twitter
Hashtags have quickly spread beyond Twitter and made their way on to other Social Networks like Facebook, Google+ and Pinterest.
In some instances they act just as they do on Twitter, providing a quick and easy way to search for something specific. Or they can help to organise pictures or other content.
However even when the hashtags don't work that way (like on Facebook for example) there's still some worth to using them anyway.  For one thing they help to tie your various Social Networks together. And for another, they act as a constant reminder to your audience for the hashtags that represent you and your brand. If Facebook is where they discover you then you're giving them a shortcut for when they go looking for you on Twitter.
Check out the Hashtag before you use it
Don't make the mistake of acting without doing a bit of quick research first. Double check that it's not already in use for an entirely different topic. In some cases a poor hashtag just results in fewer hits than anticipated. But in others a lack of research can result in a terribly embarrassing situation.
Another thing to look out for is whether your word or phrase carries other connotations or meanings. The PR people for Susan Boyle missed the alternative meaning to the hashtag they had put in place to promote the event celebrating her album. The tag? #Susanalbumparty The result? Many reddened cheeks.
There are lots of examples of companies getting it wrong so don't let it happen to you.
The key to all Social Media marketing is to be clever and use a good dose of common sense. If you're merely trying to catch the eye of a new audience then popular hashtags will be a handy way of being discovered. But if you want to create a discussion about a specific topic then a unique hashtag is the way to do that.
Don't Spam With Hashtags
One final bit of advice is to not overdo it! We've all seen them, the terrible tweets that use up their allotted characters with symbols and urges to retweet. A good number to stick to is between 1 and 3 hashtags but you might want to cut that back if you're also mentioning people using the "@" symbol.
Hashtags are useful but don't forget that your posts still need to have quality content, not just a mass of symbols and nonsense.