How To Get More Facebook Post Shares – Real Examples From A Real Funeral Home
Article from: DISRUPT Media 
We have written a lot about Facebook lately. Covering topics like; funeral home facebook checklist,  getting engagement from your facebook fans and facebook ads. It's one thing for people to Like your funeral home's Facebook Page or read your posts. But how do you go about getting more shares? Having your fans share your content is what begins the process of social recommendations (which is what funeral directors say they get 80% of new client families from).
Let us guide you through the best ideas your firm should be putting in to practice on Facebook.
Be Consistent – Posting 5-7 times a week is about right. It's often enough that it will ensure that you're never forgotten.
Timing – Deciding when to make your posts will take a bit of time to get right but it is one of the most important pieces to the formula facebook uses to determine who sees your posts. First of all your posts get the most exposure within the first 2-3 hours they are online. It is crucial to know when your audience is on Facebook so you can ensure you are get the best reach per post. Studying your Facebook Insights will help you determine this time frame. For our funeral home clients we use third party analytics to determine the best days, times and post type that get the most reach. Every client is different.
By determining this we know that the content being posted is getting the best possible exposure. To make sure you're getting the most out of your content, timing is a huge factor.
From the image below you can see what day, time and post type are best for this client.

Use Images – Photos get the most engagement when compared to any other type of post. Use something of quality that will grab people's attention. Alternate photos and videos with your text-only posts.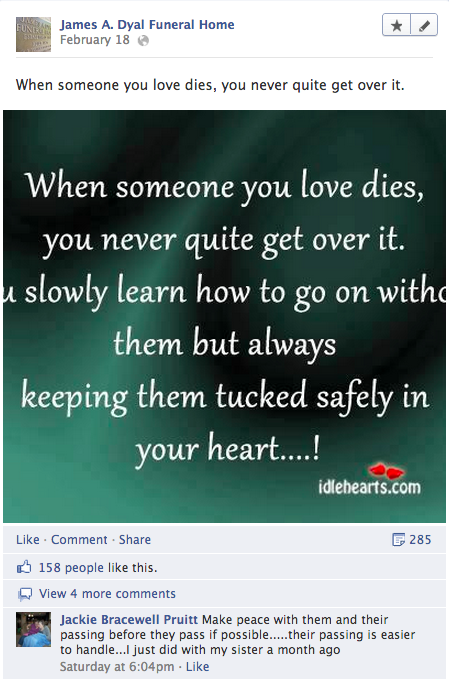 Be Concise – Long posts are less likely to be read. They might contain the wisdom of the universe but many people will choose to simply skim past them. Aim for a post that's fewer than 3 lines of text (between 100 and 150 characters is ideal) and you'll get 60% more likes, comments and shares than a lengthy post.
Be Relevant to Your Audience – Your content should be catered to your particular audience. Make sure your tone is appropriate and that you write in a manner that you know your audience will understand (or won't find patronizing). Overselling is bad. Pre-need information needs to be dripped in your strategy, it cannot be the overtone. We use the 80/20 rule; 80% of strategy content is engaging, only 20% is service or sales related.
Use Your Own Voice – Fans of your page are fans because they like your firm, staff and appreciate what you do. Your content should not only reflect the type of funeral home that you run but also who you are as a person.
A Call to Action – You don't always have to leave things entirely up to your fans. Ask them to like and share and more of them will do so. Just as long as it doesn't come across as spam.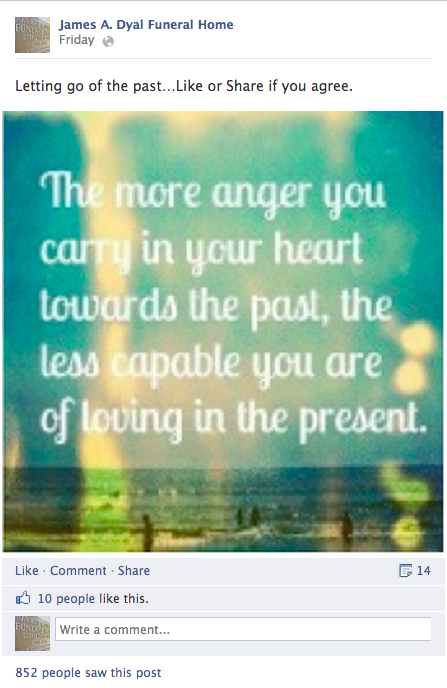 Use Apps Creatively – There is a multitude of apps for Facebook. There are surveys, contests and promotional apps. These can help to increase a user's involvement with you. Play around with them and see what apps gain the best response.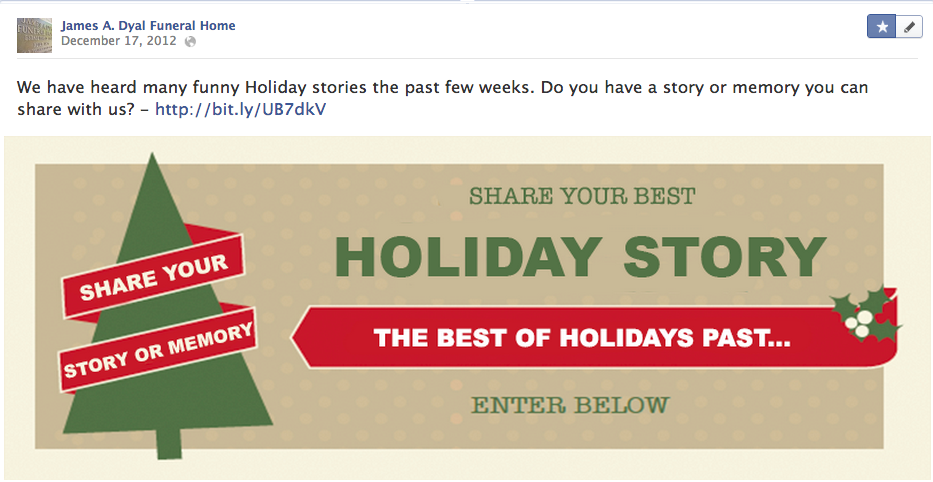 Post Content with Value – Be extremely strict with yourself about the kind of content you post. Are you posting something of value? Does it add anything to your funeral home or your fans' News Feeds? Don't post the same advert over and over again, people are quick to unlike someone if they're spamming their News Feed.
Entertain Them – Memes and funny images are known for going viral. Create content and post media that your followers will respond positively to. It's even better if it ties in to your funeral home somehow. Take care however to be genuine when using established memes or jokes otherwise this could backfire for appearing to be "fake". So try creating a few of your own!
Use Lists – People love a list. Infographics are incredibly popular at the moment because they are bites of information that are easy for the reader to digest. Instead of writing a full article, find ways to put the same information in to a list, such as "10 Top Tips When Planning a Funeral".
Respond to the Season – Keep your content up-to-date with the current season or holiday. Tailor your posts to respond to anything, whether it's Christmas, Easter or Beach Season.