Funeral Service Foundation Honors 2012 Donors

Brookfield, Wis. – The Funeral Service Foundation recognized nine donors who completed their pledge commitments in 2012 at the foundation's Donor Reception held in Charlotte, N.C., in conjunction with the NFDA International Convention & Expo.
The following firms completed their pledges in 2012:

$100,000+
Broadcast Music Inc. (BMI)
Ralph Buckner Foundation
Wilbert Funeral Services Inc.
$40,000
Horan and McConaty
$25,000:
D. O. McComb & Sons Funeral Home
Miller-Jones Funeral Home
$10,000
Astral Industries, Inc.
Harpeth Hills Memory Gardens and Funeral Home
Dyersburg Funeral Home
In addition, new gifts to the foundation include: Regions Funeral and Cemetery Trust, $75,000; FrontRunner Professional, $25,000; Wear the Pink LLC, $25,000,  National Guardian Life (NGL), $20,000; and Live Oak Bank, $20,000.  The Foundation also received an additional $10,000 pledge from Broadcast Music Inc., raising their gift to $125,000.
"This is an exciting time for the Foundation," FSF Chair Jerry Reichert said.  "Our work to advance the death care profession would not be possible without the continued commitment of our outstanding donors.  Thanks to their support, we are able to make a difference for the profession that has given us all so much."
About the Funeral Service Foundation
The Funeral Service Foundation, through grants, scholarships and research initiatives, supports career and professional development in funeral service, the advancement of funeral service and allied professions, public awareness and education, and the improvement of children's lives.  For more information, visit www.funeralservicefoundation.org.
Below are photos are from the 2012 Funeral Service Foundation Donor Recognition.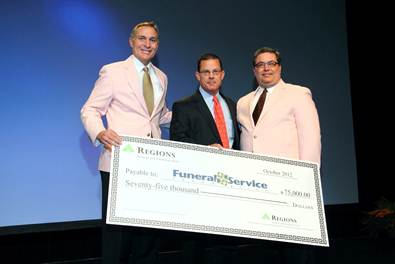 (Left to right) Shaun Myers, FSF immediate past chair, Mark Milton, Regions Funeral and Cemetery Trust, and Steve Shaffer, FSF treasurer, during the check presentation.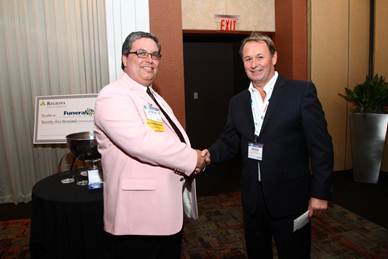 (Left to right) Steve Shaffer, FSF treasurer, thanks Kevin Montroy, of FrontRunner Professional.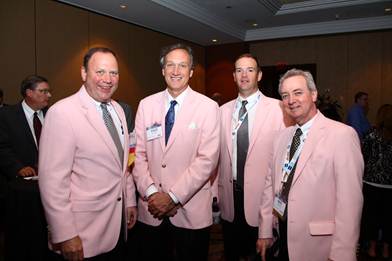 (Left to right) John Yopp, Dave Kelley, Scott Stettler and Mike Noa, founders of Wear the Pink LLC.